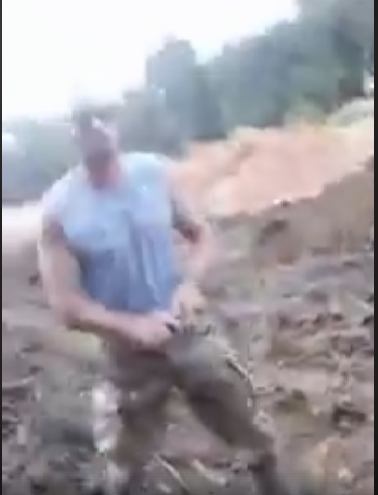 A police team has been dispatched to Quartz Stone, Cuyuni to probe the assault by a Russian security guard on a miner.
Superintendent Kelvin Adonis, who is Commander of 'F' Division, was unable to say when the team will return to Georgetown as he explained that it takes more than six hours to reach the area, depending on the condition of the trail and the weather.
Although there were also reports of similar incidents occurring, including a miner being handcuffed to the roof of the shed before being tortured, Adonis explained that it was the first time the police had received a report of such an incident.
Rickford Burke, head of the New York-based Caribbean Guyana Institute for Democracy (CGID), had posted two videos on social media showing an employee of the mining company communicating with the Russian, explaining to him about the company's claims to the land and why they did not need permission to be there.
The Russian, who briefly spoke English in the video, was then seen laughing as the worker tried to continue his explanation of his company's claims to the land. The video ended abruptly and another video showed the confrontation at a later point. The Russian and the mining company's worker continued the conversation, which then degenerated as the worker was then hit by the Russian. After the worker retaliated, the Russian punched the worker, which resulted in a scuffle that lasted a few seconds. The Russian then pulled back and drew his gun and the video ended abruptly.
The altercation was subsequently reported to the Bartica Police Station on Sunday and the team was sent yesterday.
Owner of Hopkinson Mining and Logistics Company Shaun Hopkinson told Stabroek News on Monday that he was informed of the August 3rd assault and condemned it.
Hopkinson noted that his company has claims in the area dating back to the 1980s and they would usually send their rangers to make spot checks.
"…And while my rangers were visiting the Russian came out and said that we don't have any claim, even though we had an issue to rectify the claim some years ago because it's some old, old claims. After the guy was showing him the documents for the claim, and he [the Russian] knows about the claim, (he) punched my guy and then drew his gun and tried to shoot him," Hopkinson said, while adding that the Russians who work around the area of his claims are known to be aggressive and it was not the first time they had attacked Guyanese.
In an invited comment, Minister of Natural Resources Raphael Trotman had also condemned the assault and said he was calling on the Guyana Geology and Mines Commission (GGMC) to launch an investigation.
Around the Web