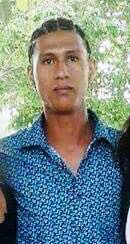 The results of an autopsy conducted on the body of Kevin Ketwaroo, whose decomposed remains were found floating in a trench at Friendship, East Bank Demerara (EBD), have turned investigations into another direction.
The cause of Ketwaroo's death was given as blunt trauma to the head and compression of the neck. The autopsy was performed yesterday by government forensic pathologist, Dr. Nehaul Singh.
The deceased Ketwaroo, 28, a mason and a security guard of Friendship, EBD, was found around 1 pm on Monday. Police said that they were summoned to the scene by residents in the area who first saw the body floating.
On Tuesday morning, the man was positively identified by Marina Mc Calmont and by a brother, Adrian Ketwaroo, yesterday, police said.
When the man was found, police explained, he was clad in a black short sleeve jersey and a pair of long blue denim trousers.  Police also found a Samsung Galaxy cellular phone and $5,800 cash on the man.
During the investigation, Police learnt that Ketwaroo had been involved in a fight with persons who might have inflicted the injuries. Stabroek News understands that the man was last seen at a party in Grove, EBD, on Saturday.
Eva Ketwaroo, wife of the deceased told investigators that the two had been separated for a month and she is now living in Sophia, Greater Georgetown.
His sister told investigators that she last saw him on August 1st when he visited her Kaneville, EBD home.
No arrest has been made and investigations are continuing.
Around the Web