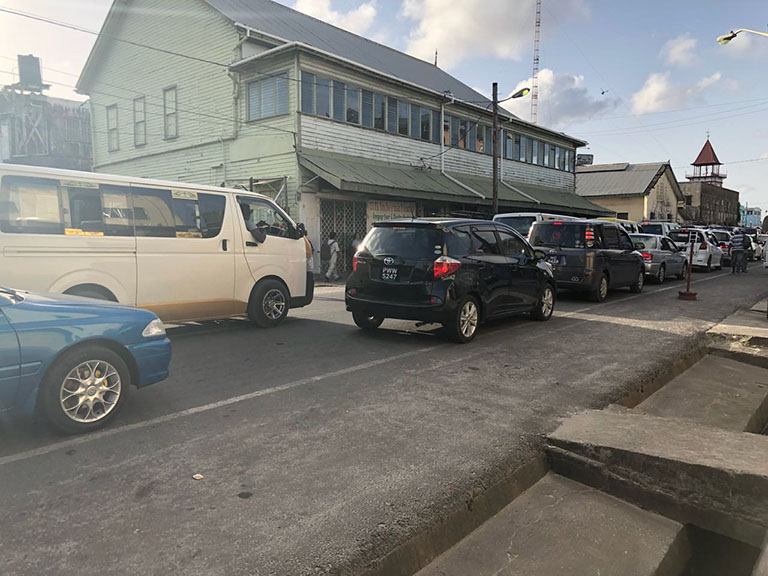 Short-drop Route 42 (Georgetown-Timehri) minibus operators plan to strike during rush hour on Monday to protest their removal from their long-time park at Russell Square, Stabroek.
The operators previously occupied the park, which is now being prepared by the Mayor and City Council (M&CC) to accommodate Stabroek wharf vendors, who are being relocated in anticipation of the rehabilitation of the wharf. (See story on page 18)
At present, the bus operators are loading passengers at Lombard and Leopold streets and they say they have been losing income since their relocation there.
When Stabroek News visited the area around 5.30 pm yesterday, it was congested as traffic moved at a snail's pace and frustration was written across the faces of both drivers and passengers.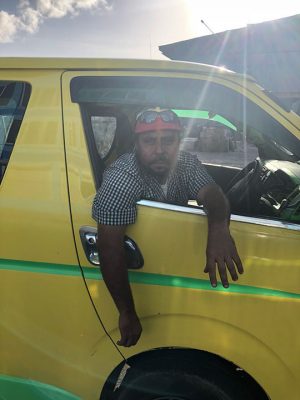 Minibus driver Bernard Da Costa, who has been plying his trade along the East Bank route for years, said he was done for the day and could not deal with the frustration anymore.
"This is not my bus and I have to find $7,000 every day to pay the bus owner. Just now, the passenger tell me to stop in the middle of the road [because of the traffic] and that they want to come out because of this situation. But if I do that and the police see I gon' get lock up. We have no park to park down there and if we stop anywhere on the road is lock up. A obstruction to traffic charge is $25,000 and I don't even work for that whole day or sometimes whole week," Da Costa explained.
He said that the frustration has been building for weeks and that he along with the other drivers are refusing to be bullied.
Da Costa noted that they have decided to strike on Monday from 7 am to 9 am, and will decide based on the results how they will proceed afterward.
He noted that it takes more than 30 minutes sometimes for the buses to move from Broad Street to the area that has been designated as their drop off point. During that time they burn a significant amount of gas, which results in a loss of revenue.
"They telling we 'bout go to Cuffy [Square] but if you living up the East Bank it means you got to ketch another bus to come to Cuffy and then if we go there the fare not going to be the same and then we gon' have to strike for that too. I don't understand what's going on with the people but is about more than three hundred of we. We really want to strike for the whole week but we have to watch and see how it works," Da Costa explained.
Another driver, who identified himself only as Browne, also expressed his frustration at the situation and said that the actions that were taken by the city administration is unfair to them.
"Where they give we to load ain't mek sense. They got more than 200 buses running this route and they give we about 20 feet to and they chasing you when you block up the place. They chasing you like a dog," he said, while noting that he has made significantly less money in the last three weeks than in all of his seven years of working along the route.
Passengers also expressed their frustration and some noted that they were concerned about their security, especially during the nights, when they have to walk from the market along Lombard Street to find a bus.
"Sometimes you just want to get to the market and you does got to sit down in these buses for 30 minutes and you deh right at Broad Street. But nobody does want to come out and walk from Broad Street to the market 'cause that don't make any sense. So you does got to sit and wait 'til the traffic move little by little 'til you reach the front," one passenger said.
Addressing the plans for the short-drop Route 42 operators, Town Clerk Royston King said on Thursday that he has spoken to the Guyana Police Force and asked it to identify a suitable area for them to operate, since the council is hard pressed for space.
However, after the move to convert the space, the operators of both minibuses and hire cars had protested their removal. They subsequently met with Mayor Patricia Chase-Green, who agreed to a request to provide them with two lanes to facilitate their operations. However, the agreement came with conditions.
The drivers were required to be registered with the City Council and to pay a weekly fee of $1,500 to operate. This is to prevent unregistered vehicles from operating among the registered cars.
"We are going to give a sticker that you would paste on your car when you are registered. We don't want no unregistered car coming onto the park and causing chaos," King said on Thursday after a meeting with the drivers.
The new system is expected to commence in two weeks, by which time the park is expected to be resurfaced.
Around the Web