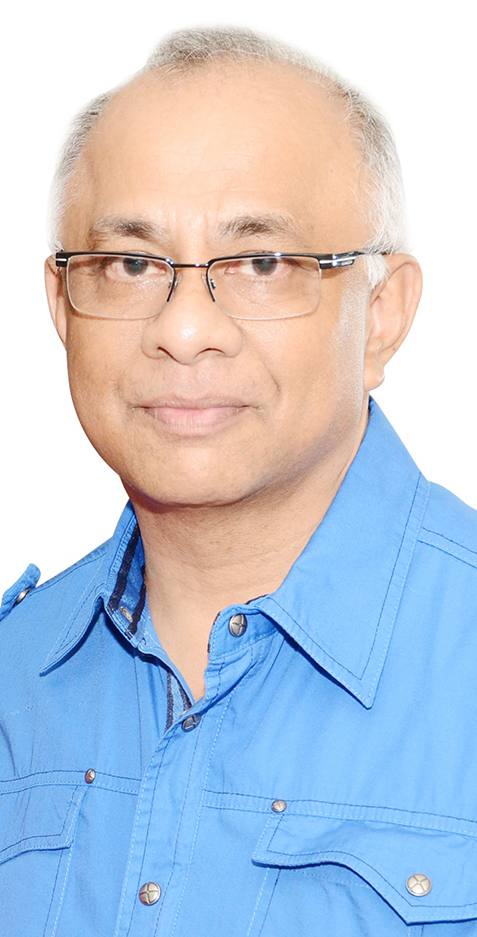 US-based businessman Jerome Bulkan has always been involved in humanitarian work, and for him it was not just about helping children in orphanages. He has also focused on enhancing technology programmes of educational facilities in Guyana. It was those actions and many more that saw him being awarded the Golden Arrow of Achievement.
"I believe my prudence and altruism have helped me with my humanitarian efforts and it is a big part of my life. I have tried to help make opportunities for others to make a better life for themselves. Also, I am very close to my family and enjoy spending time with close friends," Bulkan told the Sunday Stabroek from the US via email.
He shared that over the years he has been involved in raising money for orphanages, health care organisations and charities that help families in distress. "My family has procured toys for children in Guyana that were delivered at Christmas. Seeing photographs of joy in the eyes of children when they receive presents is truly rewarding for me," he told this newspaper.
But even though he was involved in charitable work and has done well for himself business wise, Bulkan said he was still very surprised when he was told he told he had received the award.
"It was such an unbelievable surprise when I received the news that I was being awarded with such a prestigious honour. I was touched that I was being recognized among many superb Guyanese," he said when asked for his reaction on being told.
He said his surprise came from the fact that there are many others who deserve the recognition, but he still accepted since according to him he has always tried to contribute to his homeland in several areas.
"Two of my passions include education and the promotion of democracy. I have made contributions to several educational facilities to enhance their technology programmes. Over the years I have commissioned consultant reports in areas necessary for Guyana's human and economic development," he further shared.
Bulkan's professional training is centred in the areas of risk management, global manufacturing, project management, product branding and ecommerce.
Asked to talk about himself, Bulkan, though he indicated it was difficult to do so, described himself as someone who always tries to maintain integrity since that was what his parents instilled in him.
Fond memories
Speaking of growing up in Guyana, Bulkan said he has fond memories of his childhood but some of his favourites include growing up in Fort Wellington. He recalls that back then it was a small community with lots of fruit trees, places to fish and play cricket.
"As a young boy I enjoyed going into the hinterland. It is such a beautiful, pristine environment and much different than the coastland. I learned firsthand about the spectacular beauty of Guyana, and was lucky enough to see up-close numerous rivers, waterfalls, savannahs and the rainforest," he said.
And as a teenager, Bulkan said, he was mesmerized by the colourful birds and majestic animals, like Guyana's national symbol of strength, the jaguar.
His father had worked for the then Office of the Prime Minister and managed infrastructure projects like the Fort Wellington Hospital, building schools among many other things.
His mother spent some time as a kindergarten teacher, but her son recalled that she mainly focused on raising him and his younger brother and sister; he has an aunt who was a big part of the family who continues to be close.
After A-levels his first full time job was with Air Services Limited at Ogle airport and after extensive training he rose to the position of Operations Manager.
"Because of the nature of the industry which requires precision and top-notch service, I learned the importance of details and not leaving anything to chance," he said.
In those days Air Services was one of the few air charter operations in Guyana and it had an extensive client list that included the major embassies, the World Bank, the United Nations and international corporations like Bridgestone Tire. As a result, Bulkan said he was fortunate enough to be exposed to a wide variety of clientele and learned quickly how to meet the needs of these diverse and prominent clients. 
"Our job was to make sure that from the time they came into our hangar to the time that they boarded the aircraft, their experience was seamless. For many of these clients, it was their first time experiencing the hinterland of Guyana and I was proud to make sure their journey was first class."
While he has lived overseas for quite some time, Bulkan said he would return to live and work in Guyana and in fact he has been travelling here frequently since 2011.
Those travels to Guyana have enabled him to develop a reasonable understanding of the people, economy, political system and its potential. He said since his days in Guyana, he developed an entrepreneurial mindset and tries to unlock value overlooked by the market. 
Best days ahead
For Bulkan Guyana's best days are still ahead, and she has the potential to become a first world country in one generation.
"Guyana has rich natural resources, a relatively untouched hinterland and a large percentage of young people who are seeking skillsets at all levels to elevate themselves," he said. He added that the country has a rich culture and diversity of people, cuisines and religions which, if melded together, can take Guyana to new heights in the developmental scale. 
And the recruitment of local Guyanese, and Guyanese in the diaspora in all fields with proven records of success along with integrity, is an important factor to enable Guyana to achieve meaningful economic and social development. 
"As someone who has international business experience, I see endless possibilities," he said.
This is no longer a country that has been overlooked by the world, he said, as multibillion-dollar international corporations are now focused on Guyana. He noted that when executives with global experience descend into Guyana and begin to recruit and train Guyanese, within a few years many of these newly trained Guyanese with entrepreneurial mindsets, will be able to branch off and start their own businesses. 
"There will be a paradigm shift in Guyana's economy because of the exponential growth from new and emerging industries – and this will happen quickly. I predict there will be a labour shortage in Guyana in all industries requiring all types of training. Now is the time for Guyanese to sharpen their skills to be prepared for abundant opportunities that will no doubt be coming mainly from foreign companies," he said.
Bulkan attended the business school at Minnesota State University and concentrated in the areas of Business Administration – Marketing and Finance. He said that experience helped him to look at the world in a different way, "meaning that I endeavour to make changes where most would not want to take a risk."
As an entrepreneur, Bulkan has founded and currently manages what he described as a successful corporation headquartered in Ft Lauderdale, Florida. He has also spent a lot time operating Eurosign Metalwerke. 
"Our company has designed official license plates and motor vehicle tracking software for many countries, including high secure license plates for several heads of states, presidential detail and for the security apparatus in several countries. We were one of the first companies to design enhanced driver's licenses and identification cards which met the criteria established by the United States Department of Homeland Security, Western Hemisphere Travel Initiative (WHTI)," he said of his company.
The businessman, who is a relative of Minister of Communities Ronald Bulkan, also founded a successful ecommerce business with clients in over 100 countries, including over 50 Fortune 500 (an annual list of the five hundred largest US industrial corporations, as measured by gross income) companies.
His products have been seen in major Hollywood motion pictures as well as TV commercials for several global car manufacturers, insurance companies and fashion houses, to name just a few.  "We ship to over 100 countries and it is rewarding to know that our products and services are highly regarded around the world – from Australia to the United Arab Emirates and Switzerland to Japan and everywhere in between," he shared.
While not married with children Bulkan said he has a "special person in my life" and treats her daughter as his own.  
Around the Web