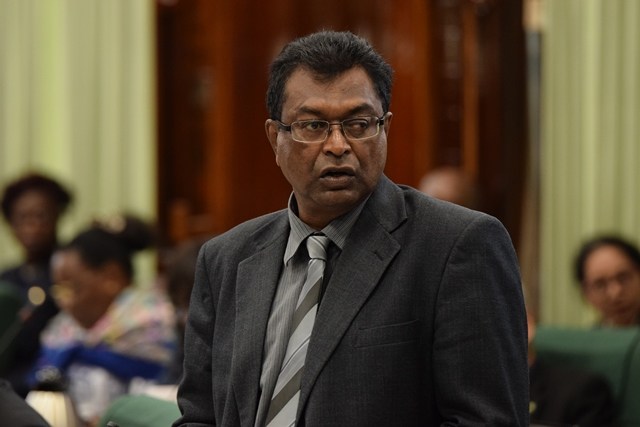 Minister of Public Security Khemraj Ramjattan on Wednesday rubbished claims by the parliamentary opposition that government has not taken urgent measures to manage the country's crime problems, while arguing that the existing statistics are proof of its efforts.
In fact, he said that the opposition ought to be working along with government to address crime, while adding that it had failed to do so during its 23 years in office.
The government and opposition traded blame during a debate on an adjournment motion on crime, which was brought to the National Assembly by Opposition Chief Whip Gail Teixeira. The motion sought to have the National Assembly call on the government to take urgent measures to effectively manage the public security sector and to uphold its responsibility to protest the safety of all citizens and reduce the levels of crime which are "eroding public trust and lowering the quality of life."
Ramjattan, in rebutting the premise of the motion, disputed that there is an erosion of public trust, while pointing out that the measures introduced by government since it took office in 2015 have actually resulted in a steady decrease in the crime rate.
In fact, he produced statistics for the years 2013 to 2017 to highlight the steady decline in serious crimes.
With loud murmurs coming from the opposition benches, Ramjattan accused the PPP/C members of Parliament (MPs) of not wanting to listen to the truth.
With regards to murder, he said the 155 cases recorded in 2013 fell to 115 in 2017. He quoted figures for other categories of serious crime which are on the decrease and made mention of the drastic decline in incidents of piracy since 2015, while informing the House that more criminals are being caught.
Noting that the figures presented are "not being made up," he admitted that the crime situation is still "bad" as too many robberies, rapes, sexual assaults, and burglaries are still being committed.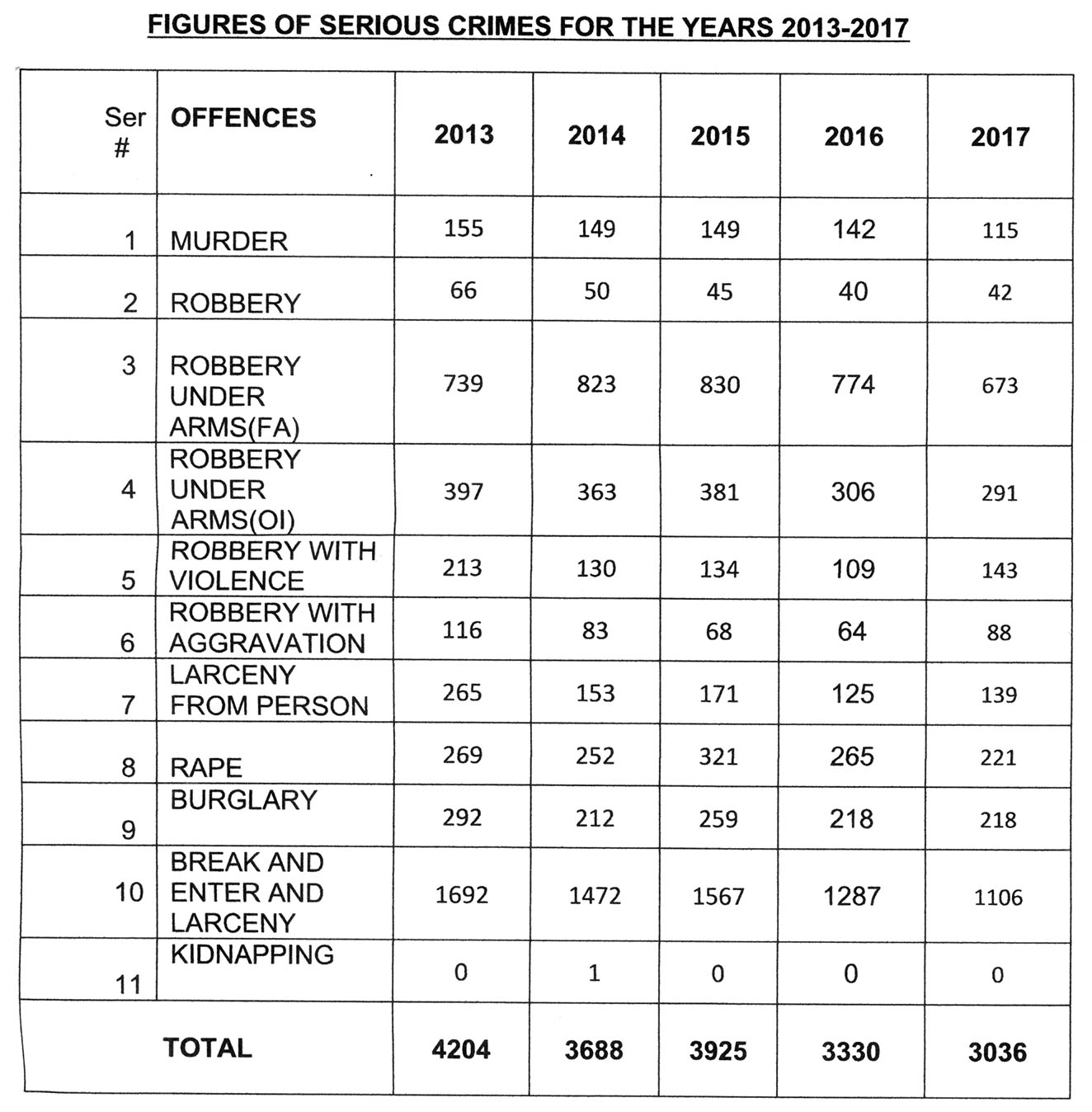 According to Ramjattan, with the resources made available, government is training more policemen, ensuring that more patrol vehicles are on the road and that the mounted and canine sections are involved in catching the criminals.
"It is not as if we haven't a handle on the situation but honestly indeed it is high and it is high because obviously there is a lot of say about other factors," he said before listing domestic violence as a factor which leads to murders, which he described as "very troubling."
The minister said it is untrue that the ministry has not been collaborating with all the relevant agencies dealing with public security.
Holding up a piece of paper, Ramjattan said that he has maps to show where crimes are occurring. This prompted an opposition member to shout out, "We want a map showing no crime occurring." The minister, in response, said that "we have to realistic," particularly given that Guyana, which has porous borders, is located in a region where there are lots of guns and narcotics, which breed a lot of crime.
Despite a warning by the Speaker, the opposition MPs continued to heckle Ramjattan until the end of his presentation.
Ramjattan, however, noted that many persons have praise the government for its efforts, which are far better than those of the opposition when it was in office. "I want to urge that we have to act together… you might help because indeed you have been there for 23 years. You could now probably recognise that there were some mistakes done so that you can probably ensure it doesn't reoccur," he said
Teixeira, in her presentation to the National Assembly, expressed dissatisfaction with the way government is handling the crime situation.
"You have a police force that is being demoralised… that came under the Commission of Inquiry [CoI]in which they were targeted," she said before pointing out that the person who headed that CoI, retired Assistant Commissioner Paul Slowe, has since been appointed the Chairman of the Police Service Commission.
"You have a crime situation where there is a lot of under reporting ….partly because of a lack of confidence in the police force", she said, while adding that with the non-appointment of a Chairman of the Police Complaints Authority, citizens have no other avenue to have their complaints properly heard.
Tackling the existing crime situation, she said, requires a joint effort by the various agencies and the sharing of intelligence.
"The government more and more is showing total incompetence to deal with the public security sector," she said before making it clear that she is not trying to attack Ramjattan. "I am attacking the whole government because everyone is responsible," she added.
Teixeira called on the government to effectively manage the public security sector, while arguing that after three years it has shown that "it is not making a dent." She said that government cannot complain about the lack of financial and other resources. She appealed to government to not be defensive on the issue but take responsibility.
Former Home Minister and opposition frontbencher Clement Rohee in his contribution said that there is a lot of talk and discussions about the crime situation in Guyana. Noting that citizens look forward "to action [and]…results… [and] value for money," Rohee said. "…As I said before all we hear is a lot of platitudes, a lot of excuses, a lot of defensive rhetoric coming from the government with no action behind it. The action has to be on the law enforcement side as well as on the civilian side," he further stressed.
Around the Web