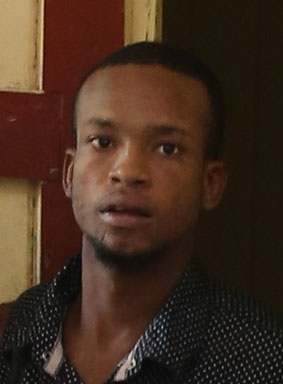 A 21-year-old plumber was yesterday fined $15,000 after admitting to committing a robbery with aggravation and subsequently escaping from the custody of the city police.
Shadrach King was also placed on $3,000 bail after he denied a separate robbery charge.
The court of Chief Magistrate Ann McLennan heard that on August 10th, at Stabroek Access Road, King robbed a man of a Blu cellphone, valued $14,000, a haversack valued $4,500, and $15,000 in cash.
King pleaded not guilty to the charge, while accusing the city police of trying to make him the scapegoat for the crime.
King, however, did admit that on the same date, he robbed Lawrence Salvador of $5,000 cash.
King also admitted that while being in lawful custody at the City Constabulary's Stabroek Outpost, he escaped.
In admitting to the charges, King told the court that he was under the influence of alcohol and that he took a crystal pill that someone gave to him, so he was not aware of some of the things he did. "I was high, high, high, My Worship," King stated.
He added that in relation to the robbery of Salvador, a family friend told him that Salvador owed him and so he approached Salvador with the man and took the money from him.
However, the court was told that around 4 am, Salvador was conducting business on the Stabroek Access Road when King, who was in the company of two others, approached and dealt him several cuffs to his face and other parts of his body. King was later arrested and while in custody at the constabulary's outpost he made good his escape by jumping through a window. He was subsequently recaptured.
Chief Magistrate McLennan fined King $10,000 or three weeks imprisonment for robbing Salvador and $5,000 for escaping custody. He was then placed on $3,000 bail for the other robbery charge, for which a hearing is slated on August 20th.
Around the Web