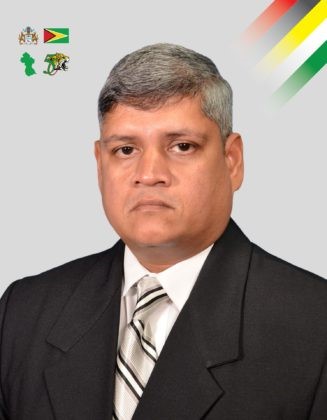 Leader of the Justice For All Party (JFAP), Jaipaul Sharma is convinced that the suggestion from the Working People's Alliance (WPA) that oil revenues should be used for cash payouts to every Guyanese must be an election gimmick as he argued it is not based on sound economic theory.
"It was an irresponsible statement to make and I can't believe that Dr. (Clive) Thomas is an irresponsible man. He is an economist. He must have been encouraged by someone else in his party to make that statement, to give the people false hope like that. You can't raise people expectations and not give them structure" Sharma, who is also the Minister within the Ministry of Finance, told Stabroek News in an invited comment yesterday.
Sharma, whose party like the WPA is part of the main governing coalition partner, A Partnership for National Unity (APNU), said that if Thomas and his party were truly serious about such a policy they would've crafted a policy proposal rather than make a floating statement.
Speaking at an event organized by the Buxton 1st of August Movement which was held at the Friendship, East Coast Demerara Primary School, economist, Dr. Thomas said that he believed that some portion of the net cash flow from oil should be dedicated and be given as cash transfers to every single household in this country.
'Whether it be US$5000 per year or whatever it works out at, we can put the figure together – there must be a mechanism in place to ensure every single household and by extension every single person, sees the benefits of oil and gas in terms of cash or cheque received in their accounts," Thomas elaborated.
For Sharma his statement was both too much and not enough.
"They are part of the government. They could've called for a meeting of the coalition and presented this idea if they were serious or if you are denied a meeting draft a proper proposal. Have a structure. Be able to tell the people exactly under which conditions they will benefit, by how much and from when. It is dangerous to raise the expectations of poor people like that, to make them feel that from first oil or December 31, 2020 government would be in a position to facilitate such a programme. If we are ever able to do something like that it will not be for years and years. You looking at 20 years down the line," a seemingly frustrated Sharma argued.
He noted that his party is the party of the poor and what the poor need is systematic development of the physical and social systems not cash payouts that can lead to inflation.
"WPA is full of intellectuals, sheer bright people. JFA is on the ground we know our people want roads. Every time they call into our programme [the Voice of the People] they say they want roads. They want lights and proper education, health and social programmes such as free Housing. If you don't have price controls then giving everyone US$5000 will be putting money in the business community's pocket not poor people's pocket because trust me they will raise the prices to match citizens' income," Sharma said.
 He further indicated that it's a system that truly cannot be controlled since hundreds of thousands of diaspora Guyanese can return and demand the same benefits as those who are resident.
"If we try to deny them it that's discrimination. All they'll need is a birth certificate showing that at least one parent is Guyanese and we'll have to make provision no matter where they live," he lamented
He further challenged the figure suggested by Thomas noting that figures provided by ExxonMobil suggest that at first oil Guyana could earn a million a day or $365 million per year.
"I am told he is suggesting we set aside 5% of that which is not enough for every household. We have a Budget that is running at a deficit of more than $50 billion I prefer to see that revenue reduce the deficit. We have an overdraft from the Consolidated Fund I would've prefer to see that money clear the overdraft. When we got into power there were 28,000 applications for house lots we probably must be give a 300 or 400 house lots in our three years because we don't have the money to develop the land. That is where the money needs to go. Poor people should be getting free house lots. Put the money in education, pay for the poor to get university education, improve health service, reduce the V.A.T and P.A.Y.E, and reduce the duty on vehicles. These will give the poor a better life" Sharma argued.
According to Sharma by doubling down on their proposal in the face of criticism, the WPA is further confusing the public by giving an impression that from 2020 when first oil hits there is possibility that government can give these payouts which is simply not possible.
"Everyone is campaigning on oil money but politicians must be careful. Say to the people this is something to work towards not something that you can get right now," Sharma concluded.
Around the Web