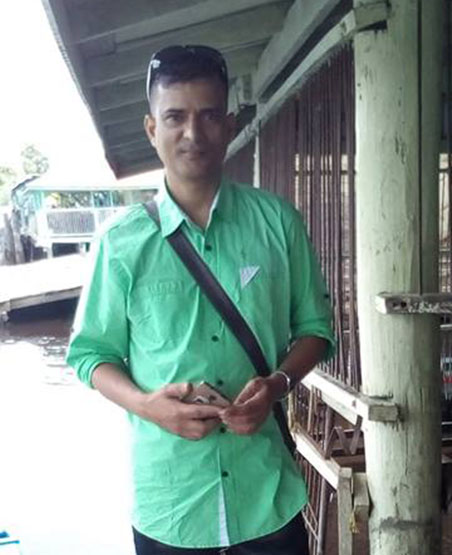 What was supposed to be an afternoon of fun turned tragic for a family on Saturday, when a man drowned while trying to save his 12-year-old daughter and his seven-year-old grandson at Bushy Park, Parika.
Family and close friends gathered yesterday at the Lot 65 La Grange, West Bank Demerara home of Farouk Bacchus, 42, to lend their support to his grieving family in wake of his death.
According to Bacchus' wife, Shameeza, along with their three children, their grandson and their son-in-law, they had gone to Bushy Park for an afternoon outing.
She said they arrived at around 4 pm.
"We just change off and we sit down and eat some chicken and chips and we [her and Bacchus] sit down on the rocks while me grandson and daughter were sitting on the sand itself playing by the water. So the wave coming in and going out, coming in and going out and me ah watch them and like I see the tide coming all the time but we didn't do anything 'cause we watching them all the time," Shameeza told Stabroek News.
She said that as the tide continued rising, a large wave collided with the shore where her daughter and grandson were playing. When the wave crashed into the sand, it knocked her grandson down and as it receded it pulled him away from the shore.
"…And when the wave pull out back, by he small and lil' piece, the wave pull he and when it pull he my daughter see and she jump behind he and grab he and she hold onto he. Then the water start coming like a circle and she call for me and said the water carrying she out, so I call for me husband because I can't swim," the woman said.
"Me nah tek it fuh nothing 'cause she said, 'Mommy the water ah carry abee out.' Is nah like she de hollering down but I tell he go quick. He go out and he was shaky like because he was drinking and when he go in the water and grabble them, I see the water start carry he out and he tek the little girl and put she on he shoulder and put the little boy on he next shoulder," she explained.
At that point, Shameeza said, she began to panic and started to holler for help. It was then that her son-in-law, identified as Raj, who was some distance away, heard and raced towards her. By that time, a stranger, who was standing in the vicinity, had already plunged into the water to attempt to rescue the man and the two children.
She noted that the stranger was able to retrieve her daughter from her husband and shortly after her Raj was able to retrieve his son from Bacchus, who was left in the water wading behind them to shore.
However, as they were returning to shore, another wave crashed into Bacchus and "lash he in he face and like he head knock something and he go down and I never see he back."
"When they de coming in, I see the water went by he nose and when the wave lash he me son-in-law turn around to see if he still there and try to grab he but he couldn't find anything," the still distraught woman related.
Shameeza said Raj and the other man brought the two children to the shore safely and then the search began for her husband. After searching for some time, they were unable to find his body and subsequently reported the incident to the police.
Another search was conducted late in the night and the man's body was found washed up on the shore around 11.30 pm.
Around the Web