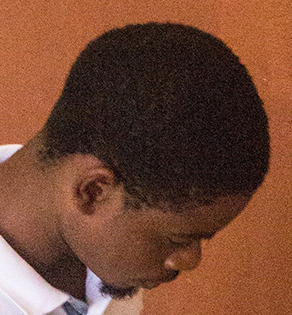 Charged with the attempted murder of a market vendor, who was shot in a robbery back in March, Dason Jupiter was yesterday committed to stand trial for the crime.
Jupiter, of Lot 8 West Front Road, was committed to stand trial by Chief Magistrate Ann McLennan at the conclusion of the Preliminary Inquiry (PI) into the charge against him.
It is alleged that Jupiter, on April 2nd, 2018, at Saffon Street, Georgetown, discharged a loaded firearm at Doodnauth Danasri.
Doodnauth, 62, called 'Hardat' of Windsor Forest, West Coast Demerara, and his wife, Meena Danasri, were attacked at about 5.30 pm on March 2nd at their stall, outside Twin's Drug Store on Saffon Street, by four unmasked men, one of whom was armed with a suspected .38 revolver.
Doodnauth was shot once in the region of his temple and to one of his hands. His wife said a bullet also grazed his abdomen.
At the closure of the PI into the charge, attorney Adrian Thompson, who represented the accused, made a no-case submission.
In responding to the attorney's submission, police prosecutor Neville Jeffers urged the court to call upon the accused to lead a defence, while noting that the evidence led by the prosecution was not discredited.
Subsequently, the Chief Magistrate told the accused that after considering the no-case submission made by the defence and the submissions made by prosecutor, she found that a prima facie case had been made out against him. She then asked him if he wished to say anything. Jupiter then stated that he was innocent of the charge. However, the Chief Magistrate then told him that based upon the whole of the evidence, there was sufficient evidence to put him to stand trial at the next practicable sitting of the Demerara Assizes.
Jupiter, who was on remand since he was first charged, was later granted his release on $200,000 bail and he was ordered to report to the East La Penitence Police Station and to stay 50 ft. away from the complainant.
Around the Web