A vendor was shot dead last night on Bourda Street after he allegedly put up resistance to three men who attempted to rob him of the jewellery he was wearing.
Dead is Troy Ramalho, said to be in his 40's, a cheese vendor of Bourda Market. He was shot once in his chest and was pronounced dead on arrival at the Georgetown Public Hospital.
The incident occurred around 11pm.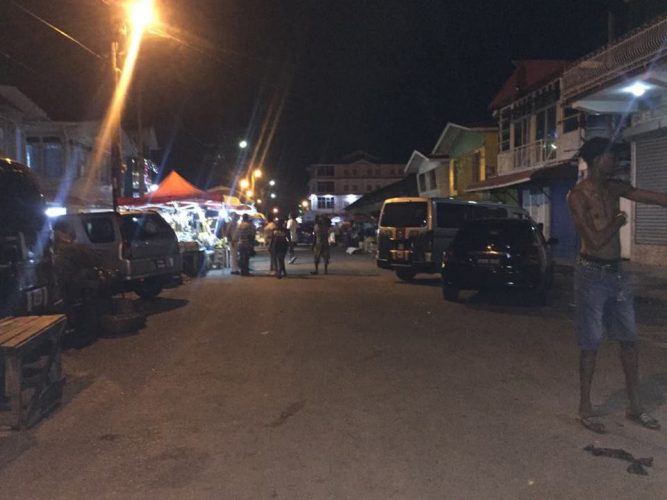 While the details surrounding the incident remain sketchy, Stabroek News understands that Ramalho was plying his trade when three men on foot appeared from the eastern direction and approached him. The bandits demanded that Ramalho hand over the jewellery and one of them shot him.
He subsequently collapsed and the men made good their escape in the northern direction.
Romola was rushed to the hospital by a public-spirited citizen.
A CD vendor who wished not to be named related to Stabroek News that he was in the vicinity packing up his cart when he heard a loud explosion. "I did standing up hay (on Bourda street) facing suh (west) and I see them girls …dancing up deh in the verandah so I busy watching and all of a sudden all I hear is a loud bow", the man said.
He noted that he later learnt that it was 'Rasta man' who was shot.
The police today issued the following press release on the matter:
A food vendor who was last night shot and robbed by three males on Robb Street (between Bourda and Alexander Street) succumbed to his injury at the GPHC shortly after, whilst receiving medical attention.           
Initial enquiries revealed that about 23:00hrs. yesterday, the victim Troy Ramalho, 45 years of Lot 11 North Road, Lacytown who was operating a food stall at the aforementioned location, had just closed his business and was awaiting a taxi to take him home, when the suspects, one brandishing a handgun, pounced on him.
The gunman, according to a witness, discharged a round at the victim who fell instantly, the others then relieved him of his jewelry and quickly fled the scene.
The unconscious victim was rush to the hospital where he died. The body is presently at the hospital's mortuary awaiting a post-mortem tomorrow.
No arrests have been made at this time.
Investigation in progress.  
Around the Web