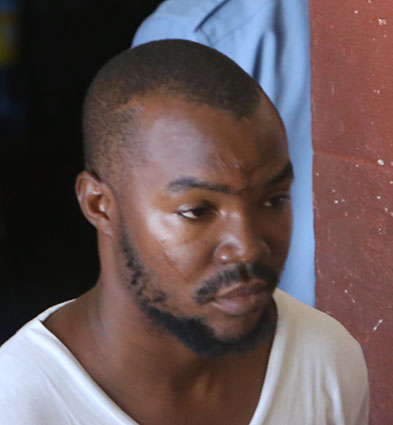 A disc jockey, who was charged in May with trafficking 158 pounds of marijuana, which was found in an abandoned car in front of the Royal Castle outlet on Sheriff Street, Georgetown, was yesterday sentenced to four years and six months for the crime.
Anthony Carmichael, 30, of Lot 2 Bennett Dam, Rosignol, Berbice, was on trial before Principal Magistrate Judy Latchman.
The charge against Carmichael stated that on April 16th, 2018, at Royal Castle, on Sheriff Street, he trafficked 72.008 kilos (equivalent to 158 pounds) of cannabis.
On April 15th, Customs Anti Narcotic Unit (CANU) ranks on an operation unearthed several packages of compressed marijuana, which were sealed in plastic wrap, in the back seat and trunk of a car, PKK 1609. The driver of the car, who purportedly abandoned the vehicle after suspecting that he was under surveillance, subsequently turned himself over to law enforcers in the company of his attorney. He was questioned and released.
As the result of a wanted bulletin, Carmichael was arrested by the Guyana Police Force and handed over to CANU.
When the matter was called before Magistrate Latchman yesterday, the accused heard that based on the whole of the evidence led by the prosecutor's witnesses, the accused was found guilty of the crime.
Shaking his head in disbelief, Carmichael told the court that he was innocent of the crime.
"This thing is a whole set up. I didn't bring nothing down to Georgetown", he said.
Prior to sentencing the accused, the Magistrate stated that she took into consideration the fact that Carmichael was on remand for the past four months, the quantity of the drugs, the organised manner of the crime and the fact that there had been a lookout and the value of the substance.
Carmichael was subsequently sentenced to four years and six months in jail for the crime.
The matter was prosecuted by CANU Prosecutor Konyo Sandiford.
Around the Web