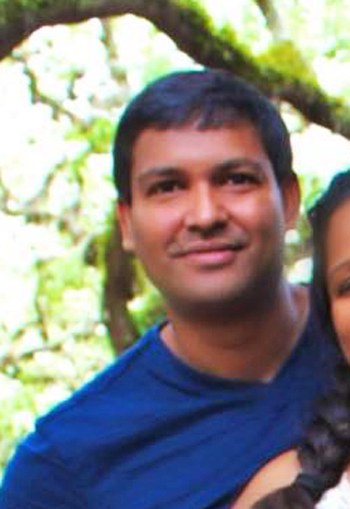 Just over a month since her husband drowned in the Demerara River after a jet-skiing accident, Samantha Budhraj believes that there has been a cover up, for which her relatives are responsible.
Ravindra Budhraj, called 'Rick,' an overseas-based Guyanese, reportedly lost control of the jet ski and he and the pillion rider, Stefan Gajie, were thrown off on July 15th. At the time, neither man was wearing a lifejacket.
Budhraj's remains were pulled from the Demerara River two days after.
However, his grieving widow told Stabroek News that not only does she believes her relatives are trying to cover up what really happened, but that they failed to render assistance to her husband after the accident occurred.
Detailing the series of events that led to her husband's demise, Samantha said that her relatives had planned a family trip to Santa Mission, where they had spent two hours before returning to the wharf at Jettoo Sawmill, located at Block 'Y' Coverden, East Bank Demerara.
She noted that upon their arrival at the wharf, she had excused herself to use the washroom and when she came back she saw her husband and Gajie on the jet ski out on the Demerara River.
Not long after, she said the men fell, causing everyone to panic. Subsequent to this, she said some of the other men who were present went out to rescue the two men.
"They didn't spend more than 10 minutes out there before they came back with Stefan and the jet ski alone. I cried. I screamed. I begged them to go out back to find him but no one went out. They had the opportunity to go out back, they had at least 45 minutes of light to go out back and look for him but they did nothing. They called the police and they showed up several hours later," the woman told Stabroek News.
"The police came and the coast guard went out on the water for a short while and they came in told me that they will have to continue at 5 the next morning because they don't have the equipment to continue the night," she added.
The grieving widow said she was both shocked and hurt the next morning when she realised that not only were the police and coast guard a no show but that her relatives who were present the day before had also abandoned the search efforts.
"It was me and my father-in-law at the wharf that morning. There was no police out there and none of them came out to help us. We got help from the owner of Jettoo's Lumber Yard, who lent us a boat and came with us to look for my husband," the woman said.
"They abandoned us. They just disregarded the entire situation as though nothing happened at all. These are people who we were close to and this is how they treated us," she added.
Budhraj also related to this newspaper that she believes her husband, whom she described as a decent swimmer, had attempted to rescue Gajie, who did not know how to swim, when he went down.
"Stefan knows the truth about what happened out there but they are all just trying to cover it up. When Stefan came back from the hospital, I rushed to him and asked him what happened and he said when they went overboard Rick told him don't worry, he got him, but then he told the police that Rick told him that when they were on the jet ski still. With all the noise on the jet ski, how are you hearing each other talk?" she asked.
"I believe that my husband was trying to rescue Stefan …They are not telling the truth, they just trying to cover up everything," the widow added, while noting that the group of relatives have since cut contact with her all together since the fatal accident occurred.
Further, Budhraj, in responding to a report that the Maritime Administration Department (MARAD) was still seeking to ascertain the ownership of the jet ski, said the water craft is owned by the boyfriend of one of her cousins, in whose company they had been when the incident occurred.
When asked if she had been in contact with MARAD, the woman responded in the negative but hinted that that may be her next move as she continues to seek answers.
Director of Safety Captain John Flores recently told Stabroek News that his agency is still working along with Guyana Tourism Authority to identify the tour company which owned the Jet Ski.
"We are in the process of trying to ascertain the owner of the jet ski. It is said to be registered to a tour company, but we visited the address of that company on Brickdam but no one was there," Flores said, while indicating that the Tourism Authority was creating a list of tour companies which use luxury water craft as part of their attractions.
Flores noted that the water craft is not registered with MARAD. "This has left us at a dead end because we cannot trace the owner of the Jet Ski and there is no record of it in our records," he said.
Around the Web