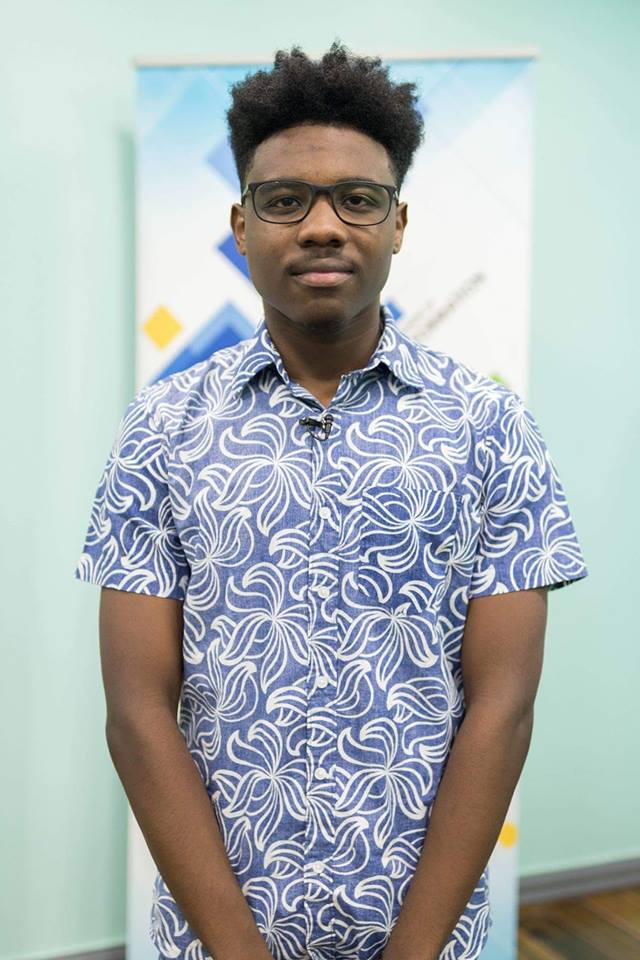 While students continue to attempt to sit a larger number of subjects at the Caribbean Secondary Education Certificate (CSEC) examinations, this year's top performers would like those following them to think less about the number of subjects and more about having fun.
"Don't take on more than you can handle. Avoid procrastination as much as you can. Stay focused but also remember to have a social life since your life doesn't revolve around studies and work," this year's top student Christian Pile advised.
Sixteen-year-old Pile, a student of Queen's College, told Stabroek News that he wrote 19 subjects simply because he could.
Altogether, Pile wrote Chemistry, Biology, Physics, Integrated Science, Agricultural Science, English Language, English Literature, General Mathematics, Additional mathematics, Geography, Social Studies, History, Principles of Business Information Technology, Electronic Document Preparation Management (EDPM), Human and Social Biology (HSB), Physical Education, Religious Education and Spanish. Since Agricultural Science is a double award subject, Pile has recorded 20 passes.
He is one of a whopping 233 candidates who received Grade 1 passes in eight or more subjects, with 39 of them securing similar passes in 12 or more subjects.
According to Pile, he has from an early age intended to become an astronomer and therefore he has studied and intends to continue studying Science. The other subjects were icing.
Pile is followed by Shikira Bholo of Anna Regina Secondary, who has secured 18 Grade 1 passes and two Grade 2 passes. Stabroek News was unable to speak with the student, who is currently at an away camp.
The third place student, ISA Islamic School's Salma Majeed, however, also advised her colleagues to have fun.
"Pray and work hard. God will answer your prayers and you must realise from now that hard work truly pays off in the end," she stressed, while adding that students must "remember to have fun because we are all still young and deserve all the happiness in the world."
As she spends her summer on Hajj in Saudi Arabia, Majeed, however, told this newspaper that she was overwhelmed and delighted to hear the news that she was able to secure 18 Grade 1 passes.
"I still cannot believe it," she gushed, while explaining that she attempted General Math, Additional Math, English A, English B, Spanish, EDPM, Information Techno-logy, Caribbean History, Geography, Social Studies, Religious Education, Biology, Chemistry, Physics, HSB, Integrated Science, Food Nutrition and Health and Family and Resource Management because she wanted to see what would happen.
"I am a person who loves to commit to any challenge and see how it goes. My parents and teachers were always there to motivate and support me every step of the way but of course it was a lot more difficult than I thought. I must admit though that all the hard work pays off and nothing is possible without the will of Allah," she said.
The prospective lawyer expressed gratitude to Allah, her parents, especially her mother, for continuously supporting her, and her teachers from school and lessons for always believing in her.
For 16-year-old Areeb Alli, writing 21 subjects was a once in a lifetime experience but the results brought him down for all of a few seconds.
"I'm a bit down that I couldn't achieve a Grade 1 in all my subjects but Allah knows best," he told Stabroek News after learning he has secured 17 Grade 1 passes, three Grade 2 passes and a Grade 3.
He noted that all arrows point to him attending sixth form at Queen's College once he is accepted.
"I'd like to thank Allah because what is written for me is what I'll get. My success is by him only. I'd like to thank my parents for supporting me in everything, financially, emotionally and mentally. I'd like to thank my teachers for imparting their knowledge to me as well as guiding me and always supporting me. Special thanks to Mr. [Navendra] Hardyal, Miss Candida, Miss Harris and Phillipe," he said.
He also took time to express gratitude to his cousin and friends, who "hyped" him up before offering special thanks to his sister, this year's top CAPE performer, Aadilah Ali, whom he said helped him in all areas of his work.
Meanwhile, Anna Regina Multilateral student Camecia De La Cruz is today relieved and happy after spending the last two months nervous and anxious. De La Cruz was able to pass all 20 of the subjects she wrote at this year's exams, with 17 Grade 1 passes, two Grade 2 passes and a Grade 3 pass.
The subjects she sat were Mathematics, English Language, English Literature, Biology, Chemistry, Physics, Integrated Science, HSB, Information Technology, Single Award Agricultural Science, Family and Resource Management, Social Studies, Spanish, EDPM, Economics, Principles of Business, Office Administration, Visual Arts, Religious Education and Physical Education.
She explained to Stabroek News that as she was not sure of which career path she wished to embark on, she decided to attempt a wide variety of subjects so that she could keep her options open.
She expressed gratitude to God as well as her parents, other relatives, teachers and classmates and friends for offering her the support she needed.
According to De La Cruz, she did not find writing such a large number of subjects challenging and only attended extra classes for three of the 20 subjects: Chemistry, Physics and Mathematics.
 She advises those writing any examination to keep their eye on the prize. "Keep focused. The world is filled with distractions but don't allow yourself to be distracted from your goals," she encouraged.
For Queen's College's Haema Dasrath, her 20 passes came as a surprise.
"I knew I was taking on a vast amount of subjects but the idea of obtaining all ones seemed farfetched but it was worth a try. I'm disappointed that it wasn't entirely ones but a majority of it was and I'm really grateful for that," she said of her 18 Grade 1 passes, one Grade 2 and one Grade 3. Dasrath wrote 19 subjects, including the Double-Award Agricultural Science, so she has secured 20 passes.
"I did it because I knew that if I did not I would've regretted it. I would've continuously though "what if" after I received my results. You only write CXC once in your life in secondary school. It's what you spend 5 years of your life working towards and preparing for, so you ought to give it the best you've got," she advised, while noting that she has a passion for fighting crime, especially sexual assault and therefore will be joining the criminal justice system.
"I'm aiming [to be], more specifically, a prosecuting attorney; even joining the police force would be good for me," she said before thanking her mother for being a strong supporter and God for being her constant comfort.
Aarti Hooblall, also of Queen's College, also attempted 20 subjects; namely, Mathematics, Additional Mathematics, English Language, English Literature, Biology, Chemistry, Physics, Integrated Science, HSB, Information Technology, Agricultural Science (Double-Award), Spanish, EDPM, Economics, Principles of Business, Economics, Religious Education, Physical Education, Social Studies, Geography and History.
She told Stabroek News that she decided to do a wider variety of subjects so that she could have a wider choice when deciding on a career but believes she now knows she wants to join the legal profession.
According to Hooblall, she will be returning to Sixth Form to attempt the CAPE examination.
She expressed gratitude to her parents, teachers, grandmother and friends, who supported her throughout the years and advised those looking to achieve similar results to persevere. "Believe in what you want and strive to achieve your best. Don't depend on anyone but yourself," she stressed.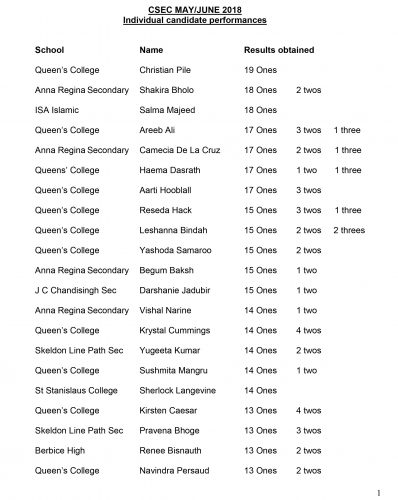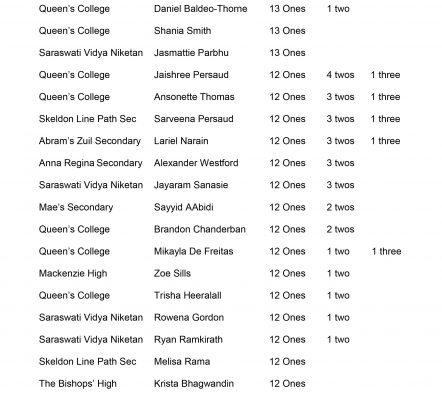 The list of candidates who secured Grade Ones in 12 or more subjects, according to the Ministry of Education. The list, however, included the name of one candidate three times (removed here) and at least one parent who contacted this newspaper said that their child's results were not included. Students also complained that the results released by the ministry failed to recognise their Double-Award in Agricultural Science.
Around the Web