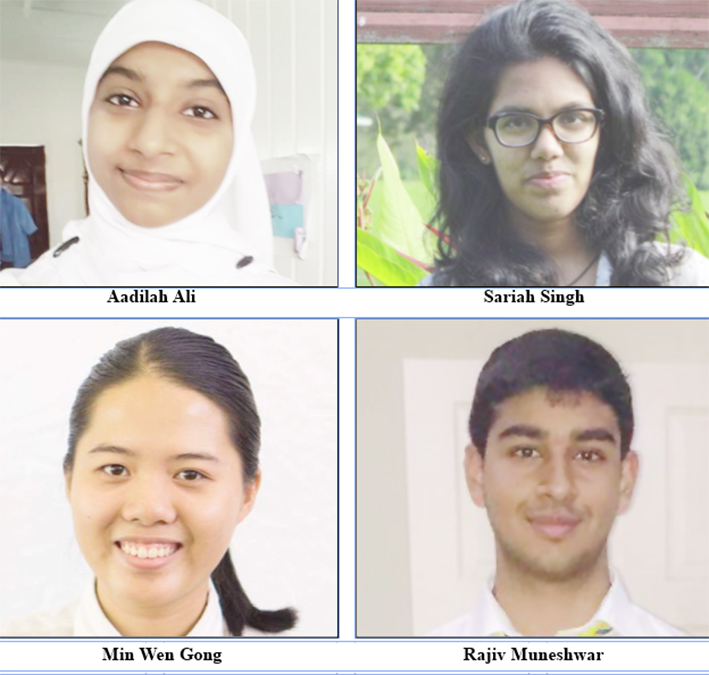 Today Aadilah Ali is ecstatic. Of the 923 candidates who wrote the Carib-bean Advanced Proficiency Examination (CAPE) in Guyana, the 18-year-old Queen's College student has come out on top. 
Further, after two years of worrying she is certain that her dream of studying medicine will be fully funded by the Presidential Scholarship she has earned. It is the quest for this scholarship which saw Ali write 22 subjects at the Caribbean Secondary Education Certificate (CSEC) examinations in 2016 but she was only able to secure 18 Grade 1s, while both Kayshav Tiwari and Fatima Khan secured 19 Grade 1s.
"I missed it by one and I was quite heartbroken. CAPE was my second chance," she told Stabroek News.
Ali took full advantage of this second chance to secure passes in 15 units over the two years in which she wrote CAPE. This includes 14 Grade 1 passes and one Grade 2 pass.
Having worked through her despondency with the help of a special teacher, Ali is now confident and satisfied with her grades and is working to complete her application to her shortlisted schools of St. George's University and the University of the West Indies.
"Their medical programmes are recognised regionally and internationally and they are the ones which have been most recommended to me," she said in explaining her choice.
She wished to advise those who are now about to write CAPE to always believe in themselves.
"While you may fall down and have harsh obstacles along the way, it is crucial to put your trust in the Almighty and yourself. Additionally, you can't just pray all day and not do your part as well. Work hard, always putting your best foot forward, accepting defeat if it comes but persevering and moving on to conquer the challenges ahead. The road is difficult but the destination is always sweet once you get there," she stressed, while expressing gratitude to Allah, her family, her teachers and her friends.
While Ali celebrates, her classmate Sariah Singh is a bit subdued. She, too, was hoping to win the scholarship and secure financing for her studies in Medicine, but while Singh has one more unit than Ali, 16 to her 15, only 12 of her passes are Grade 1 passes. She has secured 4 Grade 2 passes.
Despite this setback, she is prepared to find another avenue.
"I was a bit disappointed at first but now I am grateful and happy. I was hoping to be recognised for the Presidential Scholarship as I have applied to the medical programme at the University of Guyana, St. George's University and  the University of the West Indies," she told Stabroek News, while adding that she will now seek to apply directly to whichever school accepts her for financial consideration.
In the interim, she is relaxing after a stressful few months and appreciating all those blessings which have come her way.
"I would like to thank God for guiding me through every step of the way and for all his blessings; my family, who have tirelessly supported my efforts; my teachers for all their hard work, dedication and guidance and my friends for all their support," Singh said before advising others to work hard and never lose sight of your goals.
"The journey is not easy at all and at times you will lose all hope and motivation but you must keep working hard," she stressed.
Min Wen Gong, also of Queen's College, has similar advice. After securing passes in 13 units, including 12 Grade 1 passes and one Grade 2 pass, she is moving forward to study for a Bachelor's Degree in Biochemistry
She stressed that success at CAPE comes from consistency and genuine interest. "Choose subjects which you are genuinely interested in to study. Go to all of your classes, especially those which are scheduled in late April and early May because those classes are usually focused on practice exam questions," she advised.
Unlike her colleagues, she did not choose her pattern of study based on a scholarship offer.
"It would be nice to qualify for a scholarship but it was never goal I had in mind. At the beginning of Sixth Form, I wasn't sure what I wanted to study at the tertiary level so I just chose the subjects I was interested in," she noted. Those subject included all variations of Mathematics (Integrated, Allied and Pure) as well as Chemistry, Biology and Physics.
Gong expressed gratitude to her parents, sister and friends for their unwavering support and special thanks to all of her teachers.
Another student with 12 Grade 1 passes at CAPE is Rajiv Muneshwar. 
Muneshwar, who attempted 12 units, was able to attain Grade 1 passes in all, with all A profiles in 11 of those units.
He explained to Stabroek News that the subjects he chose to study were selected based on a process of elimination.
"I chose those units mainly because I don't like excessive reading, so doing Arts subjects was out, and I find studying Business a futile venture at best. So, all that [I was] left with [were] the Maths, Sciences, and a bit of the technical subjects. I performed to my liking in all of them throughout the years but chemistry was quite a fight and I dropped Biology because it didn't fail to be boring," he explained.
After this elimination process, he sat examinations in all variations of Mathematics, Chemistry, and Physics, with one unit of Biology thrown in.
Today finds Muneshwar preparing for the Standard Aptitude Tests as he prepares to attend University in a quest to study engineering. "I wish to make something of my own sweat and blood that could possibly change many people's lives," he said.
Muneshwar expressed gratitude to everyone in his life for putting up with his various eccentricities and advises students to push themselves to new limits. "Push yourself until you break and then push a bit more after that, because you'd never know your true abilities until you crawl your way to that limit. If you fail, so what? Bite your hand and try again," he said.
He specifically expressed thanks to his "friends who have helped me and whom I have helped just for being there and being a constant source of competition [and his] family for knowing when to give me my space to study and when to be there for me."
He added, "Thanks to all my teachers and mentors throughout all my years at QC because every single one of them, no matter how small the role, helped me get to this point. Thanks to my lessons teachers as well cause they really helped squeeze that extra amount of work out of me."
Around the Web