Incumbent Chairman Basil Williams yesterday made a last minute case for his re-election during his address at the opening of the PNCR's 20th Biennial Delegates' Congress, where he urged that "tested… and proven" candidates be elected to the party's executive tomorrow.
While President David Granger is being returned unopposed as party leader, a three-person race is on among Williams, Minister of State Joseph Harmon and Minister of Public Health Volda Lawrence for the position of Chairman. Those results will be made available tomorrow when the party holds its internal elections.
"Serving the people effectively requires us to work on finding a way to integrate all our communities. It is my hope that integration is not only viewed as an intellectual concept but will be used to bring us all together through all the Regional Groups," Williams said, as he delivered the Chairman's address to the over 1,500 attendees at the congress.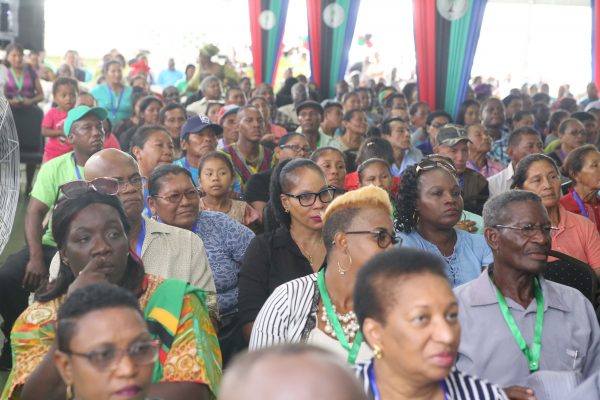 "We must be viewed as coordinated, and as a bloc… which we parlay into meaningful projects for our individual communities. Comrades, we must be vigilant and there should be no room for dissension and outside interference and influence in our party structure," he added to loud applause.
Among guests at yesterday's opening of the congress, being held under the theme 'Better Together for Brighter Tomorrow,' were members of the Diplomatic Community, Guyanese music icon Eddy Grant and members of the Alliance For Change.
The drowning out of the voice of Williams with thunderous applause and screams seemed to be the high point of the opening, as delegates absorbed his every word, interrupting periodically.
Williams, who is also this country's Attorney General and is seeking a third term as party chairman, did not name any person but told delegates that he has a tried and tested record, that he embraces the grassroots and youth as his own and that he has a solid plan for working with them to achieve the country's total development.
"Comrades, as we forge ahead let us not lose the common touch but reach out to everyone. I believe we must go back to basics and therefore we must give our energy to reorganizing at the grassroots, especially as we prepare for our local government election in November as well as general elections in 2020. It is because of your 'grassroots' activism that we were victorious in 2015," he said.
"As Chairman, my long-term plan is to put in place a council that would work closely with party chairs throughout the regions to create a "constituent model" to assist in resolving issues that are affecting our grass root communities. Comrades, I believe in the People National Congress Reform. I believe in you, and the work you have done for this party," he added.
Reflecting on the works of the party's founding leader, Linden Forbes Sampson Burnham, Williams said that the party was formed through a democratic process where every person was valued, irrespective of their differences.
Resonate
With the knowledge he claimed he gained as Burnham's protégé during his early days in the party, Williams said that the party can be assured of his commitment to the underprivileged.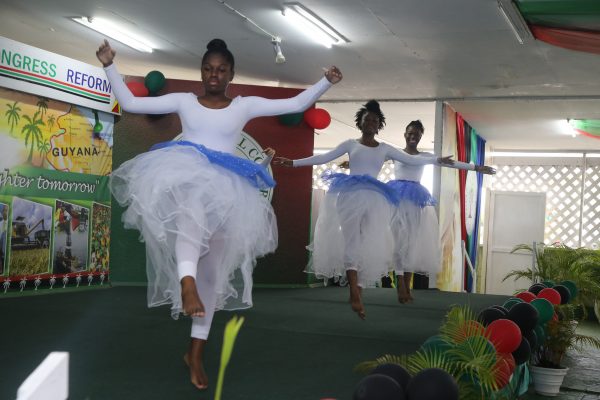 "I believe that the vision and shared values of Linden Forbes Sampson Burnham resonate in us. It is because of those shared values of country first that we are here. As someone who has grown up in the party, I can testify to our commitment to the Guyanese people and for this reason I am proud to be associated with this party. I have worked under the leadership of all the Presidents that served in Government and I was mentored by them. Even now I continue to serve and be mentored under the leadership of our sitting President. My experience as a young person in the party taught me the value of hard work and I attribute my success in life to the time spent serving in the party. I am passionate about young people and their role in activism. It is important that you become the change you want to see and play an active role in the development of your country," he said.
Williams stressed that that if the party is going to continue to grow and become stronger, the old must collaborate with the new.
"The word of God says in the book of Joel 2:28 that God will pour out his spirit on all flesh and old men will dream dreams and young men will see visions. I posit to you today that both dreams and visions are needed to develop Guyana," he stated as the auditorium of the PNCR Sophia Headquarters erupted.
Screams, from mostly women, rang out: "Preach it Basil," "Amen" and "Chairman for life."
Even contenders for the post, Lawrence and Harmon, struggled to hold back smiles.
When President Granger took to the podium to give the leader's address later, he jokingly remarked that "It is always difficult coming after pastor Williams."
"As Chairman I have always engaged with the young members of our party and taken on board their suggestions for reform. At the last national elections, you contributed significantly to getting youths to the poll. You took to social media and developed innovative ways to campaign. For that we thank you. I implore you to remember that the future belongs to you and you must not shrink back but continue to be proactive without looking for a reward," Williams added.
He told the delegates that tomorrow's elections was not a time "to experiment" as it runs the risk of selecting leaders who might repeat the 23 years of suffering. He advised that they should therefore remember "tested, tried and proven comrades" and elect them to guide in strategising to win the 2020 General and Regional Elections.
"It is therefore vital that President David Arthur Granger has a winning team to help him to continue in government, so he can give the Guyanese people the good life he promised them," he added.
Around the Web