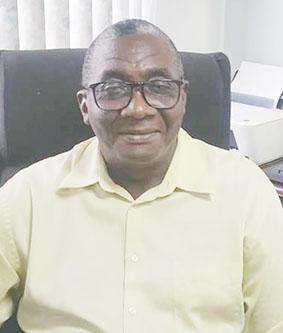 GuySuCo has not yet received any funds from the $17 billion that was secured by the Special Purpose Unit (SPU) since May to revamp its operations and as a result it cannot begin the implementation of any of its modernisation plans, newly-appointed Chief Executive Officer Dr. Harold Davis Jr says.
"There has been a lot said in the press about all this money but that is, strictly speaking, not quite true because we have not yet received the funds that we really need," Davis told Sunday Stabroek News in a recent interview.
The government holding company, the National Industrial and Commercial Investments Limited (NICIL), which set up the SPU, officially issued a $30 billion equivalent bond facility, arranged by Republic Bank Limited. NICIL had said that the bond would be issued in multiple tranches, with the first tranche of roughly $17 billion or US$85 million equivalent having already been issued in May.
Told that the SPU announced that it had collected the first tranche, and asked if the funds have not yet been transferred to the corporation, Davis responded in the negative. "Have we? No. Well, I don't know about that. We requested some money… but we haven't received that. Wherever you got that [information], you didn't get that from us and I am sure you didn't get that from the Ministry of Agriculture. There is a commitment to release some of these funds but we haven't really as yet. That is still in discussion," he said.
A source told Sunday Stabroek that although GuySuCo has not received any of the money issued to the SPU, legal fees, the arranger's fee to Republic Bank and interest from the day the tranche was issued have already been incurred.
It is unclear why the SPU has not transferred the funds to GuySuCo and efforts to contact its head, Colvin Heath-London, who secured the bond, have proven futile. Calls to his mobile number went unanswered and last week Wednesday when this newspaper visited his office, an employee informed that he was not in the country.
On May 12th, government requested that the National Assembly approve an increase in the value of loans secured by any public corporation for which it may stand as guarantor. The request was granted and the value was increased to sums up to and including $50 billion.
Then on May 14th, NICIL announced that it had received the first tranche of roughly $17 billion, arranged by Republic Bank. The local law firm London House Chambers, headed by Devindra Kissoon, is acting as transaction attorney.
NICIL, in a statement, said that it expected to raise the remaining sum of $13 billion or US$65 million within the next few months through a combination of local and regional investors as it had planned to launch a "targeted roadshow" across the Caribbean. That roadshow, it noted, would "likely include investor briefings in Trinidad and Jamaica.
The statement said the bond is the largest ever bond facility arranged in Guyana and was oversubscribed by local investors on the first tranche. Its proceeds, the agency boasted, would be used towards capital expenditure and general operations for GuySuCo.
'Tools and resources'
Davis said although he was only recently appointed CEO, he is certain that the corporation has not seen any of the funds or resources purchased from it and he would know by now.
The former Agricultural Director of GuySuCo said that SPU or any other agency or person saying that the money has been collected means nothing to the corporation if it is not being used. "I am a scientist and I work with facts and energy. Say I have this paper and I keep it here, it remains there, it does nothing, it does not move, it is there. So if you hold something in front of me and say, 'I have this,' it means nothing to me. Unless there is the investment, it means nothing. So, I want to dissuade you of the view that we have collected," Davis, the holder of a PhD in Soil Chemistry, said.
"I don't even want you to give me the money but if I say 'We need this' or 'I want you to buy this for GuySuCo,' I want to see this. I am not really interested in the money I want the tools and the resources to do what I have to do," he added.
Equipped with a strategic plan and the knowledge he has working with GuySuCo from 1981 to 2010 as its Agriculture Director and as a consultant to countries worldwide in the same capacity since then, Davis urgently seeks the resources necessary to begin the  transformation of the corporation, which he believes could see a turnaround in three years.
"We have a strategic plan and we have a strategy to cater for how we want to spend that money on the estates. We have submitted a plan of what we want and to dispose of our bond funds. That is where we are. We need $42 billion but we agreed GuySuCo will generate funds though its operations. What we need money for, we already have a clear idea of what we need to spend that money on. We need to spend money on the refurbishing of our fields and factories, so as to enable us to start producing at more efficient and more modernised existing facilities. That is the only way," he said.
"Once we start doing that we will start generating some funds and with the capital that flows in the business we will further extend our operations into more value-added, such as the co-generation project, which will require some detailed engineering," he added.
Echoing much of what the Ministry of Agriculture has said will be his mandate, he explained that the new strategic plan will be heavily focused towards modernising the three remaining estates which are the production centres and will entail transforming infrastructure, agricultural and other practices, and retooling factories.
"In an effort to create and deliver more value, co-generation facilities will be constructed, the factory at the Albion Estate will be upgraded to produce plantation white sugar, and consideration will be given to the expansion of production at Blairmont Estate to accommodate increased production of direct consumption sugars, among others. Feasibility studies on co-generation have been completed for two factories and a further study will be conducted on the third estate. The first co-generation project would commence on Albion Estate within the planned period," the Ministry of Agriculture had said in its statement on his appointment.
"One of the key focus areas for Dr. Davis will be to increase the competitiveness of GuySuCo with the production of high value sugars – plantation white and direct consumption. A precursor to this will be increase sugarcane yields to beyond 70 tonnes [of] cane per hectare. A land development programme has already re-commenced under Dr. Davis's watch as Agriculture Director and this is being conducted in a highly technically sound manner. Improving the capacity of the workforce through training and development is a high priority item on his agenda," it added.
'Human resource investment'
A large portion of the funding garnered will be used for human resource development and also a priority for Davis will be to upgrade the skills of staff of the industry as GuySuCo prepares them for working in a modernised system.
In its quest to get high quality skills to support the modernisation of the corporation, GuySuCo will be looking to reemploy former workers and train them to meet the needed demands.
"In terms of the process for achieving his goals and objectives, focus will be on the establishment of a sound, highly-skilled management team with a range of relevant expertise. The production centres, estates, are the core of the business and strong teams will be built around providing the requisite support to achieve and surpass the 147,000 tonnes production target by 2021," the Agriculture Ministry had said and this was repeated by Davis.
Given the resources needed, Davis is optimistic that in three years the three estates would see remarkable differences and prove to naysayers that the sugar industry can be revitalised.
"I daresay that in the next three years we are going to make this as efficient as we can and I know we can. When we have cash in place—know I am saying it is not money it is resources, directed at specific projects that will improve the viability of the business—once we get those resources, I think GuySuCo has a future but we have to direct it appropriately. Say we get a tractor, we are not going to plough the fields like we had before. … We use modernised ways that can make the job going forward effective. You can't just do things the way you are doing things," he explained. 
"If we are given the resources—we haven't seen it yet but once we get it—we should see in three years' time something different. You will see something certainly remarkably different; a different kind of industry. But you have to start. We are looking at a strategic plan with milestones and the milestones will be there, short, medium and long term. It will be there for you to judge us and we ask that you do," he added.
Around the Web