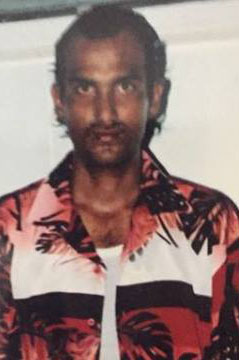 The man whose body was found floating in a trench earlier this month at Canal No. 1, West Bank Demerara, has been positively identified as Grove resident Haimchand Persaud, whose family is calling for justice as it appears that he was murdered.
A police source yesterday told Stabroek News that the remains of Persaud, called 'Anand,' 42, of Grove, East Bank Demerara, were positively identified by his brother, Ram Ganesh Persaud.
The source added that an autopsy that was conducted on Persaud's remains last Thursday found that he died as a result of blunt trauma to the head, compression to the neck and drowning.
As a result, the source added that persons from Parika, East Bank Demerara, who were reportedly last seen in company of Persaud, were detained for questioning. They were, however, subsequently released.
Nevertheless, the investigation remains active, the source added.
Persaud's body was discovered floating in the trench around 11 am on August 10th.
The police had said at the time that the body, which was floating face down, was clad in a t-shirt, a pair of three-quarter pants and a black hat.
The police were alerted to the discovery after receiving a call through its 911 emergency system. As a result, ranks were dispatched to the scene, where the body was pulled out of the trench and examined. The body was subsequently escorted to the West Demerara Regional Hospital, where it was officially declared dead.
Persaud's brother-in-law, Sylvester Caesar, yesterday related to Stabroek News that the family is seeking justice. "I don't know if is murder or wah but it look suh. I just want justice cause we ain't know who murder he," he said.
Caesar explained that he has been told that Persaud had been taken into the Parika Backdam area earlier this month by a contractor to work.
He said the following day, neighbours reported noticing that Persaud was acting strangely. "He wake up the Monday morning because the man [contractor] took him in there a Sunday and he start cutting up some banana sucker and thing. They [the neighbours] see he acting strange. They say he walk up one way and come back and he cook curry egg and so," Caesar explained.
He added that he learnt that Persaud left the location the same day, which was the last day he was seen or heard from. "He left the location and he head back to Parika and from there they never see him back," Caesar said.
Caesar noted that relatives had searched for Persaud but came up empty-handed. 
Prior to Persaud going missing, Caesar said he learnt that he made a call to the Parika Police Station and reported that he was being beaten by a man. "The individual that he call [the police rank] confirm to the man [the contractor] that took him in there. She [the police rank] tell them that he [Persaud] did make a call and say that some NDC [Neighbourhood Democratic Council] man beating he," he recalled.
Caesar further related that he suspects that Persaud was attacked while making his way out of the backdam.
He said he saw an article in this newspaper about the unidentified remains being found and he alerted other relatives and they identified Persaud's remains. "….We lef and we go at Diamond Police station and mek a report then we lef and come across at Best Hospital (West Demerara Regional Hospital) and we check them out then we decide to go to Ezekiel Parlour. When we go deh is he body," he said.
He added that Persaud was positively identified based on the clothes he was wearing.
Around the Web