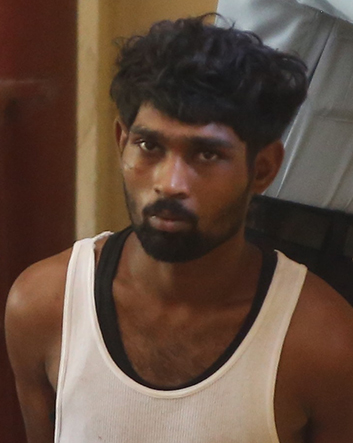 A 27-year-old father of two was yesterday sentenced to 18 months in prison for escaping from police custody.
Wazim Perreira was sentenced after he admitted to the charge that on August 19th, 2018, at Georgetown, while being in custody at the Kitty Police Station pending a criminal charge, he escaped from lawful custody.
Perreira initially pleaded guilty with explanation and told the court that he gave an officer $10,000 to remove his handcuffs. The man claimed that afterward the officer told him he could go home, which led him to believe that he was on bail.
Given his explanation, the court entered a not guilty plea on his behalf.
Prosecutor Quinn Harris then objected to bail being granted based on the seriousness of the offence. Harris stated that on the day in question, Perreira, who was in custody at the Kitty Police Station, asked an officer to use the washroom around 5.20 am. The officer then loosened his handcuffs and was about to escort Perreira to the washroom when the man pushed him down and ran out of the police station. Harris added that after being captured, Perreira, under caution, apologised to the officer and said he was frustrated. Principal Magistrate Judy Latchman then told the man he was remanded to prison, to which he objected. "I asking for a small sentence your worship," he said, before the magistrate explained to him that a not guilty plea was entered based on his explanation.
However, Perreira once more objected and asked to serve a "small sentence."
The charge was re-read to Perreira and he pleaded guilty, while stating this time that he escaped because he wanted to see his children. "I go home to see my two children and my wife," he explained.
Before he was sentenced, Perreira said, "Whatever sentence I get, I accept and bless." Magistrate Latchman then sentenced the man to 18 months in jail.
Around the Web