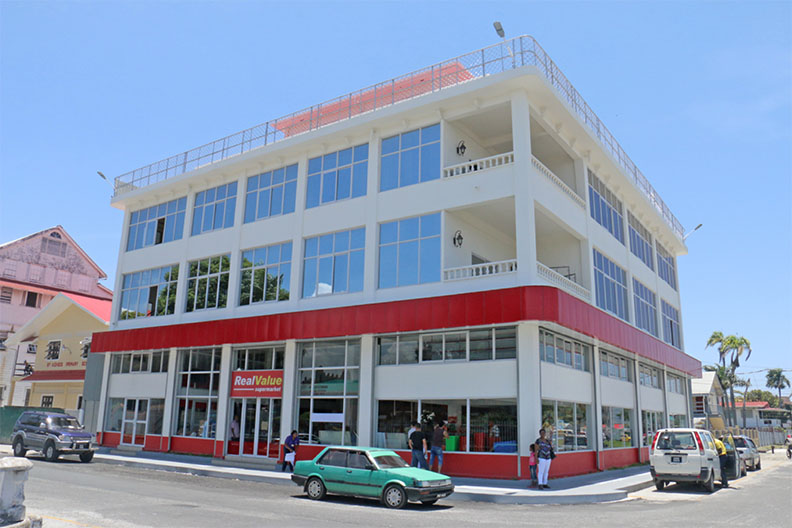 A gang of masked bandits early yesterday morning invaded the Real Value Supermarket at Church and Thomas streets, Georgetown, from where they carted off roughly $11 million in cash, jewellery and other valuables after a more than one-hour long raid.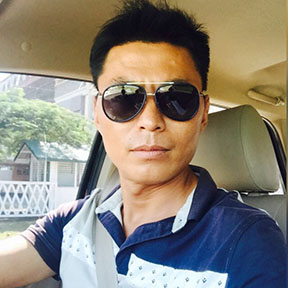 The attack was carried out between 3 am and 4.15 am at the Lot 246 Church and Thomas streets, Georgetown business and it saw proprietor Jason Wang, 40, being gun-butted to his head. Wang was later rushed to a private city hospital, where he received twelve stitches for his wounds, before being discharged.
During the attack, which was captured by surveillance cameras, Wang, his wife, their six children whose ages range from 15 to two, one of his cousins, known as 'Tina,' and his mother-in-law were on the premises.
The family occupies the fourth and fifth floors of the building, while the supermarket is located on the first and second floors.
The crime was allegedly committed by a group of about six to eight men, four of whom made their way into the building. The others reportedly acted as lookouts and were constantly in contact with those inside the building.
The bandits managed to escape with a quantity of local and foreign currency, including this month's payroll, gold jewellery, electronics such as cell phones, tablets and laptops, groceries and liquor. Wang was also relieved of his licensed 9mm pistol.
The attack is suspected to have been an inside job since the men initially asked for 'Tina,' Wang said.
Police discovered that the robbers gained access to the building through an eastern door on the fourth floor, which was unlocked.  They then pounced on Wang, who was asleep, and assaulted him before forcing him to unlock a safe that contained the cash.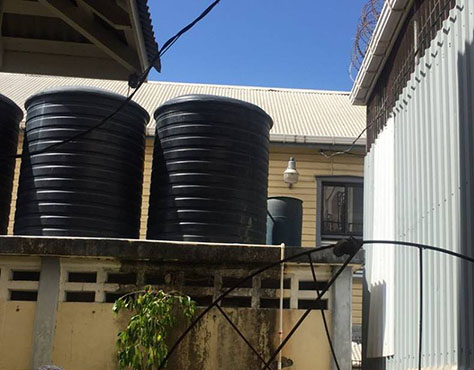 They also raided the building for other valuables after which they escaped through the main southern doors, which they unlocked. The bandits then joined an awaiting vehicle.
When Stabroek News visited the scene yesterday morning, the business was in operation but with heavily armed guards outside the main entrance.
Contractors were also seen working to install additional security measures, such as barbed wires, to the tightly-secured building.
The business is monitored by the GEB Security Services but the alarm was not triggered until the men were making their exit.
Wang told this newspaper that efforts were being made to have additional security guards on duty, including throughout the nights. Prior to the attack, he said, there were no guards on the premises at night since they depended mainly on the security service.
Armed guards were seen at the premises yesterday afternoon and plans were being made for them to be stationed their often.
'They threatened me'
The injured Wang recounted to Stabroek News that he was awakened by the bandits, who struck him to his head. "This morning like after 3 o' clock—[or] a little after, I don't know what time exactly—gunmen went in and they come on the bed and lash me," he said.
At the time, he said, two men were at his bed but based on the video footage seen a total of four of them were in the building.
Wang said footage also showed a white car and a silver car both parked outside the building. It is suspected that the men's accomplices, who acted as lookouts, were in the vehicles.
He said the men took almost half an hour trying to get into the building. "They came through from the St. Rose's school side. They use water tank, they cut the zinc, they try all kinds [of things]," Wang noted.
He said the bandits eventually gained entry into the building through a steel door which was left open. "We have alarm… so we live upstairs, so we had a steel door… so we left everything open, it didn't lock. But when they came up, they come from
outside, so they didn't breach the alarm," he related.
Wang said the men stayed in the building for almost an hour. "They lash me but they ain't lash my wife and so but they threatened me, tell me cooperate and so, 'don't make no noise or whatever,' otherwise they will hurt the children," he said.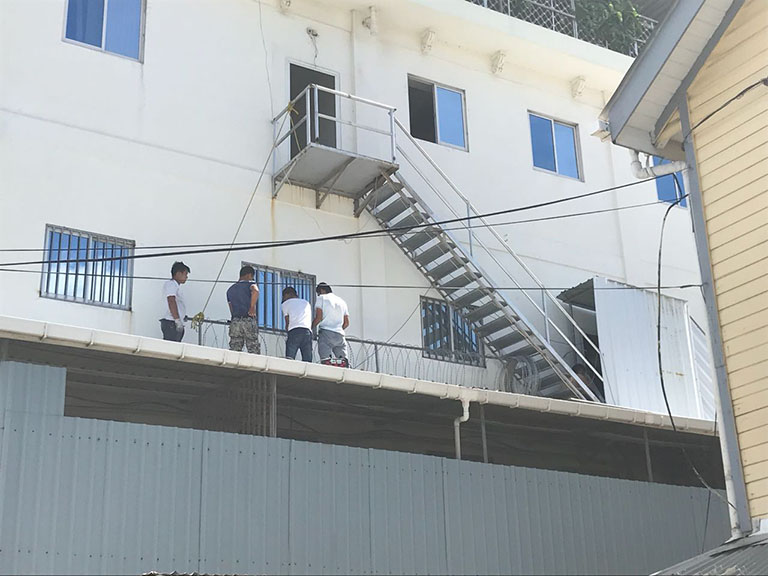 He explained that the bandits first attacked his mother-in-law, who stays on the fourth floor. "They taped her up. When they get everything now, they bring we down, they lash me again. After they bring we down, they tie me up, they take my wife and they check the entire store, everything, they take they time, they didn't really hurry. They open all the doors, warehouse, everything, the office, the financial office on the third floor, which I don't operate—my cousin does operate—and um Thursday was pay day, so they get some cash, they gone way with all the cash… Remember, I have six kids right, all their jewellery, their jewellery since they were born, you know, birthday gift and so, all that they gone with, you know we don't wear, all deh in the safe and they carry way my firearm," he detailed, while adding that even the "wine cabinet, with some ornaments and antiques and so they carry 'way too and then they search all the drawers…even my daughter small purse they carry 'way too."
He said when the bandits asked for his firearm, he told them he couldn't remember where he last stored it and this resulted in him being struck to his head again. "They asked me where the firearm. I tell them I can't remember where my gun deh because… and then I did left my gun under my clothes I tek off. It wasn't on the bed. They searched the bed but they didn't find it. They lash me again. I tell them I can't remember, maybe I left it in the office but not here so they put me down now and when they open the safe, they see the cartridge and bullets, they carry all of that," Wang said.
Wang said it was as the men were leaving, about an hour and half after, they triggered the alarm. "Before they left they tied all ah we in my room. I was bleeding bad and one of them ask my wife if I was still alive. They ask my wife if she need them fuh call hospital fuh me," he added.
He said the men did not manage to relieve 'Tina' of her cellphone and as soon as they departed, they used the phone to contact a relative, who called the police.
No arrest was made up to last evening.
Around the Web