Woodlands Hospital Limited has commissioned a new multi-million dollar Intensive Care Unit (ICU) as part of its continued expansion in order to meet the needs of its patients.
The new unit, which has an estimated cost of $100 million, was commissioned last week Tuesday.
Managing Director of the hospital Dr. Neville Gobin told Stabroek News on Monday that the new unit marks the second upgrade to the ICU, which was introduced some 20 years ago.
"This would be the third ICU that the hospital would have (had) since it was established almost 50 years ago; the first ICU was opened in the late 90's and it took about 30 years for us to open it and that too was in a very small area in the hospital that could have barely accommodated two beds. We hadn't the proper equipment back then nor were the staff trained in that specific area," he explained.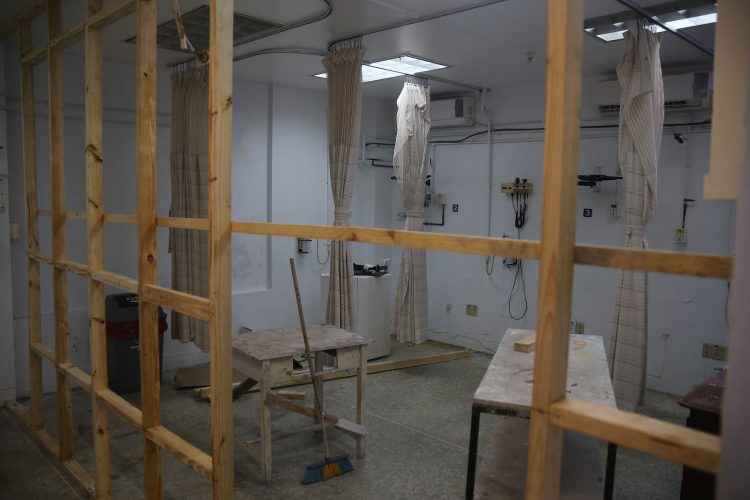 "However as the popularity of the hospital grew, the demand and the kind of patients changed. We needed the intensive care so with the expansion of this building we got a slightly larger building where we were able to put four beds and that ICU was also a bit more equipped than the previous one; the staff were trained and would have gotten the experience. With the influx of the specialists' doctors, we found that this also proved to be too inadequate to meet the needs of the hospital so we decided to expand once again," Dr. Gobin added.
He opined that there are four crucial elements that are required to ensure a unit such as the ICU is of a certain standard.  "There are four areas we looked at: space must be adequate, it must be well-equipped, the staff must be well trained and doctors qualified. I believe that at this stage we have finally been able to meet all four of the requirements and when you talk about a state of the art ICU, this is state-of-the-art and is comparable to any ICU in any part of the world," he said.
"We have an ICU that is very spacious and well equipped with modern equipment and we have staff that is a blend of those who have been trained in specialised ICU nursing as well as those who have years of experience working in the ICU and of course have a very well qualified and experienced group of doctors," he added.
Stabroek News was told that in addition to two isolation rooms designed for patients with infectious diseases, the ICU has five beds, each of which would have cost a sum of US$33,000.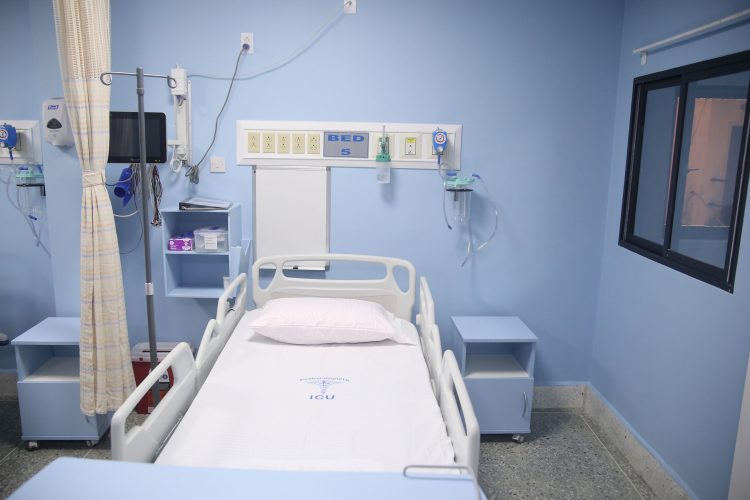 Dr. Gobin was also pleased to share that the ICU is fully computerised as part of continued efforts to have the hospital's entire operation to be computerised.
Commenting on other expansions at the hospital, the Managing Director said improvements continue to be made to cater to the needs of patients. "It's become pretty busy…we manage but you see it's like you're building a highway, which now has four lanes; ten or twenty years ago they did not visualize that there were going to be this amount of cars. Similarly, I may say maybe we may not need a bigger ICU and that might be shortsighted because in a few years, who knows that may be the demand. Similarly we start these things and as the popularity of the hospital grows more and more people are utilising our services," he stated.
"When the Emergency Room started, it was pretty adequate but now I'm pretty sure they see more than 100 or more patients in there; this is expected to be expanded to include more staff and an additional three beds, which would bring the total number of beds to seven… We are also planning to do away with the open ward and replace it with double occupancy rooms within the next three years or so," Dr. Gobin noted.
Despite the changes, he explained to this newspaper that the policy of the hospital as it relates to affordability remains the same.
"The two important aspects for efficient service is the time it takes to deliver that service and the cost to deliver that service… With the expansions we are hoping that we will have more people who can't afford to go abroad for treatment. We cater for those who cannot afford and we try to provide quality care at a reasonable cost to the patient," Dr. Gobin said.  "It is better to see 10 patients at a thousand dollars than to see 1 patient at $10,000, that's our philosophy and it has worked well for us over the years," he added.
Around the Web