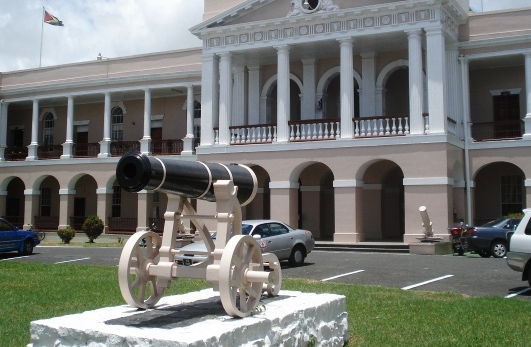 Opposition Leader Bharrat Jagdeo yesterday maintained that alcohol is frequently served at Parliament, while accusing Public Telecommunications Minister Cathy Hughes of misleading when she said it is served only at Christmas.
"It's absolutely untrue… Anyone who is in that lounge would see almost at every sitting, one way or another, they find some event, birthdays, whatever else, to have alcohol consumed there. It is a blatant lie," he said during his weekly press conference.
Clerk of the National Assembly Sherlock Isaacs had revealed to a House Committee that there was a $700,000 per sitting price tag for catering. Subsequent to this, the issue of alcohol consumption was raised.
Jagdeo last week called on the Parliament Office to remove alcoholic drinks from among the beverages available to members of the National Assembly. He charged that a "huge amount of alcohol" is consumed by the Members of Parliament (MPs).
His comments prompted Hughes to respond. Contending that the "inaccuracies" enraged her, the minister told the media that when she heard "Jagdeo ranting and raving and lying, deliberately misinterpreting the facts, I feel it necessary to let Guyanese know that we are not an irresponsible group of people".
After explaining that 309 persons, including MPs, the media, parliament office staff and drivers are fed at every sitting, she made it clear that there is no alcohol in the Parliament lounge.
According to her, there is a range of teas, coffee, milo, water and juices. She said that the only time there is alcohol present is when there is "a little party" at Christmas time or any other activity that brings parliamentarians together. The suggestion that every sitting of the parliament has alcohol, she said, was upsetting.
Jagdeo, however, insisted yesterday that every member of the National Assembly and those who pass through the lounge would "see a totally different situation."
Asked if it is possible that the MPs are supplying the alcohol and not Parliament, Jagdeo said that this information could easily be determined if one looks at the money spent by the Parliament Office on alcohol for the year. "I don't know the figure. You could find out. I would find it very generous of some MPs to be buying the alcohol and supplying it to the rest of the Parliament," he said, while adding that he has seen MPs imbibing.
"I have seen it. Anyone who is in that Parliament would see it. It happened frequently not just at Christmas time…and if you had a breathalyser …something over the door of Parliament and you walk through it and it beeps then you will see," he said while adding that this situation is very serious.
He noted that MPs are grown people and cannot be "banned."
"I believe in privacy, I believe in freedom, [but] when we are there to do the people's business it is slightly different. I expect people to be in a sober state," he said, while adding that if people want to get a drink they should pay for it, either at a place situated inside or outside of Parliament. He said, too, that it should be explained whether the Parliament Office supplies alcohol to the Prime Minister's Office located at the Public Buildings.
He said that the opposition will ask about the parliament's alcohol bill.
Jagdeo said alcohol consumption at parliament is "just the tip of the iceberg," while charging that there is an abuse by ministries, which he alleged  have inflated bills for interior travel and hotel stays. He also said that it would be interesting to find out what the alcohol use is in some of the ministries.
Both Clerk Sherlock Isaacs and former Speaker and Alliance for Change Leader Raphael Trotman have said that alcohol is only provided for during special occasions, such as the sittings before Christmas and following the last sitting before the parliament goes into recess.
"This is my 20th year as a Member of Parliament and on special occasions, such as Christmas or when the House is going into annual vacation, a limited amount of alcoholic beverages are available in the Members' Lounge. This is a facility available at the end of the sitting and members who wish to participate may do so," Trotman said.
And on his own perspective, he posited, "In short, I don't have an issue as long as it does not interfere with the business of the House and is consistent with the practice in most other parliaments."
Government MP and Leader of the Justice for All Party Jaipaul Sharma also said that alcohol is not afforded to members of House at every sitting. He recalled that it is only before recess and at Christmas that drinks would be available although he was quick to point out that he is not a drinker of alcohol.
Sharma added that although there are times when members would also treat their colleagues to celebratory drinks when they celebrate their birthdays, on those occasions the beverages are always bought by parliamentarians themselves.
Around the Web