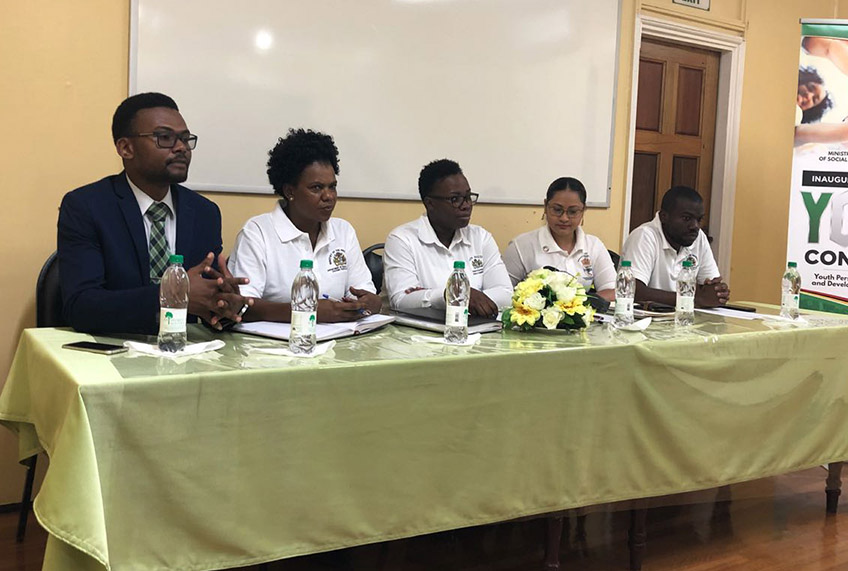 Approximately 300 youths from around Guyana are expected to participate in the inaugural Guyana National Youth Conference in September, the Department of Youth announced last week.
Speaking at the launch of the event last Friday at the Ministry of Social Cohesion, Director of Youth Melissa Carmichael-Haynes said that it will be held under the theme 'Youth Perspective for Empowerment and Development for a Better Guyana,' from September 24th to September 26th.
It will kick off with a state reception for the youths from the 10 administrative regions, followed by a tour for those from the outlying regions. The conference's last two days will then feature discussions for and by the participating youths.
"The Department of Youth continues to work assiduously to ensure the development and involvement of our young people through various programmes, initiatives [and] activities. And the inaugural Youth Conference comes out of that, where we will be giving young people from across the 10 regions an opportunity to sit, discuss [and] raise issues themselves and come up with solutions and make recommendations to the policy makers of this land," Carmichael-Haynes explained.
"We will continue to provide opportunities for them to participate in [the] decision-making processes and we will continue to ensure that their empowerment is priority always. We encourage young people across Guyana to get involved, to come on board, to register. This is an opportunity for them to network and share with each other on various topics and also for them to have the opportunity to meet the policy makers and have discussions about issues that might be affecting them," Carmichael-Haynes said.
Also speaking at the event was Adeti De Jesus, Senior Research, Planning and Development Officer of the Department of Youth. "…We are going to have discussions and presentations made by NGOs [Non-Governmental Organisations], government agencies and other entities that we consider to be important and can provide the relevant information pertaining to related issues," she said, while noting that there will also be a plenary session where the youths will be granted the opportunity to discuss topics that are important to them and will be able to inform the policy makers to make better decisions and institute better policies that can contribute to their empowerment and development.
Persons between the ages of 16 and 35 will be able to apply via the Department's Facebook page–Department of Youth Guyana—or through the website www.youthconferencegy.com. They can also uplift registration forms or other relevant information on the conference from the Ministry's office on Main and Quamina streets, or can make contact on telephone number 226-7144.
The conference will only be accepting 300 persons and De Jesus noted that participants will be selected on a first-come, first served basis.
Around the Web