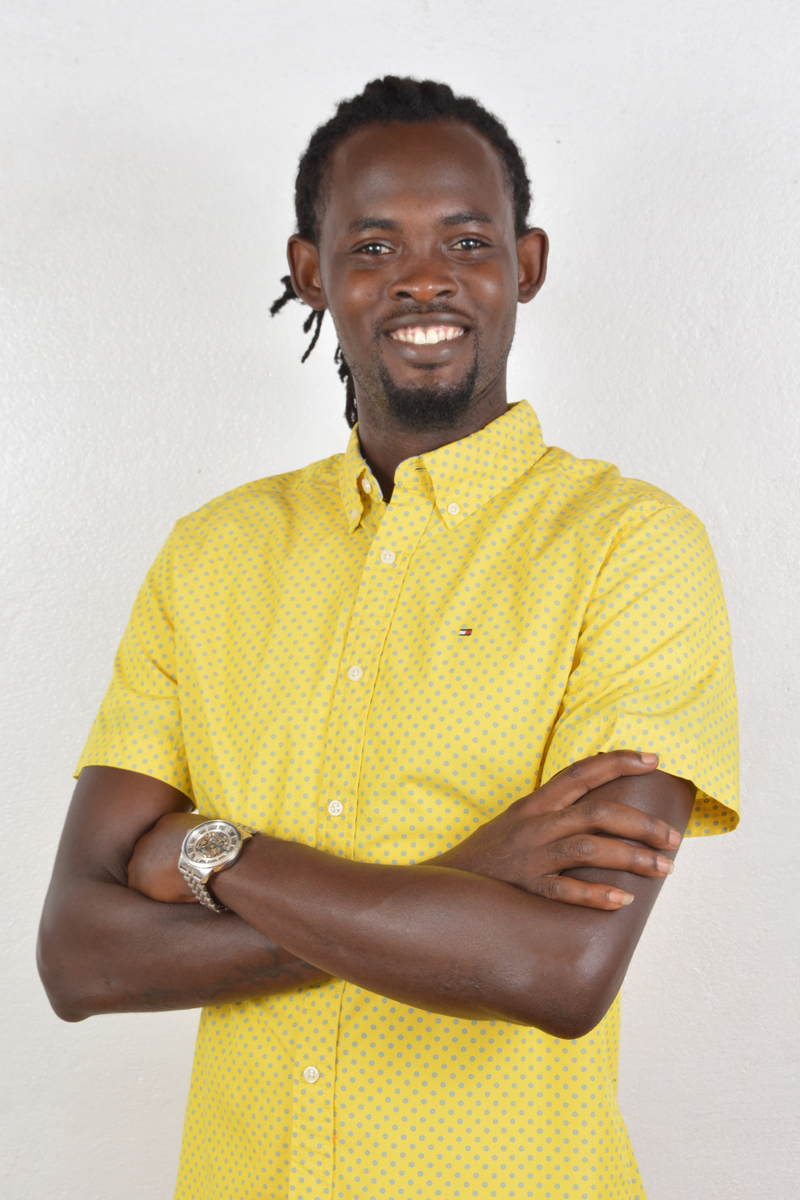 An unfortunate motorcycle accident ended Kester Hackett's military career and today he is a US Marine veteran at just the age of 31. Searching for his calling, the young man, much to the consternation of his family, especially his mother, has returned to Guyana to give back to a land he always knew was his only home. He hopes to one day open a data collection company that can help to effectively manage the country's national resources.
Hackett, the father of two young sons, is bursting with enthusiasm to see the country move forward. Having been exposed to the military in the US, he is aware of the training that is available and believes that in Guyana there should be mandatory military service of at least two years for those who don't have a plan.
"If you are coming from a single-parent home it is hard for you to devise a plan for your own success and if it is that you have nothing, then a mandatory military training should be implemented," he told the Sunday Stabroek in an interview.
He continued that there are positive things in the military and with the training those persons can be used in the area of infrastructure and other skilled areas.
"In order for a population to be successful, you need a skilled population. We either have to build hospitals, prisons or schools. Where do you want your population? You want them in schools, prisons or hospitals or in the military?" he questioned rhetorically.
"If we want to build less prisons, we need to invest in our population," he continued.
He maintained that mandatory military enlistment is important for some persons who have to be pushed to do something greater with their lives. "[It should be] for those who under achieved during their formative education programme," he said, adding that those who appear before the courts for petty crimes should also be made to serve in the military.
"It will pay dividends in the years to come because now you will have a population of much more grounded and stable men," he said.
And even though Guyana's population is small, Hackett stressed that the country can be self-sufficient, but this can only be done "by raising your own people."
Two years minimum can result in a person learning a skill, Hackett said, using the popular saying: "If you give a man a fish you only feed him for a day but if you teach a man to fish, you feed him for the rest his life," to support his suggestion.
"So many times, I heard other Guyanese bad talk Guyana, but I am back to contribute," he said.
It has been a year since Hackett returned to Guyana and while he is bursting with enthusiasm he said he is still trying to figure out how he can give back and to what sector.
He wants to start his own business and according to him he has been blessed to meet many persons in his lifetime who have been helpful in coming up with business plans for him from which he has been able to "nitpick from and got my own cook-up of a business model and something that can help my country grow.
"I am more leaning to data collection, form surveying and mapping point of view. I feel if a country can effectively manage its resources then you can essentially take care of yourself," he shared.
"I want to create a company structure around fraud, waste and abuse. To track those industries like mining, sand and forestry. I want to build a company around providing the data for surveyors to do their work. Create a business that can acquire the information that the decision makers need so they can make informed decisions," he said.
He posited that there is need for better decisions to be made and he believes he can help since it took him years to develop the business model in collaboration with other trained individuals.
Originally, Hackett came to Guyana to study for his Masters in Project Management, which he is reading for at Northeastern University. He had just graduated with his degree in political science with a minor in law and was prepared to study law when an introduction to project management changed his mind.
His return to Guyana a year ago was only the second time he had visited Guyana since he left in 2003. He recalled that when he left for the US he had to go back a year in high school and there were the mentors in the school system who either pushed a child in the direction of college or the technical route.
He was not interested in school and after he graduated he wanted to join the navy as he was interested in travelling around America. His bid to join the navy was not successful but a chanced meeting with a marine saw him going that route.
While initially travelling America was the attraction, Hackett said he was in the warrior phase in his life and he became interested in peace.
"Peace was something that was attractive to me even though I was joining the Marines. The process of becoming a marine, it changed me and opened my eyes to not only to my strength but to my weakness," he said.
He joined the Marines in November 2004 and got out in 2013.
During his military career, he served in many countries inclusive of Japan, Cambodia, Hong Kong, Thailand, Malaysia and Australia. After serving in so many countries, Hackett said, he wanted to become a military officer and with the encouragement of his commanding officer he entered the Miami flight school but shortly after he got into a motorcycle accident when a "careless driver pulled out in front of me."
Hackett sustained spinal injuries which saw him having "night terrors… and my military career essentially ended. They retired me at the age of 27," he said.
"It just doesn't feel right to be still this young and not to have to worry about certain things for the rest of your life. But I am humble. I am grateful for the military for I wouldn't be who I am today or be where I am today. I am just more appreciative of not only my struggles but the struggle of others. I have a respect for our men and women in uniform," he said.
However, he did point out that during his service he worked 24/7 and he feels the effects of this on his body and while he is young he has a body of a much older man.
Having relatives who would have served in the Guyana Defence Force, Hackett once again advocated his theory to have persons, especially young men, serve in the military.
"The idea is if you are young and your country needs you, serve, it is a win-win for both parties. You learn valuable skills, discipline, team work, communication skill and you are not a burden on society," he pointed out.
Meanwhile, apart from retiring young Hackett also married very young, just at the age of 19 to an older woman who was serving in the US Air Force. He recalled that because of the magnitude of danger he was exposed to while he served and the fact that he could have lost his life he wanted to have a son "to carry on my name since I was the only son for my father."
When his girlfriend got pregnant he "did the right thing" and married her. "But I wasn't ready. I just wasn't ready…," he admitted.
"We got divorced in 2014. During those years, I learnt a lot. I can attribute so much of my growth and development to her. Taking the high road, I can honestly say I am a good man, saw situations where individuals get beaten and killed for less. But I compromised, and I grew.
"The Marines allowed me not to just respect women but to know they are my equals. I appreciate women and I would never see myself abusing a woman even though my marriage was new to me there were things within me that I didn't know. So, I rediscover parts of me during that time," he shared.
His only regrets are that he has two sons from different unions and now he lives apart from them even though he said he ensures they are taken care of.
When he decided to return to Guyana, Hackett said, many people couldn't understand why he wanted to leave and come back here.
"But it came a point and time where I had to draw a line in the sand and say, 'Guyana should be my priority and US is primary'. My kids are somewhat caught in the middle and I am not sure I can justify this to them, but my goal is to create a brand while I am here so that I can say to them eventually 'this is what I have been doing' but right now we have to settle for summers and whenever I travel," he said.
His mother, Elaine Ross who is now Elaine Love, was a well-known journalist in Guyana some years back and he recalled that she cried uncontrollably at the airport when he left for Guyana.
Now in Guyana he has to deal with being stereotyped because of his accent and his locks, which he grew in honour of his mother who was forced to cut hers.
Many think he is a deportee as they cannot understand him wanting to come back to Guyana to live.
"It seems like my entire life I have just been overcoming stereotypes," he said adding that this is a problem even as he tries to find a significant other, but he is careful as he does not want to "mess up and have more kids out of wedlock. It hurts that my children are not in wedlock. I wished I had listened to my parents. I don't wear my hurt on my sleeve, but it does not mean that it doesn't hurt. And the hardest thing is raising children in two separate homes and countries."
At the moment his days are spent close to nature where he said he finds balance. "I realize that balance is necessary because there are too much outside stimulus that can cause you to be distracted. I love the air, like classical music, I love cooking. I am away from my children, but I love to spend time with them."
Around the Web