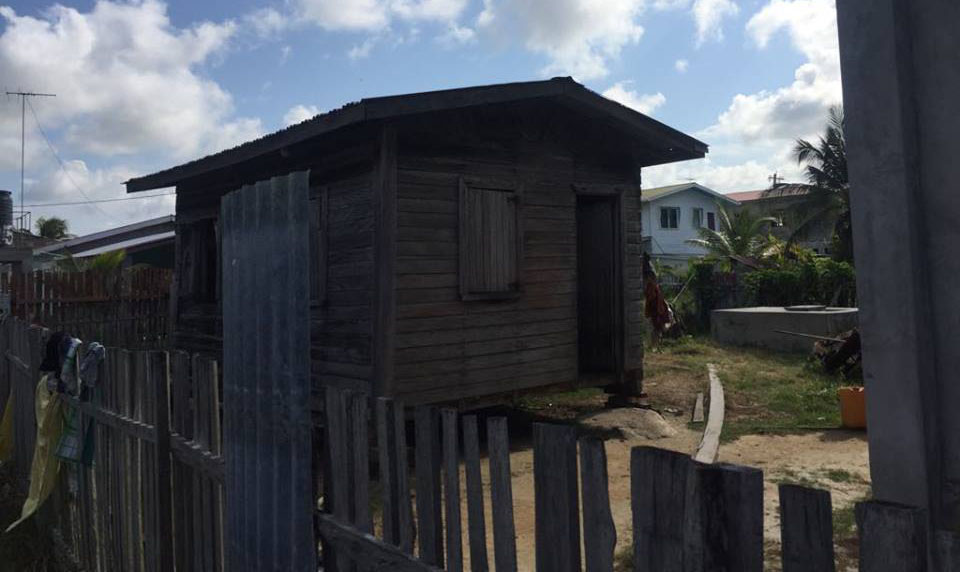 A three-year-old boy succumbed in hospital yesterday after being stabbed by his mother at their Foulis, Enmore, East Coast Demerara (ECD) home.
Ramdeo Ferreira, called 'Papa,' of Lot 585 15th Street, Foulis, Enmore, ECD, was stabbed twice during the attack, which took place around 9.45 am.
He was later rushed to the Georgetown Public Hospital (GPH), where he succumbed around 1 pm while receiving medical treatment.
His mother, who has been identified as 26-year-old Brenda Ferreira, was arrested and is presently in police custody. The woman, who is said to be cooperating with investigators, was described yesterday as having been noticeably negligent in her care of Ramdeo and his older brother. Neighbours also suggested that she is mentally ill.
She reportedly launched the attack on her youngest child in their yard before placing him on a bed in their small wooden house, where she watched him bleed out.
His four-year-old brother, who witnessed the attack, managed to escape and alerted a relative of his father, who resides a short distance away. The woman, who has only been identified as 'Kavita,' then informed neighbours, who summoned the police.
Public Relations Officer of the Guyana Police Force Jairam Ramlakhan, in a brief statement yesterday afternoon, said the suspect, who was armed with a knife, was seen chasing Ramdeo in the yard.
He said minutes later, ranks attached to the Enmore Police Outpost responded to a report that she stabbed Ramdeo, who they found lying on a bed in an unconscious state with suspected stab wounds to his chest and back.
After her arrest, Sunday Stabroek learnt, the mother told the police that she had a dream that she was going to die yesterday and she didn't want to leave Ramdeo behind since he was her favourite child.
As a result, she decided to kill him.
The community was in a state of shock yesterday afternoon as residents reflected on what transpired, with many questioning how the woman could have attacked the young child.
Ramdeo's father, whose name was given as 'Shamlall,' was not at home at the time of the attack. The man, who worked as a cane harvester prior to the closure of the Enmore Estate, is now employed at a lumber yard in the community.
Upon learning of his son's death, he rushed to the scene in tears, residents said. He was still being interviewed by investigators at the police station up to last evening.
Residents said that the couple had been living in the small wooden shack in which Ramdeo was discovered for about seven years.
Tripping out
Kavita, an aunt of Ramdeo, said she was doing chores when the older boy came and told her that his mother stabbed Ramdeo. "…She did already stab the child, got he on a bed, which we didn't know… The big one now, like he was afraid or something, he decide to run straight to me and tell me that he mommy juk up he brother, he bleeding, she tek a knife juking he and he deh on a bed," the woman said.
Kavita, fearful that the woman could attack her as well, decided against going to the house and instead informed her neighbours, who called the police.
When the police arrived, Kavita said she and other villagers followed them. "When we guh, the child (Ramdeo) was already like half dead I should seh, really helpless. He wasn't even crying or he eye wasn't even open. He was really helpless," she noted.
Prior to the events, Kavita said she noticed that the children were running behind their mother on the road. "…The children screaming behind she and running. When I get up now and gone about my basic thing, dah is the news. So I don't know when she come back and do this act," Kavita said.
"We see the knife (the suspected murder weapon). The knife ain't got handle and them thing and it really old," she added.
Meanwhile, a neighbour, who wished not to be named, said the tragedy had left her in a deep state of shock. "If them been tell me she do something to she self or so, I wouldn't feel it suh but that poor lil child," the woman lamented.
She said only on Friday evening there was "big drama" at Ferreira's house.  "She just knocking on the zinc, beating the wall. Suh me son seh, 'Mommy, like she (Brenda) tripping out.' Suh me seh, 'Tripping out and know all dah? Because when the man (the suspect's husband) tell she, 'Look the hours and yuh disturbing people, behave yuh self and stop talk,' she tell the man go inside," the woman recalled.
She said she and other neighbours called the police but she later learnt that when the ranks visited, they claimed they saw no commotion and they left. "I don't know if they come or didn't come but they seh they come and them ain't see nothing and they go away back," she said.
The woman further related that yesterday morning she saw the suspect and her children well dressed as they were going out and she assumed everything was back to normal.
After learning what had occurred from the older boy, the woman said she could not believe it. "I holler from ova hay. I seh, 'Brenda yuh kill that child? Yuh kill that child?' And she just stare me in meh face. She does scare me because when she does ill treat them and so, I does deh from over hay and I does tell she I gone call the police on she," the still visibly-traumatised woman added.
Under pressure
Meanwhile, villagers also voiced their belief that the child could have been saved if the authorities had taken concerns about the conditions in which the children were being raised more seriously.
Kavita said while she is unaware of the suspect having any mental issues, she did not behave like a "normal" person.
"…Because she would do like really weird things. She would get them on the road, playing in the hot sun without clothes, sometimes in they bare brief. Sometimes when I come out and I see them, I would run them in the yard. She would left them, gone god knows where and come back. Really weird things, I don't think somebody who got responsibility would do things like that," Kavita explained.
She noted that on one occasion she said she personally called the Childcare and Protection Agency and reported the situation. Although she said based on what she learnt, officials from the agency did turn up but the house was tightly secured and they never returned, this newspaper was unable to confirm the account.
"I call in Childcare already… because these children them can get knock down on the street while he [their father] working. I don't know if he tell she. The day that the Childcare them come, they stop, they look, they call but she wasn't home but they never come back," Kavita related.
"Then when she (the suspect) get ready, she lock them up in that house and she gone. When them wake up, sometimes 12 o'clock, 2 o' clock in the morning, them deh pun the road. So them live under pressure," another neighbour said.
She also she heard at one time the Childcare and Protection Agency was going to intervene but she is not sure what happened. "But then everybody just dragging they foot. I really hoping now that they gon' see this on the papers and TV and they will do something," she said, while opining that the child's life could have been saved if neighbours had also formed a group and intervened. However, she said they were fearful.
Ramdeo was scheduled to start nursery school next month.
His brother is currently in the care of a relative.
Around the Web