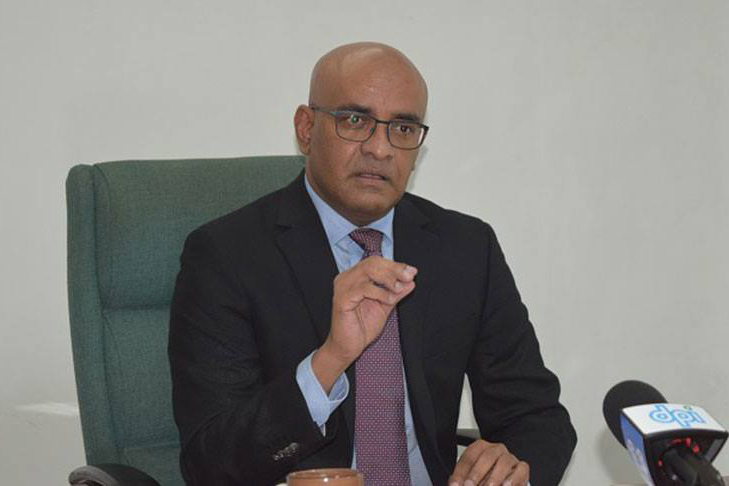 Opposition Leader Bharrat Jagdeo on Thursday  insisted that he will not reconsider his rejection of the nominees for the posts of Chancellor of the Judiciary and Chief Justice, while pointing out that President David Granger has not invited him to continue the consultation process as is required by law.
"No, I am not", Jagdeo said when asked if he is inclined to reconsider Belizean Chief Justice (CJ) Kenneth Benjamin for the post of substantive Chancellor of the Judiciary and the present Chancellor (ag) Yonette Cummings-Edwards as the substantive Chief Justice. He was responding to questions during his weekly press conference hosted at his Church Street office.
It was a panel comprising retired justices Claudette Singh and James Patterson along with former University of Guyana Vice-Chancellor Harold Lutchman which was set up by Granger that selected Justices Cummings-Edwards and Benjamin for the respective positions. The panel's task was to recommend the most suitable candidates to Granger after reviewing applications and as such these two names were presented to Jagdeo for consideration in January.
However, Jagdeo, on February 7th, 2018, by way of letter, informed Granger of his disagreement with the nominees but did not offer any reason.
Article 127 (1) of the Constitution states that both sides must agree on the nominees before the substantive appointments can be made. "The Chancellor and the Chief Justice shall each be appointed by the President, acting after obtaining the agreement of the Leader of the Opposition," it states. Substantive appointments were last made over a decade ago. 
Chancellor (ag) Carl Singh retired in February without being confirmed to the position.
Many questions have been raised as to why Justice Benjamin is being considered when a woman who has spent her entire professional career in Guyana currently occupies the post. Justice Benjamin who is a Guyanese, is also an Antiguan citizen.
Jagdeo was asked if Justice Benjamin may now want to withdraw his name given his (Jagdeo's) rejection and the length of time in uncertainty. He responded "I don't have any contact with him…( so) ..I don't know what his state of mind is or what he wants to do or what he doesn't want to do". Aside from a public statement by the President saying that the ball in now in his, (Jagdeo's) court and that he doesn't intend to withdraw his nominees, there has been no further development.
"I've had no other contact…he has not written to me to say `I'd like to resubmit the same names or I'm not withdrawing my nominees'. He has not made any further contact", Jagdeo said.
In June, Granger had insisted that Benjamin will remain his choice for the Chancellor position.
"That is well-known. I took my time in making that decision and I am not prepared to throw it out of the window…all I am saying is that my actions so far were in accordance with the constitution…I do not have the authority to go outside of the constitution", he had told reporters at State House when asked why he had a preference for Justice Benjamin over Justice Cummings-Edwards.
Granger had said too that he was awaiting legal advice from Attorney General Basil Williams SC on the way forward and later said that because of Jagdeo's failure to make a counter proposal, no further discussion can take place. Jagdeo has said that he will not be making any counter proposal as his position is clearly outlined in his February letter to the president.
Justice Benjamin who has been called out by the Bar Association in Belize for his sloth in delivering judgments has spent most of his judicial career practising abroad. According to the Belize Judiciary website, after he received his legal training from the University of the West Indies and the Hugh Wooding Law School in Trinidad and Tobago, he returned to Guyana where he practised privately, and served as a Magistrate and the Assistant Judge Advocate for the Guyana Defence Force.
He served on the Court of Appeal in the Eastern Caribbean Supreme Court sitting in both St. Lucia and St. Vincent and the Grenadines. He also served as the Presiding Judge for the Criminal Division of the High Court in St. Lucia and the High Court  in Antigua, the British Virgin Islands and Grenada.
Prior to his CJ appointment in Belize in 2011, he served as Chief Magistrate in Antigua and Barbuda.
The Guyana Bar Association (GBA) and the Guyana Association of Women Lawyers have called for the confirmation of both Cummings-Edwards and Chief Justice (ag) Roxane George. In the case of the GBA a motion was passed to support the confirmation of the duo.
Newly-appointed Caribbean Court of Justice President, Justice  Adrian Saunders and the court's former President Sir Dennis Byron have also expressed concerns about the impasse in making the substantive appointments and had urged that the situation be urgently rectified.
Around the Web