Nineteen Cuba-trained doctors took the Hippocratic Oath on Saturday.
The Department of Public Information (DPI) said that the doctors underwent six years of training in Cuba after which they completed a one-year internship here.
Dr. Sodavie Naraine, the Valedictorian of the 2018 graduating batch of doctors, said that she has willed herself to be trained in this area in order to return to Guyana and serve.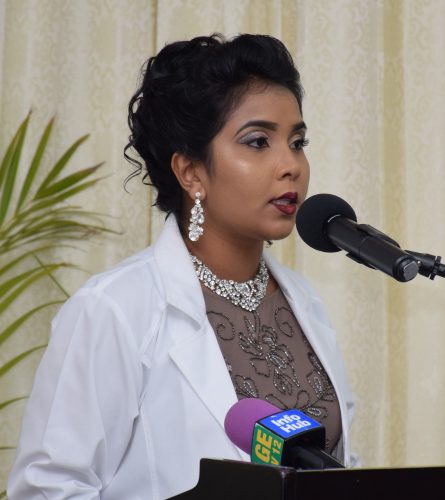 "We should ask ourselves constantly, what are we doing to better ourselves," Dr. Naraine said, adding that, "we (doctors) shouldn't get accustomed to the sufferings of the patient, instead we should treat every patient with compassion and in the end, we should be able to relieve the pain, suffering and anxiety of the population in general."
In addition to Guyanese, seven were from other parts of the Caribbean and one from Malaysia.
Dr. Marlene Raphael, the Malaysian, said she has enjoyed her internship in Guyana and is keeping her fingers crossed for the opportunity to work in the public health system here.
"It's been an amazing experience in both Cuba and Guyana and I am really thankful to both the Governments of Cuba and Guyana for giving me this opportunity. For now, I have graduated, I really enjoyed my stay here and I am hoping to continue working here if God is willing," Dr. Raphael said, according to DPI.
The graduation ceremony was held at the Arthur Chung Conference Centre (ACCC) Liliendaal, Guyana.
Around the Web