Teachers around the country took to the streets yesterday to protest government's failure to honour joint proposals for wages and other benefits and faced with the possibility that the new school year will begin with a strike, the Ministry of Education announced contingency plans, including the deployment of trainees.
Hundreds of teachers participated in planned protests and Guyana Teachers' Union (GTU) President Mark Lyte said based on feedback the first day of the pre-term strike went better than expected, but the union will convene a General Council meeting today to address the concerns of some members.
With the new school year slated to commence on September 3, the Education Ministry said Chief Education Officer Marcel Hutson told a meeting of parents and education officers in regions Five and Six that if teachers stay away from school next Monday, "the service of some 300 teachers from the Cyril Potter College of Education (CPCE) will be utilized. In addition to that, there are monitors across the regions who will 'step-up to the plate' to assist in the interim."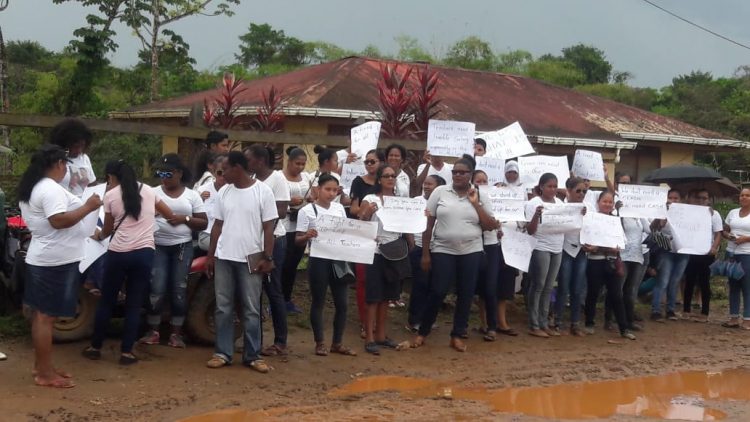 Additionally, a Ministry press release said Hutson noted that "services of retired teachers and parents will also be used."
"The CEO urged teachers, who have intentions to strike when the new academic year commences next Monday, to re-visit their position…[he] believes that anyone who hampers the progress of children should revisit the way they do things [and] said that sometimes we have to put the children above ourselves," the release added. 
Lyte was unmoved by the appeal.
According to Lyte, teachers have been putting the progress of children above their own wellbeing for too long. He referred to the proposed contingency plan as "foolhardy."
"You have student teachers, most of whom are from Central Georgetown, who are part of the CPCE pre-service programme. Will you take them to Region One and Region Seven and Region Six? Will you house them when you can't house those in the substantive posts?" he asked, while adding that each region has only six education monitors which is simply not enough to cover the number of classrooms which will be left empty.
If the teachers support the strike action, the ministry simply does not have the numbers to maintain normalcy, Lyte stressed. 
Meanwhile, a conciliation meeting that was planned for today between the union and the ministry has been rescheduled to tomorrow at the former's request.
"Our General Council will meet on Tuesday [today] and over 40 delegates have travelled from across the country. We cannot reschedule something that has been planned for months," Lyte indicated, while noting that once again the Social Protection Ministry set the date for the engagement without first consulting the union.
An earlier meeting set for last Friday did not occur after the union received the invitation at 10 am on the same day. The executive had already been scheduled to have meetings in Berbice.
Lyte added that while the union will attend conciliation, it has no faith that the Ministry of Social Protection can be an impartial mediator. "The Chief Labour Officer was present at both meetings, sitting on the government side. The minister was present and said a mouthful on behalf of government, so they are not at a place to talk about conciliation but we will show up. We know where this is heading and we are hoping for a speedy arbitration. It's clear that's where we are heading because you can't have mediators who are part of the process. They have destroyed trust," he explained.
'I trust gov't to make good decisions'
Teachers opted to begin industrial action in the pre-term after government's refusal to accept the recommendations of a High Level Task Force set up by President David Granger to settle salary and non-salary benefits.
After six months of negotiations, the Task Force had agreed to grant teachers a 40% increase on 2015 salaries and a 5% thereafter for 2016 to 2020, among other benefits. Government has, however, told teachers that it can offer only $700 million for increases in the 2018 fiscal year, a sum which amounts to little more than a 5% increase.
This, the union argues, is simply not enough but even as many teachers agreed in principle with the industrial action, some found it difficult to act yesterday.
Stabroek News visited several schools in Georgetown, on the East Coast of Demerara and in Region Six and found that teachers showed up to perform pre-term activities, including student registration and classroom preparation.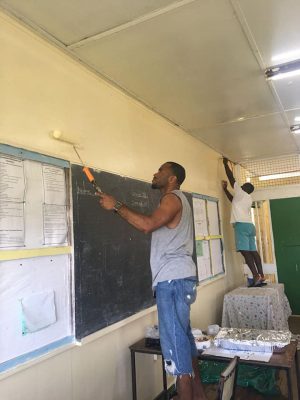 At St Gabriel's Primary School, teachers who said they were in support of the strike and intended to join the picket line were cleaning classrooms in the early morning. "Yes I'm going out there just now but just in case we get what we are asking for or the union calls off the action, I need my classroom clean," one teacher indicated. When Stabroek News visited, the teachers were present with their own children and at least one spouse had showed up to the classroom with his wife.
As this newspaper left the compound, a Ministry of Education staffer entered to check whether pre-term activities were on schedule.
At Queen's College, Stabroek News was told that all senior staff who were scheduled to be present had shown up to work but upper school students who were present for a planned Biology class found that the teacher had cancelled the week of classes.
The teachers of Richard Ishmael Secondary School were also present for pre-term activities, with one teacher indicating that she had no intention of striking since the union's requests were ridiculous.
"I understand that I live in a poor country. The government can't afford to pay the requested increase," she said. Asked what she thought about non-salary requests, such as limiting class sizes, the senior teacher indicated that she was accustomed to working with 35 students per class and was preparing to accommodate even more as the Central High School is not functioning.
"To change class sizes they will have to build new schools and the country doesn't have those resources. Right now, Central is not working and we all have to chip in. I believe that those at the Ministry have more information than us about the state of the overall system, so I trust them to make good decisions," she noted.
The union has asked that government limit class sizes at secondary schools to 25 students per teacher but government has refused, stating that the ratio of students to teacher will be subject to the availability of resources, such as the number of classrooms, class sizes, space and number of teachers.
Other teachers who spoke with Stabroek News indicated that they simply could not afford to strike, while others attacked the request for a 40% increase.
"It's nice to aim for $20 but teachers know $2 is better than nothing especially when your hungry children looking at you for food," one teacher said, before adding that she knows with an increase of 40%  shops will start charging 50% more for produce.
"I prefer take a 5% or 10% and have better working conditions," she stressed.
One senior teacher at a senior secondary school was blunter. She said that 40% was a ridiculous request and indicated that she had not read nor intended to read any of the other proposals made on her behalf by the union.
"I haven't looked at any of it and I won't look at it. I don't have time for that," she noted.
Asked to respond to these concerns, Lyte noted that some teachers want the increase but are not prepared to sacrifice. However, he stressed that there are enough teachers willing to make a sacrifice so that the cause can be achieved.
"We have agreed in principle that we have strike action to have a better working conditions but this cannot happen if we are divided we have to stand our ground," he stressed as he urged that teachers read the proposal properly since the GTU position was adjusted after negotiations with the Task Force.
"We have already made compromises and the Ministry of Education is not making the situation clear. We negotiated for six months and came to an agreement. We want that agreement honoured," Lyte said.
Ministry response
Meanwhile, the Ministry of Education has responded to the GTU action with a series of measures of its own.
Teachers in regions Five and Six have told this newspaper that their respective Education Departments have refused to collect schools keys from striking teachers.
Kirk Bennet, a General Council representative for Region Six, told Stabroek News that teachers had been forced to take the keys with them while picketing because the region refused to collect the keys.
Regional Education Officer for Region Six Volika Jaikishun claimed that the keys were not collected based on instructions from Georgetown.
"It's from Georgetown that they give the keys to the next in line," she said, while claiming that while teachers may be on strike, sweeper/cleaners, secretaries and other persons would still have to be present at the various schools.
It was not indicated whether head teachers, whose entire staff may be striking, were expected to turn over school keys to sweeper/cleaners.
Meanwhile, in Region Four, schools were provided with a sign in sheet for the pre-term activities, which requested that teachers provide information about whether they had spent their vacation overseas, among other things.
Around the Web