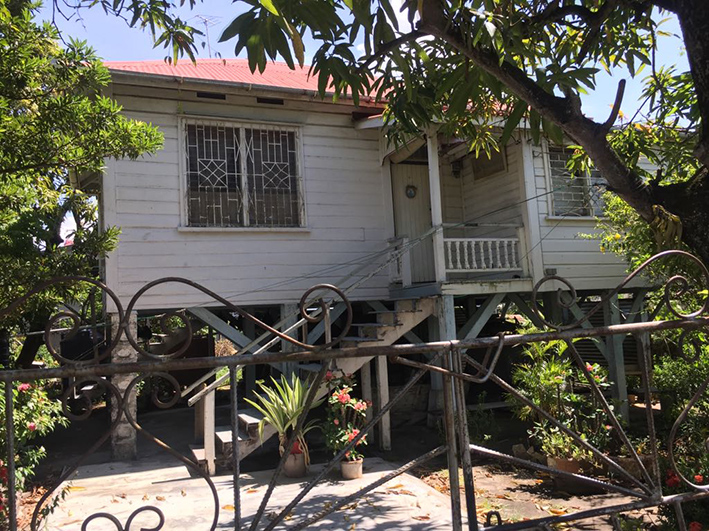 The lifeless body of an Annandale, East Coast Demerara (ECD) pensioner was discovered in his yard on Monday evening.
Dead is Krishnachand Dabee, 72, of Lot 149 Annandale Public Road, ECD.
Commander of 'C' Division Leslie James confirmed the discovery, which he said was made around 7 pm on Monday by Dabee's daughter, Ramona, after several calls to him went unanswered.
Dabee's head and right eye bore injuries, the police said.
A room which he occupied was also ransacked but it remained unclear up to yesterday afternoon if anything was missing.
Stabroek News was told that Dabee's daughter, who is a lecturer at the University of Guyana, tried to contact her father several times via telephone but got no answer.
She then turned up at his house in company of her husband to drop off dinner for him, as is customary, when the discovery of his body was made.
The police were immediately contacted and Dabee's body was examined, during which injuries were noticed.
A police source indicated to Stabroek News that while it is suspected that Dabee might have been killed during a home invasion, investigators are awaiting the report of an autopsy to determine how he met his demise.
An autopsy is expected to be conducted today.
In the meantime, the source said several persons have been questioned as the investigation continues.
When Stabroek News visited yesterday, Dabee's house was tightly secured.
Neighbours expressed shock at news of his death. They did not recall hearing any strange sounds coming from the house that might have indicated that something was amiss.
A resident, Chandini (only name given) told Stabroek News that Krishnachand had been living alone after he and his wife were tied up and beaten by bandits in July.
The woman said the attack had left Krishnachand's wife hospitalised for some time and following her discharge, the woman had expressed fear about returning to the house.
As a result, she was placed in a nursing home in Georgetown.
"After she (Krishnachand's wife) get sick, she seh that she nah come back hay and the man seh that this is he house, suh he decide fuh stay," Chandini said.
According to Chandini, she last saw the now dead man on Sunday afternoon.
She said she understood that his wife did not receive a call from him on Monday and she became worried.
As a result, Chandini said the woman telephoned another neighbour and asked if the lights in the house were on. "Normally, when he deh home and he deh one place, he does got on that light but all the lights in the house went on. Suh she (Krishnachand wife) seh when she call he phone, he nah answer so she (the neighbour) seh that the light deh on but nobody know that the man dead and deh downstairs," she explained.
Chandini further related that Ramona would bring food every afternoon for her father. "Them (Ramona and her husband) bring the food like about 6 o' clock (Monday) and then them discover like that gate lock and the door lock and them ah knock the gate and nobody nah answer. And then they call out fuh people and then everybody tell them they gah go the station," she recalled.
Chandini said she also found it strange that she hadn't seen Krishnachand around all day Monday. "…And sometime time like now (midday), you does see that like he been and visit she (he wife) and he come back but we nah see nothing at all yesterday (Monday)," she noted.
She said on Monday some contractors working on the public road were doing some works in front Krishnachand's premises and they damaged a pipeline but still there was no trace of him.  "He nah come out. Normally he does deh when things like dah happen and fuh know that them damage he pipe tuh," she added.
Meanwhile, another resident, Lilowattie Azeez, said she too last saw and spoke with the pensioner on Sunday afternoon when he was cleaning his yard. "He (Krishnachand) been ah cut tree and suh and he see me and he talk to me and tell me about he wife and suh and me never see he back," Azeez said.
She noted that during their last conversation, Krishnachand was telling her that his wife was not feeling well so after she did not see him the following day, she thought that he went to visit his wife.
Azeez said Krishnachand's death has left her in shock since he does not trouble anyone.
When contacted by this newspaper, Dabee's daughter declined to comment on her father's death. The woman said at this in point in time the family is trying to sort out a lot of matters.
Krishnachand was the father of three children. His two sons reside overseas.
Around the Web