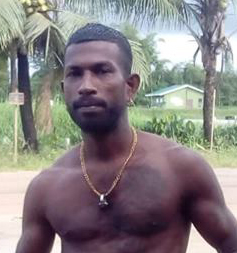 Munir Amin, the block maker who was seriously injured following a suspected hit and run accident last Monday, remains hospitalised in a city hospital and the police have not made any arrest in the matter.
Amin, 30, of Lot 51 Garden of Eden, was discovered lying in a pool of blood around 2 am on August 20, a short distance from his home.
At the time of the discovery, his left eye was out of the socket and his forehead was bashed in. He underwent surgery and has since lost sight in his right eye.
The police had said that Amin was rushed to the Diamond Hospital by his father and was later transferred to the Georgetown Public Hospital (GPH) where he was admitted in a critical condition.
Contacted for an update, Amin's sister, Waheeda Sue told this newspaper that her brother, who was admitted as a patient in the Intensive Care Unit (ICU) since his hospitalisation was recently transferred to the Male Surgical ward.
She said his condition is listed is stable.
Amin had left home on the evening of Sunday, August 19 to attend a wedding and was returning when tragedy stuck.
Sue said her brother related to her and other relatives that all he can recall is walking home.
 "All he knows is that he was walking in the street to go home. He doesn't know what happen after and he said he was not drunk", Sue said.
The discovery was made by some villagers who were heading to the market. They immediately informed Amin's parents, who are well-known in the community.
Following the incident, Sue had called on the police to conduct a thorough investigation into the matter.
She had also said that she hoped that whoever is responsible for the act will come forward. "I am hoping that we get justice.  I am hoping that whoever did it, they can come forward and you know admit to what they have done because he could have lost his life," Sue had said.
Around the Web