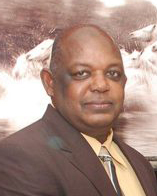 The Guyana Power and Light Incorporated (GPL) will have an additional generator in place by the end of September to meet electricity demands on the Essequibo Coast, according to the Department of Public Information (DPI).
The Anna Regina Power Station currently has a total of seven units installed but only two are operating due to unforeseen technical issues, DPI said in a release yesterday.
GPL's Chief Executive Officer (CEO), Albert Gordon said that the two units are unable to satisfy the demand and another unit is expected to be operational by September 29.
"An additional unit is expected to be operational by the 29th and we are hoping to get one megawatt from there. That would improve the situation but electricity distribution will still be rotated for eight hours. While we are trying to get this unit up, both GPL and MACORP are working to fix an additional two units to boost capacity. When we combine that with the existing units that we have operating we will be able to satisfy the peak demand," Gordon said.
Going forward, the power company is planning to add a fourth unit which will work with the three new ones that will be commissioned later this year. Gordon said the fourth unit will serve as the backup.
"We also plan to install an additional five megawatts. The expectation is that this will allow us to comfortably bring the self-generators to the GPL grid so we can provide electricity at a lower cost than we are now. The additional capacity will also facilitate growth and encourage investment and better use of power", he said.
GPL and the government have been criticised over the load shedding that has gripped the Essequibo Coast.
GPL's Public Relations Officer, Shevion Sears and a team are currently in the region to meet and discuss the way forward with residents, DPI said.
Around the Web