Chief City Engineer Colvern Venture has issued a notice informing the Clerk of Markets to instruct stallholders to discontinue vending under the dilapidated Stabroek Market wharf and relocate, although alternative accommodations have not been settled for all of them as yet. 
The notice was issued on August 23rd, with vendors expected to evacuate the hazardous area within 14 days, Town Clerk Royston King told a statutory City Council meeting on Monday.
At the end of last month, a section of the wharf collapsed, leaving large zinc sheets and broken wooden beams scattered across old stalls.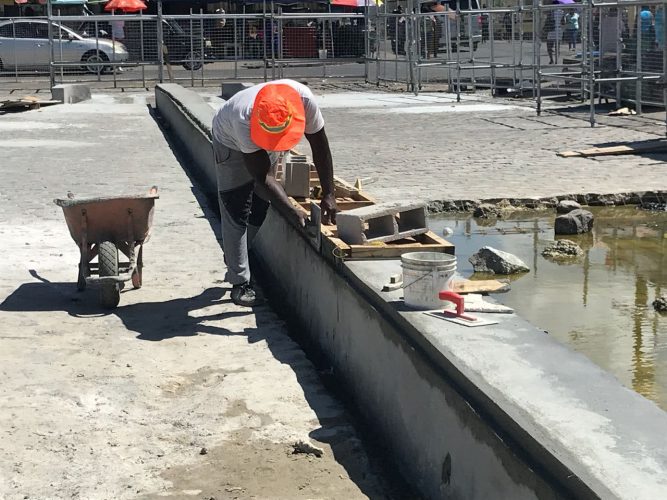 During a visit to the market yesterday, vendors said they have not received any notice from the city administration informing them to cease operations.
Venture last night clarified that the Clerk of Markets, Sherlock Lovell, is responsible for serving the notice. He explained that the Clerk of Markets acts as the custodian and has the responsibility for the stallholders.
Some 99 vendors have to be relocated, King said, while noting that the relocation would be done in phases.
"We will be relocating in phases but I am afraid we might have to ask all the vendors to vacate the wharf and those who will not be relocated early will have to wait on us until we find a place for them," he said.
King said that preparatory works at Russell Square, Stabroek, which has been identified to accommodate the vendors, is still ongoing. Works being undertaken include reconstructing drainage, resurfacing the area and demarcating spots.
"We, as a responsible council, could not sit without doing anything to assist those people… We would begin to relocate those vendors who are in immediate danger. We are preparing this area and by next week those vendors should be able to move over," King had said in an invited comment after the collapse.
The wharf has been slowly deteriorating over the years and in 2017 it was announced that it would be rehabilitated. Sections of the roof collapsed in September, 2014, and March, 2015, but vendors have continued to ply their trade there despite the danger.
Minister of Public Infrastructure David Patterson had stated in May that the design for the rehabilitated wharf was being finalised and it would go to tender this year, with work on the project possibly starting as soon as early 2019.
King told reporters on Monday that the council is still awaiting an update from the ministry on the project.
Around the Web