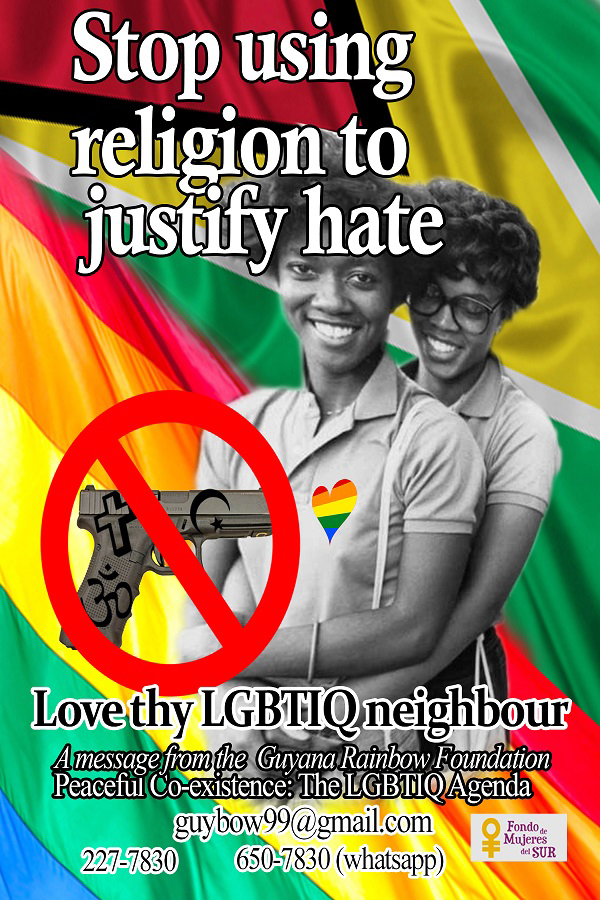 Guyana Rainbow Foundation (GuyBow) has announced the launch of a public advocacy campaign promoting equal rights for lesbian, gay, bisexual, transgender, and queer Guyanese. The ad campaign, which will run for six months, began on Tuesday, August 28th.
The campaign aims to promote love and peaceful coexistence among all Guyanese, GuyBow said in a press release announcing the start. It is part of a broader empowerment and advocacy project supported by Leading from the South (LFS) – a feminist fund dedicated to the elimination of discrimination and the promotion of equal rights in the Global South.
The advertisements, which have been placed in bus shelters in three locations around Georgetown, call for respect, equality, love, and support for LGBTQ persons, as well as a sharing of the public space, and an end to the use of religion to justify hate, the release added.
GuyBow went on to state that while LGBTQ persons are claiming public space in increasing numbers, many still remain hidden, silent, and scared to express themselves freely, fearing social ostracisation, violence, and other forms of discrimination.
LGBTQ youth, in particular, experience significant bullying in school, high rates of drop out and mental health concerns. Fundamental religious leaders also continue to preach against equal rights for lesbian, gay, bisexual, and transgender individuals, maintaining a climate of intolerance, the group added.
GuyBow has been operating informally among the LGBT population of Guyana since the late 1990's, and as a formally registered organization since 2000. It is one of the first organisations to serve the LGBT community in Guyana. The organization's current focus is on strengthening and supporting lesbian, bisexual, and questioning women.
There is an office/safe space located in central Georgetown, which offers peer support, mental health counselling, education and training, as well as temporary, emergency housing for LBQ women.
For more information, GuyBow can be contacted at guybow99@gmail.com, 592-227-7830, or 592-650- 7830 (WhatsApp).
Around the Web