Leslie James was yesterday appointed as the new Commissioner of Police and President David Granger has urged him to not only steer the force in the right direction but to also take the lead in the reform of the security sector.
"In addition to his other duties, therefore, I expect the new Commissioner to lead the process of security sector reform, which is aimed at ensuring that we have a highly motivated and better equipped, professional police force," Granger said shortly after James, 52, took the oath of office and collected his instrument of appointment at State House.
In addition, Lyndon Alves, Maxine Graham, Nigel Hoppie and Paul Williams have all been appointed as Deputy Commissioners, with their appointments taking immediate effect.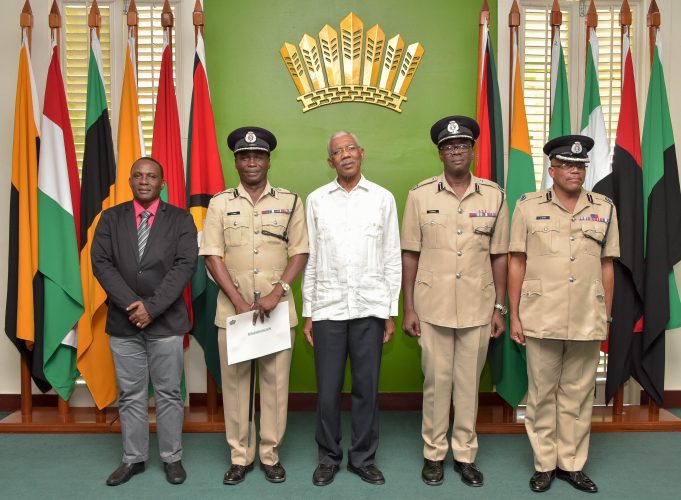 After a meeting yesterday morning between Granger and Opposition Leader Bharrat Jagdeo, where they discussed the appointment and other issues, James was sworn-in hours later at State House. No media invitation, which is the usual protocol for such proceedings, was sent out but select media personnel, Stabroek News was told, were in attendance at the ceremony.
Only three of the Deputy Commissioners were at the ceremony as Graham is presently in Canada on official duties. She is scheduled to return next week. Also present were Attorney General Basil Williams, Minister of Indigenous Peoples' Affairs Sydney Allicock and Chairman of the Police Service Commission (PSC) Assistant Commissioner (ret'd) Paul Slowe.
After learning that James was to be appointed, Jagdeo vowed that he and his party would support him.
"Any Commissioner of Police will have our full support. We have to support our law enforcement agencies… If he is going to be the Commissioner of Police, then he has to enjoy the trust of the whole country until he proves that he cannot enjoy that trust but right now we have to give him a fair chance to work," Jagdeo told reporters about an hour after meeting with Granger.
The constitution requires that the two consult before a substantive Commissioner or substantive Deputy Commissioner is appointed. 
Under the former government, James held the posts of Head of Special Branch and Crime Chief. Days after the Granger administration took office in 2015, he was removed as Crime Chief and appointed Officer-in-Charge, Projects Office, apparently in keeping with the new government's plan of a management overhaul for the force. He had held the Crime Chief post for more than a year up until then.
Asked if in his mind, James is an acceptable candidate for the post, Jagdeo made it clear that he has heard "nothing adverse" about him.
Security of the state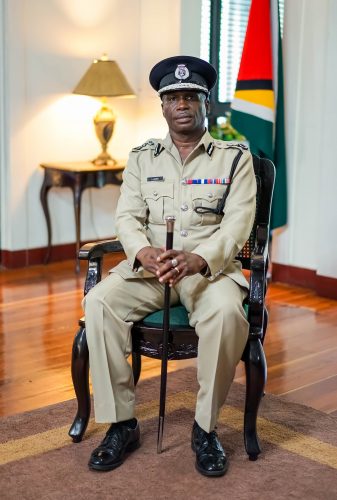 The Ministry of the Presidency, in a statement announcing the appointments, which were all effective immediately, reported Granger as saying that he believed that the selection process yielded the five best candidates to lead the force. "I think this is the best outcome and they are all fit and proper persons to lead the police force," he was quoted as saying.
Granger added that the four deputies will be responsible for four areas of the police force: Operations, Administration, Law Enforcement and Special Branch/ Intelligence.
"What we have done today is we have not only appointed a Police Com-missioner but we have also improved the architecture of the Police Force so that instead of having a flat structure, we now have clearly defined responsibilities in those four deputy commissioners. So, things will be better. I am sure there will be better performance in those areas and other officers can now look forward to, in due course, filling those appointments. It will help to enhance the specialisation of the Police Force. It will help to spur the career mobility of officers and I am convinced that the efficiency of the Police Force as a whole will be enhanced," he explained.
In a recording of the swearing-in ceremony obtained by this newspaper, Granger is heard telling James that the post is a "burdensome one." "[It] is not a toy. It is not a trinket. It is not a tool of political favour or patronage. The very security of the state, the safety of the Guyanese people rests on the police force and the officers who command it and unless those officers are persons of intelligence and integrity and impartiality, the country would never be secure and our women and children will never be safe," he stressed.
He insisted that the country cannot move forward unless the force preserves the environment, peace and security of the state, "to allow us all to go about our work without being harassed, without being threatened."
He made mention of the long list of crimes police have to deal with and pointed out that "unfortunately too many rogue policemen have been found to have been involved in these crimes."
Granger said James and deputies will have a lot of work to do in ensuring there is law and order, while arguing that in order for the force to fulfil its legal responsibilities, it cannot remain unchanged.
Noting that crimes have become more complex, he said, "the police force has to be reformed and you can't build a new house with old wood. You have to select new materials, people with a new vision, people with a new commitment to break from the old bad habits and to return to the principles of good policing."
"This government will resist any attempt from any quarter to reverse, retort or to thwart the reforms on which we are about to embark and I look to this new team to promote those reforms vigorously to ensure that from year to year the citizens of this country see that the Guyana Police Force indeed is there to serve and to protect them," Granger added, while exhorting James to lead the process of security sector reform to ensure there is "a highly-motivated, better-equipped, professional police force."
Specific reasons
In addition to James and his four deputies, Assistant Commissioners David Ramnarine, Clifton Hicken and Marlon Chapman were also interviewed for the post of Commissioner.
Ramnarine, who had served as acting Police Commissioner since the retirement of Seelall Persaud earlier this year, was the most senior rank in the force prior to the appointments yesterday.
With him being passed over, Jagdeo told reporters yesterday that during the meeting with Granger, he did raise questions about Ramnarine. "…That he was the acting Commissioner of Police and that there was the expectation that he will be selected and [the] president indicated to me that there are specific reasons why he was not selected. He did not share what those reasons were," Jagdeo said.
He later said that he could not give an informed view about the non-selection of Ramnarine as he did not have enough information about the process.
An inquiry into the police force's handling of an alleged plot to kill the president last year had concluded that Ramnarine, and others, lacked the professionalism to lead the Guyana Police Force."
The inquiry, which was conducted by Slowe, recommended that the officers that played a key role in the investigation, including Ramnarine and Hicken, be reassigned, possibly to positions outside of the police force, based on their conduct.
Jagdeo insisted that during the meeting, he did seek to find out about the selection process, saying that he let it be known that he did not have a positive or adverse reaction to the names and did not want to rely on "rumours."  According to Jagdeo, he made it known that he had heard of the interviews and the geography tests that the eight Assistant Commissioners were subjected to.
"He (Granger) said to me that the test was a basic test, that it was designed for Grade Six… He asked the Ministry of Education to design a test for Grade Six," he said, before adding that, according to the president, it was just an assessment of general knowledge. He said the president also informed him that he, the Attorney General and the Minister of Public Security conducted the interviews of the candidates.
He said that it was explained that the test was at a level so as not to "disqualify people but just to find out about their general knowledge."
Jagdeo said that he asked about the role of Slowe in the selection process, given his involvement in an inquiry which would have tainted some of the nominees. "He assured me that Paul Slowe recused himself… when some of the nominees were discussed," he said.
Around the Web