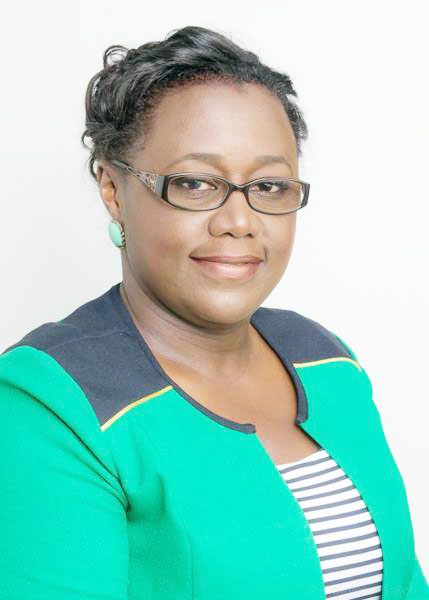 Government took no action against Junior Natural Resources Minister Simona Broomes for her conduct in her highly publicised clash with two security guards in the Amazonia Mall parking lot given that police laid no charges against her, President David Granger said yesterday, while noting that the matter will be handled at a party level.
"There has been some delay with this matter…We waited for the police report and no action was taken because the police report did not find her culpable of any offence," Granger told a press conference at the Ministry of the Presidency.
On July 8th, the Minister and her driver had an altercation with two security guards at the parking lot of the mall at Providence, East Bank Demerara, where she had gone to purchase food from the New Thriving Chinese Restaurant.
The police, who initially detained the guards based on a report that was made to them, later announced that no charges would be laid against any of the parties involved following legal advice they received.
During his third press conference since taking office, the President faced several questions on the issue yesterday. He was asked whether Cabinet was embarrassed by Broomes' actions, whether he spoke with her about what transpired, whether he believed she breached the Code of Conduct for government officials and whether her behaviour concerned him.
In his response, he acknowledged that the report of her conduct was of concern to him. "Yes, I was concerned with the report of the alleged behaviour of Minister Simona Broomes and as I said it is not a criminal offence. It will be handled within the party to which she belongs," Granger said.
Broomes is a member of PNCR, the largest constituent of governing coalition partner APNU.
Broomes had claimed that she and her driver were verbally abused and threatened by the two security guards but surveillance footage of the confrontation showed otherwise. Nevertheless, based on her initial complaint, the two guards were detained by police for 16 hours before they were released on their own recognisance.
The police force had said in its first statement on the incident that a "thorough investigation" was launched following allegations of abuse and threats against a minister and her driver. It did not name Broomes. "Initial enquiries reveal that both parties seemed to have been very aggressive," the statement noted.
Concerns have been raised that Broomes abused her privilege as minister and possibly misled about the incident.
Observers have said that Broomes' behaviour is in violation of the existing Code of Conduct for government officials.
Commenting on whether a breach occurred, Granger said it "is another matter and that will be dealt with politically within the party to which she belongs but there was no crime and we awaited the police report and the police did not feel that there was any grounds for any criminal prosecution."
Neither Prime Minister Moses Nagamootoo, under whose signature the Code of Conduct was gazetted on June 12th, 2017, nor State Minister Joseph Harmon, believes that the code has any relevance to the case. 
Under what the Code describes as The Ten Principles of Public Life, it lists "Accountability" and states that a person in public life shall be accountable to the public for his or her decisions and actions and shall submit himself or herself to scrutiny and criticism.
Also listed as one of the principles is "Dignity" and the Code states, "A person in public life shall, in the execution of his or her official functions, conduct themselves in a manner which engenders the respect of their peers and the public."
Additionally the fourth principles is "Duty" and the Code stipulates that a person in public life "owes a duty to the public" and shall "consider themselves servants of the people." The tenth principle is "Transparency" and the code states, "A person in public life exercises his or her public decisions and actions with full and frank disclosure and provides when demanded by the public an explanation for his or her actions and decisions."
Minister of Natural Resources Raphael Trotman recently told Stabroek News that the matter would have been the subject of a Cabinet discussion. However, Harmon has disclosed that it was not and that it still due for examination.
Around the Web