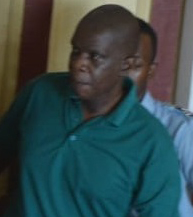 An Enterprise, East Coast Demerara man, who was charged a month ago with fraud, was yesterday taken before a city magistrate to answer to another charge.
Neil Benjamin, 52, stood in the courtroom of Principal Magistrate Judy Latchman, who read the charge to him.
It is alleged that the accused, an electrical subcontractor, between October 2nd, 2017 and February 28th, 2018, at Georgetown, with intent to defraud, obtained the sum of $725,000 from Keisha Cameron, by falsely pretending that he was in a position to purchase a car for her, knowing same to be false.
Benjamin denied the charge.
The accused then heard from Prosecutor Quinn Harris that on October 2nd, 2017, Cameron had a conversation with him, where she made known her desire to purchase a second-hand car. How-ever, Benjamin told her that she had to get a new car.
Harris said sometime later, Cameron went to the defendant's work place, where a down payment was made.
The prosecutor added that from October to February, further payments were made by Cameron to Benjamin, and while she never received a receipt, there was a promise that down payments would be made for the vehicle.
A report was later made by the complainant after she discovered that payments weren't made.
Harris noted that under caution, Benjamin admitted to obtaining the money from Cameron but never making the down payments.
Magistrate Latchman later granted the accused $200,000 bail and adjourned the matter until September 24th.
On June 22nd, Benjamin was read two fraud charges relating to allegedly falsely obtaining money for plots of land. Proceedings are still ongoing before Magistrate Leron Daly in relation to these charges.
Around the Web