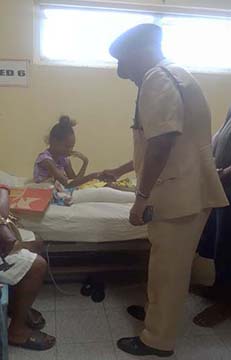 A horse cart operator is now a remanded prisoner after police say he was caught red-handed after snatching a woman's chain.
But Kevin Washington, 21, of 43 Princes Street, Lodge, denied that he, on September 1st, at America Street, stole a gold chain valued, at $60,000, from Roxelle De Paul.
Police Prosecutor Quinn Harris told the court that on the day in question, at about 1.30 pm, the complainant was walking on America Street in the western direction when she observed Harris heading towards her.
Harris said Washington then snatched her chain but De Paul ran behind him, shouting thief. He said with the assistance of public-spirited citizens, she was able to apprehend the accused, who had entered a Route 40 minibus.
The prosecutor objected to bail being granted, citing the nature and gravity of the offence.
Attorney James Bond, who represented Washington, stated that his client was apprehended by the police and taken into custody, where he was beaten.
The attorney's bail request was denied by Principal Magistrate Judy Latchman and the accused was remanded to prison until September 24th, when his next hearing is slated.
Around the Web