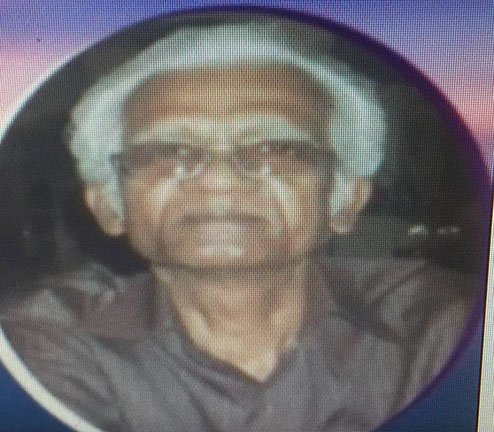 There are no new leads into the murder of Krishnachand Dabee, the pensioner whose lifeless body was found in his Annandale, East Coast Demerara (ECD) yard more than a week ago, the police say.
Dabee, 72, of Lot 149 Annandale Public Road, ECD was discovered dead around 7 pm on August 28 by his daughter, Ramona Dabee, after several calls to him went unanswered.
At the time, there were injuries to his head and right eye and a room which he occupied was also ransacked. It remains unclear whether anything was missing.
An autopsy performed on his remains revealed that he died as a result of blunt trauma to the head and a fractured neck and spine.
While it is suspected that the elderly man was killed during a home invasion, the police have not yet made any arrest.
However, several persons were questioned.
This newspaper was previously told that Ramona, who is a lecturer at the University of Guyana, tried to contact her father several times via telephone but got no answer.
She then turned up at his house in the company of her husband to drop off dinner for him, as is customary, when the discovery of his body was made.
The police were immediately contacted and Dabee's body was examined, during which injuries were noticed.
A resident, Chandini (only name given) had related to Stabroek News that Krishnachand had been living alone after he and his wife were tied up and beaten by bandits in July.
The woman had said that the attack had left Krishnachand's wife hospitalised for some time and following her discharge, the woman had expressed fear about returning to the house.
As a result, she was placed in a nursing home in Georgetown.
According to Chandini, she last saw the now dead man on Sunday afternoon. She said she understood that his wife did not receive a call from him on Monday and she became worried.
As a result, Chandini said the woman telephoned another neighbour and asked if the lights in the house were on. "Normally, when he deh home and he deh one place, he does got on that light but all the lights in the house went on. Suh she (Krishnachand wife) seh when she call he phone, he nah answer so she (the neighbour) seh that the light deh on but nobody know that the man dead and deh downstairs," she explained.
Meanwhile, another resident, Lilowattie Azeez, said she too last saw and spoke with the pensioner the day before the discovery when he was cleaning his yard.
The woman had noted that during their last conversation, Krishnachand was telling her that his wife was not feeling well so after she did not see him the following day, she thought that he went to visit his wife.
Around the Web