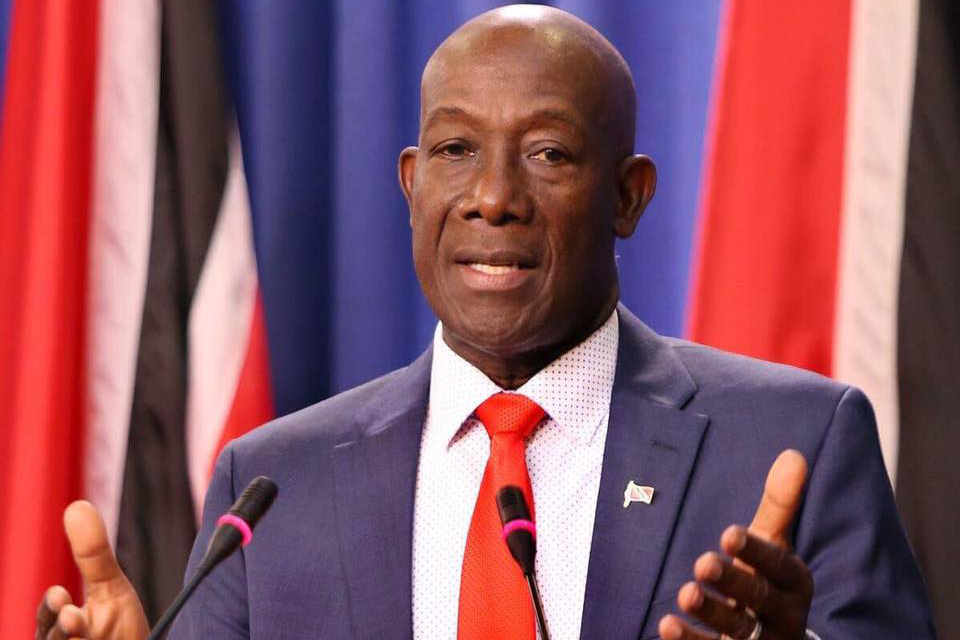 Trinidad and Tobago's Prime Minister Dr Keith Rowley is due in Guyana next Wednesday to sign a Memorandum of Understanding (MOU) for a technical co-operation agreement on oil and gas.
The MoU, which has been long in the making, will see the re-establishment of working relationships for Trinbagonian businesses in Guyana, according to Rowley. The Trinidadian Prime Minister told a political meeting on Tuesday evening in Marabella, Trinidad that the MoU was in the making for about a year. Marabella is one of the areas in southern Trinidad where many people are employed with the State-owned Petrotrin company and who will be laid off when its refinery closes as the T&T government has announced. 
"Now it has come to a point where we can sign (the MoU). I am going to Guyana next Wednesday to sign this document which opens the way for Trinidad and Tobago's companies to participate in that prosperity that is coming to the Guyanese even if Guyanese oil does not come to our refinery," Rowley announced. "About two weeks ago, the Guyanese Government finally sent a diplomatic note indicating that they are ready to sign that arrangement as a result of the work done over the last year," he revealed.
News of the impending signing of the MoU was reported in the last Sunday Stabroek. Since 2016, discussions commenced between Guyana and Trinidad on a MoU under which the latter would provide various forms of support to the oil and gas sector in Guyana.
On Tuesday, noting that Leader of the Opposition Kamla Persad-Bissessar has been critical of his government announcing the shutting down of the 100-year old Petrotrin refinery at Pointe-a-Pierre, Rowley said, "And she jumps into Guyana. You know there is oil in Guyana. Why didn't they go to Guyana and get the oil and bring it here and refine it?" 
Persad-Bissessar has suggested that Rowley's government negotiates with Guyana to refine its crude oil.
He said, Guyana has "been fortunate" in finding significant amounts of oil and that production is due to start in 2020. After taking office, the PM said, his government sought to find out who owned the oil.  
"Guyana oil is owned by the Government of Guyana, ExxonMobil and a third party… Guyana has no intention at this time to bring any oil to shore for any refining," he said.
The reason for not bringing the oil onshore for refining, according to Rowley, is because "modern day technology – in treating with offshore finds like that which you cannot even see from Guyana, if you are on land in Guyana you wouldn't even see the flares – will bring the ships that are built and specifically designed to take the oil from the well head, onto the ship, do the water separation and the ship sails away."
When he became Prime Minister, Rowley said, he "spent a day in Guyana with the Guyanese Cabinet seeking to understand what they intend to do with their new prosperity. I discovered that to further any conversation with Guyana, not just about oil but with business in general because this oil money is going to generate all kinds of business operations in Guyana,"  the MoU which enabled a technical cooperation agreement between the two countries had expired under the Persad-Bissessar administration.
T&T Minister of Foreign and CARICOM affairs Dennis Moses and Guyana's Foreign Affairs Minister Carl Greenidge, he said, reopened discussions for a new MoU between the two countries to mutually benefit both countries and for a working relationship for T&T businesses. While the Opposition has accused him of being stupid in the Guyana situation, he said, oil refining in Jamaica which refines 36,000 barrels a day, is being kept afloat by Venezuelan oil going there as part of the PetroCaribe arrangement. It is becoming a problem for Jamaica as the country is now using 75 per cent of its power from Liquefied Natural Gas and not fuel, he said. "They are getting out of fuel oil but their refinery is now producing 60 percent fuel off Venezuelan oil," he said.
In the closure of the Petrotrin refinery, Rowley said, everyone will go home with an attractive separation package that includes land for housing on Petrotrin's land. Those 50 years and above will receive an attractive pre-retirement package followed by their pension.            
Meanwhile, defending the closure of the Petrotrin refinery, T&T Finance Minister Colm Imbert told the meeting that the refinery recorded losses of over TT$11 billion between 2012 and 2017. The refinery lost TT$722 million in 2012, TT$2.3 billion in 2013, TT$2.6 billion in 2014 and TT$2.7 billion in 2015.
Even though Petrotrin tried to reduce expenditure, he said, the losses in 2016 were TT$1.3 billion and TT$1.7 billion in 2017. The huge losses, the minister said, were being masked by the company's exploration and production departments which have shown profitability. Government had been looking at the figures for over a year and a half, he said, to arrive at its decision.
While the refinery was recording losses, Imbert said, the exploration and production departments were declaring profits, but the profits were being sucked up by the refinery. Salaries, pensions, health and other welfare benefits paid to workers, he said, were taken from the other departments and not the refinery. According to the minister, the auditors and chartered accountants have declared that "the refinery will never make a profit. Never. You can only carry forward losses as tax credits if in the future the entity will make a profit."
At present, Imbert said, Petrotrin owes the state TT$4 billion, that is TT$2.6 billion in royalties to the Ministry of Energy and TT$2.6 billion in taxes to the Board on Inland Revenue.  Not only is Petrotrin not paying taxes but the Ministry of Finance has to give a government's guarantee to Petrotrin's bankers when it buys 100,000 barrels of crude a day to run the refinery because the company is not creditworthy, he said.
"We have had to guarantee loans and lose US$3 to US$4 on every barrel," Imbert declared.  
Around the Web