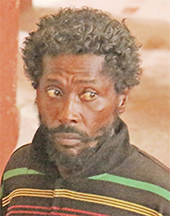 Toney Marcus is now awaiting sentencing for chopping a man whom he said owed him $5,000.
Appearing before Justice Brassington Reynolds at the Georgetown High Court yesterday, Marcus admitted to the charge of feloniously wounding Etwaroo Narine with the intention of causing grievous bodily harm or to maim, disfigure or disable him.
He was also charged with the attempted murder of Narine, which he has vehemently denied, while maintaining that he only chopped the complainant because he owed him money.
"I chop he 'cause he owe me $5,000," the unrepresented Marcus was quick to add after being read the attempted murder charge.
While entering a plea of "not guilty with explanation" to the attempted murder charge, Marcus accepted guilt on the alternative count of felonious wounding for chopping the man over the debt.
He chopped Narine, called 'Cow,' on July 6th, 2014 at McDoom, East Bank Demerara.
Justice Reynolds has, however, deferred sentencing until he hears a probation report on Marcus.
In the circumstances, the matter has been adjourned until September 27th.
It had been the police's case that on the day in question Narine was drinking at a shop at McDoom when the accused approached him and an argument ensued between them over money. It was during this argument that Marcus dealt Narine several chops about his face and body.
The incident was later reported and Marcus was arrested and charged.
The state is being represented by prosecutors Tiffini Lyken, Narissa Leander and Seeta Bishundial. 
Around the Web