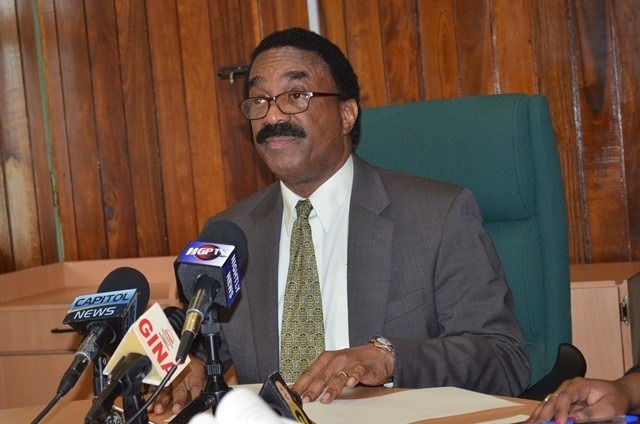 Attorney General and Minister of Legal Affairs Basil Williams SC on Monday urged "whistleblowers" to come forward with whatever information they may have, although he said government is still seeking to source funding to fully implement the protections which were approved by the National Assembly at the start of the year.
"They can blow the whistle. There should be normal protection under the law and anyone who wants to blow the whistle, feel free to come forward and blow the whistle," Williams told reporters at a press conference on Monday. In January, the National Assembly by acclamation passed the Protected Disclosures Bill in order to protect persons making specified disclosures of improper conduct, in good faith and in the public interest, from detrimental action. During the press conference, Williams was asked about the implementation of the law and others, including the Juvenile Justice Bill.
In response, he stressed that full implementation would require millions of dollar and the funding is currently unavailable. "As you know, having read them, a lot of structures have to be erected and a lot of people put in place… It goes hand in glove with witness protection and you have to move people around under witness protection and a lot of them could actually be moved out of Guyana to different places. So, it is something that is being looked t… these matters would require the attention of the Minister of Finance and the availability of financing," he said in specific reference to the Protected Disclosures Bill.
Noting that the legislation "must be activated" given its importance in fighting corruption, Williams, however, stressed that money is not exactly "in a backyard where you just go and pick it off a tree."
He said government has had to find billions of dollars to offset bailouts and heavy court judgements. He added that the government still has one such court judgement, which is "like a budget itself," to pay off.   The AG stressed that as soon as money is available, the Protected Disclosures Bill and the others would be fully implemented. "As you know, we were told on the 4th July that we are very rich," he said in reference to the discovery of oil and implying the money necessary for the full implementation of certain pieces of legislation will be secured.
Williams said that to the best of his knowledge, no one has made use of the whistleblower legislation before reiterating that persons with disclosures are free to contact him.
Pressed on guarantees of protection, Williams said that all those things are catered for under the Act. "Without that Act, if somebody comes and blows the whistle the police are supposed to give that persons protection, so what we are trying to do with the Act is to really put it under a legal regime of formalisation," he added.
Around the Web