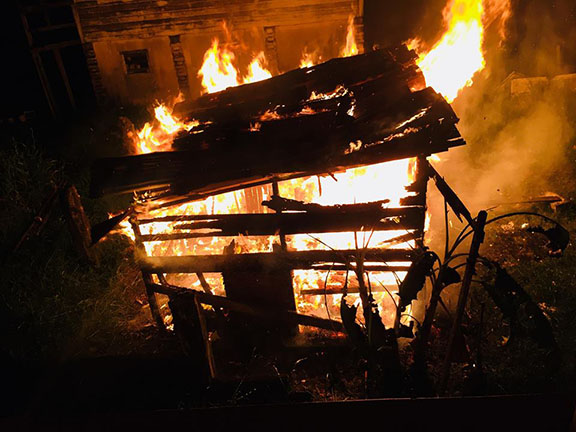 Two brothers lost their home early yesterday morning when a fire, suspected to have been deliberately set, razed a house at Grove, East Bank Demerara.
The fire started around 3 am and quickly engulfed the small wooden house, which was located at Lot 300 School Road, Grove.
The house was reportedly owned and occupied by Heman Gokhul and one of his three brothers, Suresh (only name given).
Fire Prevention Officer Andrew Holder yesterday told Stabroek News that a preliminary investigation revealed that the fire was deliberately set.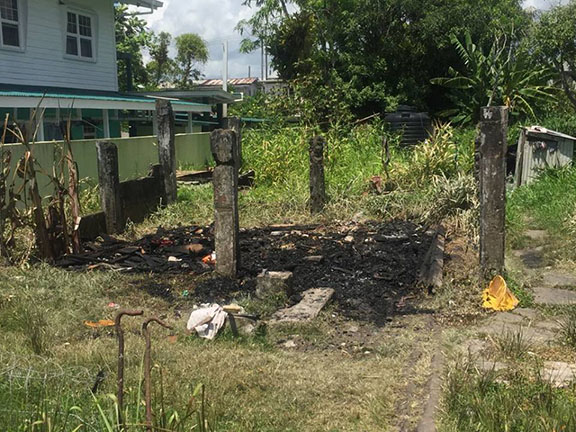 Suresh, who said he had been living at the property for over 50 years, recounted that he retired to bed on Thursday evening and left Gokhul and a few of their friends, including Ally Mohammed, who had been staying with them for two weeks, and Kanhai Hussain, drinking in the yard. Hours after, he said, he was awakened by intense heat inside the house. "The heat wake me up so I had to pelt out the house," Suresh said.
He added that while he was grateful that the fire did not spread to nearby buildings, he no longer has anywhere to stay.
Meanwhile, Hussain, 45, a fisherman, related that he slept at the house on Thursday evening, although he was not staying at the property like Mohammed.
He too was asleep when he was awakened and informed of the fire. "Me ain't know if somebody do it, if is the cigarette or me hear them had a [mosquito] coil been a light… gah be one ah the three," Hussain said.
"When me wake up, me see the lil fire but the fire catch pun a sponge (mattress), suh when me guh fuh out it… when me try fuh out it, more meh lash the fire more it spread off," he added.
He said when the heat got intense, he had to rush out of the house.
Meanwhile, residents voiced their concerns about the characters who usually occupy the house. They said that on a daily basis the men do nothing but drink and smoke.
A neighbour, Fazil Rahaman, told this newspaper that yesterday's fire was the third in the last seven years.
He said on the first occasion, his house and that of another neighbour were scorched.
"Last night (Friday morning) I wake up around 3 and I see this bright light in me room. When I pull this window, I see this house on fire," Rahaman related.
He said he rushed out of his house and started to call for the occupants but got no answer.
As a result, Rahaman said he and his brother were forced to turn their water pump on and they used their hose to put out the fire. He noted that by time the Guyana Fire Service arrived at the scene, the fire was already put out.
"You know how many times we had ban for them. They pose a threat here, you know, because they are going to build that place back and they will burn it again because they always smoke. Every single one of them smoke and drinks," Rahaman added.
Around the Web