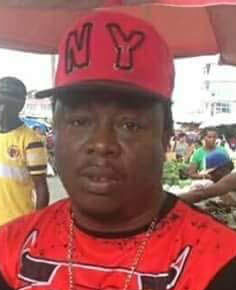 A third man was charged yesterday with the murder of Bourda Market vendor Troy Ramalho, who was gunned down by robbers last month.
Roy Sanford, 33, of 'A' Field, Sophia, was brought before Chief Magistrate Ann McLennan in Georgetown, where he was read a joint charge alongside Akeem Morris, 20, of Sandy Babb Street, Kitty, and George Paton, 34, of Eccles Park, East Bank Demerara, who were previously charged with the crime.
Prior to the charge being read, police prosecutor Neville Jeffers told the court that based on advice from the office of the Director of Public Prosecutions, the joint charge that was previously instituted against Morris and Paton would be withdrawn and the new charge against all three men would then be instituted.
The charge against the three men states that on August 15th, at Robb Street, Bourda, in the course or furtherance of a robbery, they murdered Ramalho.
They were not required to enter a plea to the indictable charge.
Morris was represented by attorney George Thomas, while attorney Dexter Todd represented Sanford.
Meanwhile, the unrepresented Paton, who appeared to be visibly shaken, told the court that his co-accused have been threatening him.
He said he was beaten in the court lock-up and added that three men attempted to attack him in prison. Paton told the court that he was only hired to pick up the men and knew nothing of the crime.
Chief Magistrate McLennan then encouraged the accused to report the matter and told the prosecutor to look into his story. The Chief Magistrate then told the defendants that if Paton was telling the truth, then they ought to desist as their actions would do nothing to help their case.
The matter was then adjourned until September 24th.
Ramalho, 45, was shot once to the chest while reportedly resisting three men who attempted to rob him of his jewellery. A witness told police that the gunman discharged a round at Ramalho, who fell instantly. His accomplices then relieved the shot man of his jewellery and quickly fled the scene. Ramalho was subsequently rushed to the Georgetown Public Hospital, where he was pronounced dead on arrival.
Around the Web