Nine-year-old Patricia McFarlane, one of the three persons injured in the September 1st accident at Moblissa, Soesdyke-Linden Highway, which claimed the lives of two of her relatives, is currently on life support at a city hospital.
Commander of 'E' Division Anthony Vanderhyden confirmed to Sunday Stabroek that Patricia is currently a patient in the Intensive Care Unit (ICU) of the Georgetown Public Hospital on a life support machine.
In a recent Facebook post, Patricia's aunt, Nicole Telford, was seeking O negative or A negative blood donors to save her niece's life.
The accident had claimed the lives of 60-year-old Tessa Ibrahim and her son Marlon McFarlane.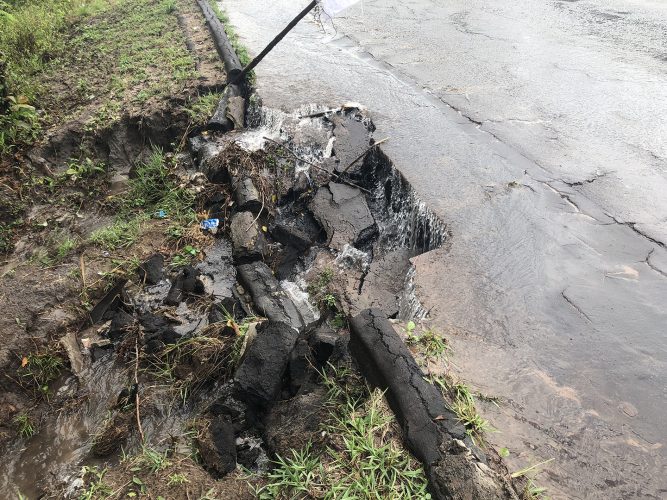 The two other survivors of the accident were Patricia's younger sister, Roshana McFarlane, seven, and Maisha Ibrahim, 23, the driver of the car they were travelling in when the accident occurred.
Vanderhyden said while Maisha has since been discharged, Roshana remains a patient at the Linden Hospital.
When asked if Maisha is likely to face any charges, Vanderhyden said a case file will be prepared and sent for legal advice, which will determine the way forward in the matter.
This newspaper had previously reported that the accident had occurred around 3.30 pm last Saturday as the family was heading home from Georgetown.
Witnesses had told police that the vehicle in which the accident victims were travelling, a car bearing licence plate PNN 3987, was proceeding south along the eastern carriageway of the public road, allegedly at a fast rate, when it dropped into a pothole while crossing the Moblissa Bridge.
This reportedly resulted in Maisha losing control of the vehicle, which eventually crashed into a tree on the western side of the road. The accident victims were all rushed to the Linden Hospital, where Marlon and Tessa were pronounced dead on arrival.
Both Maisha and Roshana were admitted as patients, while Patricia was transferred to the Georgetown Public Hospital in an unconscious  state.
'A major role'
Meanwhile, the accident has spurred new calls by residents of Linden and road users who frequent the highway for there to be urgent repair works on the road.
"I don't know how many times we gon' have to ask and beg for something to be done on the road. Is like every other day you hearing about accidents on the road and so many people dying and everyone blaming speeding and the drivers and what's not but the road does play a major role in them accidents too," Jacob Linton, a driver who frequently uses the highway, related to this newspaper.
The man said he uses the road almost every day and is never surprised when he encounters new potholes and faults.
"You see, that highway special; it got nuff, nuff faults and is not an easy road to drive on but you don't notice it until you driving  on it and feeling them waves that does got you vehicle moving in them own direction if you don't careful," the man explained.
He also pointed out that there are several potholes and other larger faults that pop up from time to time on the shoulders of the road, which he said "takes forever to fix."
When this newspaper travelled on the road last week, two large holes were evident on the western shoulder of the Long Creek and Moblissa public roads. There were signs that repair works were ongoing to address the one at Long Creek, where there were two large piles of sand on the road around the hole, covering almost the entire western lane of the highway, without any proper hazard signs or signals.
"If you are not an experienced driver or you don't know this road, it will take you with it. The highway is very long and that is why the speed limit is so high but it condition right now is not for that speed limit. Sometimes the waves are so high on the road that when you drive over them and drop back down on the flat road is damaged rim and sometimes your whole tyre burst away," another driver related.
Drivers also pointed out that during the nights the road is "100 times" more dangerous since there are no lights and trucks without adequate lights and signs usually break down and park at the side of the road.
"They need to do something more about the road, you know. Is not just about patching them holes and doing them fine, fine works when somebody dead. You got to think about the future and preventing deaths, not doing something when one happen. They got to do more," Linton explained, while adding that it is also very hard to travel on the road when it rains since water usually accumulates on the shoulders, and in the middle at certain sections.
"Everybody that does drive on this road think is due time that they do extensive work. They got to do the whole thing back. From the bottom up or else it is going to continue taking lives. Somebody else going to try to swerve from a pothole and crash, somebody else going to drive over them waves, drop and get a blow out and crash up, somebody else going to be traveling in the night and crash into a big truck that park 'cause they didn't see it," the driver explained.
When this newspaper was on the road, it was noticed that several vehicles would drive off of the road and onto its shoulders in a bid to avoid the large waves and other infrastructural issues.
Around the Web