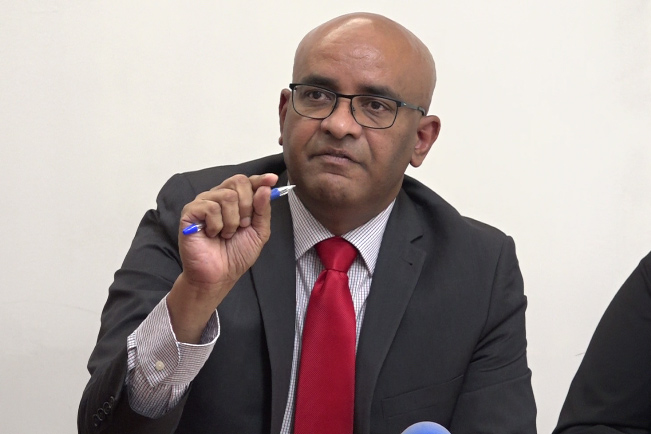 Leader of the Opposition Bharrat Jagdeo has said his party never requested "power sharing" with the current administration, making President David Granger's recent pronouncement that it was now "too late" for such an arrangement surprising.
"Let me make it clear. We never requested power sharing because some people thought we did," Jagdeo said.
Speaking at a media conference on Thursday at the Office of the Leader of the Opposition, in Queenstown, Georgetown, Jagdeo quoted Granger as saying at his recent press conference that soon after his administration took office, "there was a proposal that we should meet to discuss, what I called 'inclusionary democracy' but there is no proposal on the table for power sharing."
Granger was clear when he said he never offered power sharing and they were not meeting to discuss that, Jagdeo said, as that was never an issue.
Jagdeo added that he was also surprised to see online news site News Room report that "there was a proposal at the beginning by the People's Progressive Party for power sharing."
This has created a ton of confusion in people's minds, he said, "and somehow they want to create the impression over there that we were the reticent party, [that] we were being capricious."  
He noted that the President said that he wants their dialogue to be about an "idea sharing proposal" and not "power sharing" proposal. "So we must meet to share ideas," he added.
Jagdeo said he wanted to make it clear for those who think that the idea of power sharing was good for Guyana and it was the PPP that was holding up the process, that this was not the case. 
The issues of oil and gas, environmental issues and crime, he said, were also not mutually agreed to being discussed between himself and Granger when they meet for dialogue. He said that the three issues were put forward by Granger.
The executive of the PPP has met and has decided that he should raise the issues of the conduct of the elections, campaign finance legislation, and Guyana Elections Commission reform, Jagdeo added.
Around the Web