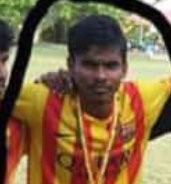 Foulis residents have been left in a state of shock by the stabbing to death of a youth allegedly by his father and alcohol has been cited as a factor in the father's behaviour.
A post-mortem examination is expected to be carried out today on the body of Satesh 'Kevin' Sookdeo who was killed on Saturday night.
Sookdeo, 21, of 217 Fifth Street, Foulis, East Coast Demerara, met his demise around 8.35 pm, according to a statement by the Guyana Police Force, allegedly at the hands of his 44-year-old father after an argument between the father and his wife.
According to Senior Superintendent of Police Calvin Brutus, Commander of C' Division, the matter is still being investigated. He noted yesterday that a post-mortem examination is scheduled for today and based on the outcome a file will be completed and sent for advice.
When Stabroek News visited the home yesterday where the killing occurred, family members did not wish to speak to members of the media.
Residents were shocked at the turn of events. This newspaper learnt that the family was generally quiet.
One resident stated that he was watching cricket when he heard a loud scream causing him to run over to the home. It was then that the mother of Satesh said to him "Watch what he do me. He kill me baby, kill me baby", while holding her son. The resident stated that although persons had called the police, he rode his motorcycle to the police station and made a report. At the time, he noted that there were two policemen there with a vehicle but they took some time to arrive at the scene.
He expressed how disappointed he was with the police response noting that maybe they would have been able to do something to save the young man's life.
Quiet was the word he used to describe the family, who he noted would usually greet him once they saw him. Saturday night's events come as surprise to him because he has never heard of any instance of domestic violence with the family. He recollected how quiet Satesh was and the small talk they would usually have about football or cricket.
Although he described the father as generally being a quiet person, he stated that when he became inebriated he would become more talkative.
Another resident, who has lived in the area for about 20 years, stated that the family were hard workers but that when the father drank he became a different person. According to this resident, it was after 8 pm when she heard the scream of the mother causing her to rush onto the roadway to see what was taking place. It was while outside that she saw the mother on the road with Satesh.  She described Satesh as a well-behaved young man and a hard worker who spent his time working and didn't mix too much with persons on the road. She noted, however, that the father became a different person when he drank and she believes that problems that they might have had inside their home escalated because of his drinking.
It was alleged that the father held his wife by her neck and began to choke her. As a result, Satesh and another sibling intervened. Police said the suspect allegedly broke a louvre pane and then fatally stabbed the victim in the region of his stomach.
Sookdeo died in the arms of his mother.
Around the Web