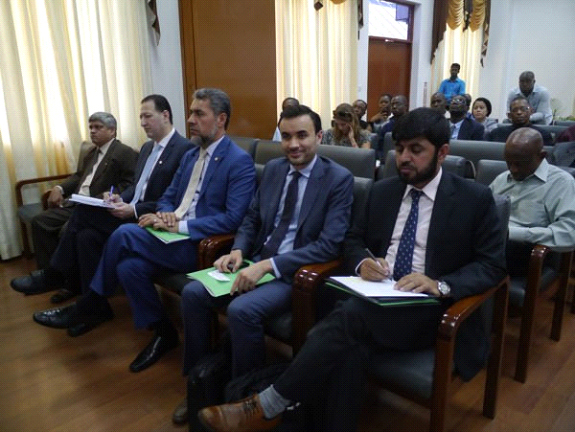 In another sign of deepening ties with Guyana, the Islamic Development Bank (IsDB) has made grant funding available to the Palms Geriatric Home.
In an advertisement in  yesterday's Sunday Stabroek, the Ministry of Social Protection invited bids for the provision of kitchen equipment, medical equipment and furniture for the Palms.
The advertisement said that the government and the IsDB had signed a Technical Assistance Grant Agreement to boost the institutional capacity of the Palms.
Neither the size of the grant nor the quantum of items being sought was identified in the advertisement. Bids have to be delivered by September 18 at 9 am at the National Procurement and Tender Administration Board. Interested bidders can uplift bidding documents from the   Ministry of Social Protection. For a total bid price above $3m, a 2% bid security is required, the advertisement said. Bids will be opened on September 18th.
In October, 2016, a team from the IsDB had visited Guyana to consider funding possibilities. Then Minister of Social Protection, Volda Lawrence had made a proposal to rebuild the Palms Geriatric Home and construct a shelter for survivors of abuse.
She told the four-member IsDB delegation, who journeyed from Jeddah, Saudi Arabia, that her ministry would like to transform the 142-year-old Palms Geriatric Home on Brickdam to a modern facility, which is estimated to cost some $450 to $500M. She spoke too about the construction of a shelter for survivors of gender-based violence, which can accommodate 20 families at once and is estimated to cost $275M.
After listening keenly to both proposals at the Arthur Chung Conference Centre at Liliendaal, East Coast Demerara, Vice President of the IsDB Syed Aqa said they could work with the ministry to see what is possible.
"I think that we can work with you, without again promising, we can see how we can accommodate that," Aqa had said.
The Palms Geriatric Home, Lawrence had told the team, was in a deplorable state and she was proposing to construct and furnish a modern facility to house 300 disadvantaged elderly residents.
The building she proposed would also include "ground level shared living quarters for 200 persons," a library, a fitness area, a kitchen, office space, fencing and landscaping, she said.
It would also be equipped with "single room apartments provided for 100 persons, on a cost recovery basis," she added.
In its first major project here, the IsDB will lend Guyana US$20m for the Guyana Power and Light. Minister of Finance Winston Jordan will sign the deal on September 19th in Saudi Arabia.
Guyana became the 57th member of the IDB in March 2016.
Around the Web