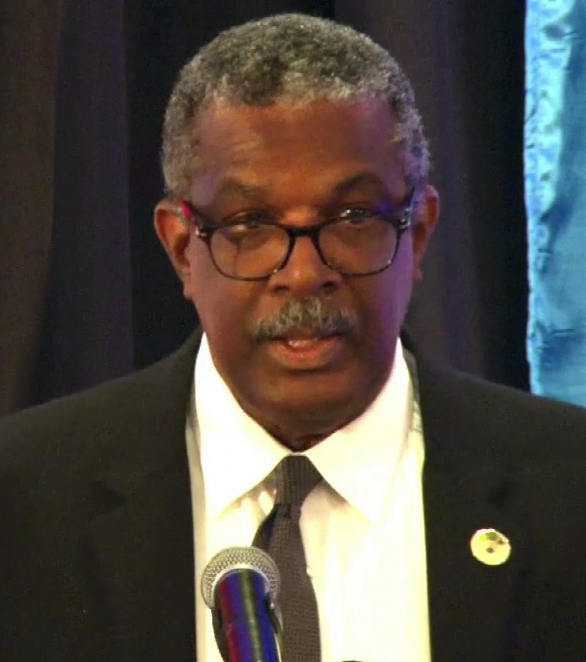 Guyana-born Chief Justice of Belize, Kenneth Benjamin who has been nominated by President David Granger to be the substantive Chancellor of the Judiciary, on Friday declined to say whether he is still interested in the position.
Justice Benjamin was approached shortly after the 50th Meeting of the Council of Legal Education (CLE) held at the Marriott Hotel had ended.
"No comment, I'm not talking about that …No, no, no comment at all about that", he said when asked by Stabroek News if he was still considering the Chancellor post.
This newspaper had previously made several attempts to engage Justice Benjamin on the matter. This newspaper had made contact with his office but was never able to speak with him. An email sent on January 25 was acknowledged but the questions contained were never answered.
According to the Belize Judiciary website, Justice Benjamin received his legal training from the University of the West Indies and the Hugh Wooding Law School in Trinidad and Tobago. It stated that he returned to Guyana, where he practised privately, and served as a Magistrate and the Assistant Judge Advocate for the Guyana Defence Force.
Additionally, Justice Benjamin who also has Antiguan citizenship, served on the Court of Appeal in the Eastern Caribbean Supreme Court, sitting in both St. Lucia and St. Vincent. He also served as the Presiding Judge for the Criminal Division of the High Court in St. Lucia and the High Court Judge in Antigua, the British Virgin Islands and Grenada.
Article 127 (1) of the Constitution stipulates that "the Chancellor and the Chief Justice shall each be appointed by the President, acting after obtaining the agreement of the Leader of the Opposition."
In late December last year, Granger had informed Opposition Leader Bharrrat Jagdeo that Justice Benjamin was his nominee for the post of Chancellor of the Judiciary while Chancellor (ag) Yonette Cummings-Edwards was being proposed for the substantive post of Chief Justice. Following a meeting on January 3rd, Jagdeo, however, asked for one month to consider Justice Benjamin. As a result, a second meeting was set for February 7th when Jagdeo was expected to inform the president if the nominees met his approval. In a letter that very day, Jagdeo made it known that after undertaking the requisite due diligence he could not support either of the two being appointed. He did not offer any reason.
As recently as earlier this month, Jagdeo insisted that his disagreement with the duo will remain.
Many questions have been raised as to why Justice Benjamin is being considered when Justice Cumming-Edwards who has spent her entire professional career in Guyana currently occupies the post.
When asked about this shortly after the opening ceremony for the CLE meeting, Granger insisted that Justice Benjamin will remain his nominee as he was found to be the best applicant.
Granger explained that there was a process by which all of the persons interested in the position of Chancellor had applied and had been interviewed by an expert panel. "I am advised by that panel and I am prepared to stick by the advice of that panel. So I have not changed my view", he told reporters. The panel comprised retired justices Claudette Singh and James Patterson along with former University of Guyana Vice-Chancellor Harold Lutchman
Granger declined to state what makes Justice Benjamin better that Chancellor (ag) Cummings-Edwards.
After reiterating the application process and the fact that the panel evaluated all the applications, he said "So it is not for me now to say…I am not going to compare one person with the other. The panel has already done that".
Since it had become known that Justice Benjamin might be nominated to the post of Chancellor, his record as the Chief Justice in Belize has come under scrutiny. Justice Benjamin has had a backlog of judgments in the Caricom member state, putting him at odds with the bar association there.
It was reported in the Belize media that despite assurances, Justice Benjamin would be unable to deliver all 32 of his delayed judgments and this could result in the Belize Bar Association making good on its threat to file proceedings to have him removed from office for misconduct.
When asked about this, the president described Justice Benjamin as "very competent" while expressing the view that the CJ was working towards reducing that backlog.
Asked given his track record, if he is still firm in nominating Justice Benjamin, he said "yes. I don't know if there is any judiciary in the Commonwealth Caribbean which doesn't have a backlog of cases. I don't think that the allegations of the Bar Association are substantial enough for me to change my opinion".
In June, Granger had also insisted that Justice Benjamin will remain his choice for the Chancellor position.
"That is well-known. I took my time in making that decision and I am not prepared to throw it out of the window…all I am saying is that my actions so far were in accordance with the constitution…I do not have the authority to go outside of the constitution", he had told reporters at State House when asked why he had a preference for Justice Benjamin over Justice Cummings-Edwards.
Granger had said too that he was awaiting legal advice from Attorney General Basil Williams SC on the way forward and later said that because of Jagdeo's failure to make a counter proposal no further discussion can take place. Jagdeo has said that he will not be making any counter proposal as his position is clearly outlined in his February letter to the president.
Concern has been raised about the fact that it has been more than a decade since Guyana has had a substantive Chancellor or Chief Justice. Both Justices Carl Singh and Ian Chang retired without being confirmed Chancellor and Chief Justice respectively.
Newly-appointed Caribbean Court of Justice President, Justice Adrian Saunders and the court's former President Sir Dennis Byron have also expressed concerns about the impasse in making the substantive appointments and had urged that the situation be urgently rectified.
Around the Web