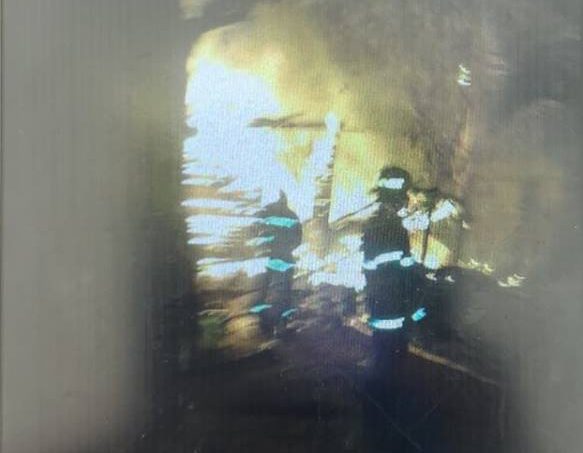 A West Ruimveldt handyman is suspected to have perished in a fire which was allegedly set to his house around midnight last night by his allegedly abusive partner.
The man has been identified as Christopher Bramble called 'Harry' said to be in his 40's.
Commander of 'A' Division Marlon Chapman confirmed the incident with Stabroek News. He said an investigation has since been launched but could not immediately say whether the matter is being investigated as a homicide.
However, residents in the area yesterday related to Stabroek News that throughout Sunday the couple were heard arguing.
During the argument, they said the suspect; Bramble's partner allegedly threatened to burn the house with him inside.
The resident related that around midnight, the woman allegedly locked the house from inside before setting it on fire.
They said they rushed to render assistance and rescued the woman whose clothing was at the time covered in blood.
She reportedly related to the residents that she was alone at home and attempted to escape from the scene.
However, residents prevented her from leaving and handed her over to the police.
It is suspected that the woman might have attacked and stabbed Bramble before setting the house on fire.
She sustained minor burns and is said to be under police guard at the Georgetown Public Hospital.
Residents described the couple's relationship as an abusive one during which they said the woman would often times attack Bramble.
The police today issued the following press release on the matter:
The one-flat wooden home of a reportedly abusive couple, is completely razed and dead is the reputed husband Christopher 'Harry' Bramble, 56, unemployed whose charred remains are stored at Lyken's Funeral Home.
The reputed wife Jewel 'Coolie Girl' Coats, 36, who was evacuated from the lot 39 West Ruimveldt home by residents, is presently in a stable but serious condition at the Georgetown Public Hospital Corporation; she suffered severe burns to her hands and body.
Initial investigation revealed that residents observed smoke and fire emanating from the small cottage about 00:15hrs today and responded.
They were forced to break a wall and removed the female from the then engulfed structure since its door was locked; and it was only after the fire was extinguished that the discovery of Bramble was made.
Around the Web