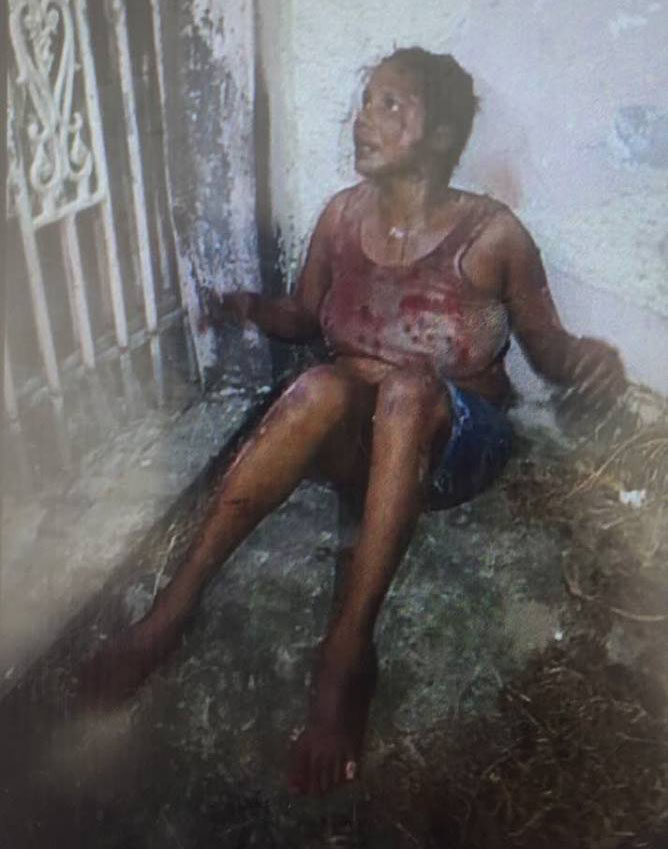 The charred remains of a 56-year-old handyman were discovered during the wee hours of yesterday in the aftermath of a fire.
Dead is Christopher Bramble called 'Harry' of Lot 39 West Ruimveldt.
The fire occurred just after midnight during which the suspect, who has been identified by the police as Jewel Coats, 36, was rescued from the burning house by residents of the area.
She sustained severe burns about her body including her arms and is currently a patient under guard at the Georgetown Public Hospital. Her condition is listed as serious.
Police spokesman Jairam Ramlakhan, in a press release yesterday, said initial investigation revealed that residents observed smoke and fire emanating from the small wooden house occupied by the couple.
"They were forced to break a wall and removed the female (Coats) from the then engulfed structure since its door was locked; and it was only after the fire was extinguished that the discovery of Bramble was made", Ramlakhan explained.
Residents related to Stabroek News that throughout Sunday the couple was heard arguing.
During the argument, they said Coats allegedly threatened to burn the house with Bramble inside.
The resident related that around midnight, the woman allegedly locked the house from inside. The fire erupted shortly after.
Residents said they rushed to render assistance and rescued Coats whose clothing was at the time covered in blood. She reportedly related to the residents that she was alone at home. She attempted to leave the scene but residents prevented her from doing so and handed her over to the police.
The police are awaiting an autopsy to confirm if Bramble was wounded before he perished in the fire.
When Stabroek News visited the scene yesterday morning, a number of persons including relatives of Bramble and neighbours had gathered. They described the couple's relationship as a 'non-stop abusive' one during which they said Coats would often times attack Bramble.
A neighbour, Viola Williams related to this newspaper that all day Sunday, the couple was arguing during which Coats allegedly threatened to burn the house with Bramble inside.
 "….I know fuh whole day yesterday (Sunday) she (Coats) threaten fuh burn the house … Whole day", Williams said, while noting her eldest daughter tried to talk to Coats who paid her no mind.  "My big daughter had to tell she (Coats) 'man when you burn down the house, where would you go?' and she seh she gah place to go".
Williams further related that despite this, Coats continued to argue and subsequently padlocked the house from inside with her and Bramble in it.
The woman said she subsequently fell asleep and was awoken by her daughter alerting her to the fire. "Somebody seh she (Coats) did coming through like some wall and they thinking is the man (Bramble) coming out, suh the person pull them out and when they look they see is she they pull out", she said.
She added that after Coats was pulled from the burning house, residents asked her about Bramble and she said that he went to visit a relative in Alberttown.
Bramble's daughter, Shemeka Bramble who lives in the said community said that after she was informed of the fire she immediately rushed to the scene and saw that the house was in flames.
"When I came around the house was already in flames. I saw the fire-fighters was outing it but actually when the fire out, I saw my father was lying at the roadway. Like he was actually fighting to come out of the house but he didn't make it to come out", Shemeka explained.
She said based on what she was told, Coats threatened to kill Bramble on Sunday, if he entered the house.
"…She (Coats) tell he early up in the day (Sunday), 'yuh (Bramble) come in this house, come in this house, I gone kill yuh and I gone bun down this house' and so be it", Shemeka added.
She said the incident has left her and her siblings in a state of shock.
Shemeka said she was always the one who tried talking to the couple to work things out. "It sad. Really sad…… nah because is me father. I does give jack he jacket. Sometimes I does come around and tell he 'yuh know how she stay, must come out the house when she start' and he does seh when he come out the house is the same thing", Shemeka said.
She said on some occasions she would even try to talk to Coats. "She (Coats) gon seh alright and next thing yuh know is back to square one again", she added.
Constant attacks
Residents in the area also said the couple argued almost every day. Some instances they said ended with Coats attacking Bramble, leaving him injured.
 "She (Coats) always, she does abuse him more than he abuse her and she always busing he and cursing indecent language", she added.
Another neighbour said on one occasion her mother saved Bramble's life and assisted in rushing him to the hospital after he was attacked by Coats "Meh mother save he (Bramble) life already… me muddah pick he up, call ambulance and leh them take he hospital", the woman said.
Shemeka said numerous reports were made to the police about these attacks but nothing ever came out of the matters. She said if the police arrested Coats in the morning she would usually be out by evening. "I know I try my best, I know it. You know how many reports, how many hospital runnings nothing never be done, not even a day in jail", Shemeka said, while adding, 'I could tell yuh, I does go with meh father. I made all the report of everything. 'We gone call' is wah them (police) does tell me till now meh phone is right there. If I go back and ask them wah going on, 'we aint follow up the matter yet yuh know'. Yuh see it follow up now, he die".
The last incident, according to Shemeka was about two months ago when Coats allegedly dealt Bramble a chop in his face.
The woman said she believes her father's life could have been saved if only the police had taken the reports seriously.
 "Her (Coats) problem is, if she want to go out and do what she feel like doing she come back in like two, three days after and if she like see me father aint home, she gone attack the house, she gone start break it up and them thing. So soon as he like approach her, attack. Nah fuh seh he does beat she", Shemeka said.
Junior Bramble, Christopher's brother who lives next door told Stabroek News that he is the person who would rush over to rescue his brother on almost every occasion he was being attacked.
However, Junior said he was not at home on Sunday evening since he attended a football game. He said he was returning home, when he saw the house on fire.
"She (Coats) always seh, she gone kill he. Up to yesterday (Sunday). Whole day she seh she gone bun down this house", Junior said.
In October, 2016, Coats was fined $100,000 with an alternative of three months in jail if she could not pay the fine after she was found guilty of child endangerment. Coats had admitted to dumping her then newborn baby on a city street because she did not want the child anymore.
The child is presently in the care of a relative, this newspaper was told.
Around the Web