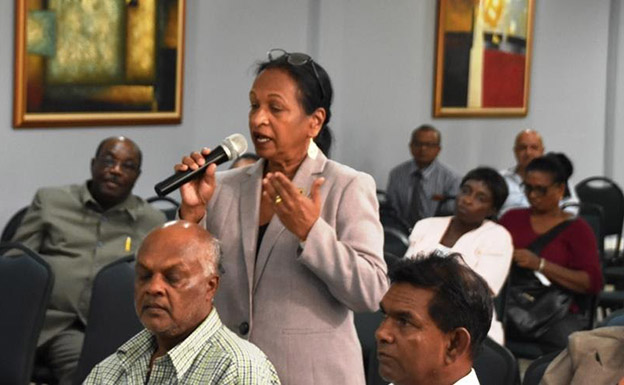 Financial assistance is among the practical measures that should be considered by government to assist the thousands of laid off sugar workers, according to People's Progressive Party/Civic (PPP/C) parliamentarian Indra Chandarpal.
Speaking at last week's Guyana Agricultural and General Workers Union (GAWU)  Conference, 'Sugar – too big to fail,' Chandarpal said that while she appreciates persons saying that much has to be done in wake of the government's closure of the four sugar estates, there have not been many recommendations made to cushion the effects on the workers. 
"I am very passionate and I am very, very hurt about what is happening to the sugar workers. I am shocked still that government went ahead and closed operations at the four estates…. I join with others who say that government needs to come up with some action plan. The workers have real situations that are facing them. So, while the SPU [Special Purpose Unit] is tinkering and trying to see what is possible for the future, the workers have current pressing problems and I would like to make some recommendations," she said.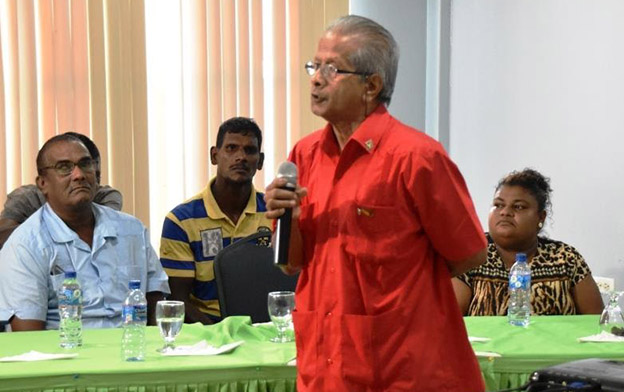 It is against that background that Chandarpal proposed financial assistance being given to the laid off workers.
"We are not saying all of their salary but whatever percentage, be it 40 or 50 percent, we need that right away," she said.
Chandarpal also suggested subsidising their electricity and water supplies, "as what we did with Linden when they were going through the hard time there, where practical things were done to help those workers, so should it be."
She also mentioned the need for buses to help the children of the laid off sugar workers to get to school, subsidies for medications because the dispensaries are closed on the estates and they have to now purchase.
Chandarpal said she was also peeved that National Insurance Scheme (NIS) matters have not been addressed and some workers who would have needed just a few more contributions to enable them to collect pensions or other benefits will now be left in difficulties. "The NIS matter has always been a problem. There must be a discussion on how you would deal with it because it would be a shame for all those workers to have to deal with all those and see their benefits lost," she said.
Former president Donald Ramotar also agreed that with the decision to close the estates being final, moving to the next step requires a consideration of the practical social measures.
"So now that they have disrupted the people's lives it is time to put measures in place that will equip them to not only cope but to earn in other areas," Ramotar told Stabroek News.
Practical approach
"Indra laid out a practical approach and at the core of it is that you cannot sacrifice social issues facing your people all in the name of economics. We have to have a plan where these workers are trained for disciplines, say in the oil and industry, for example, and to ensure that they are getting employed in that area should be given some priority.
These are people who want land and would be willing to farm, so release lands for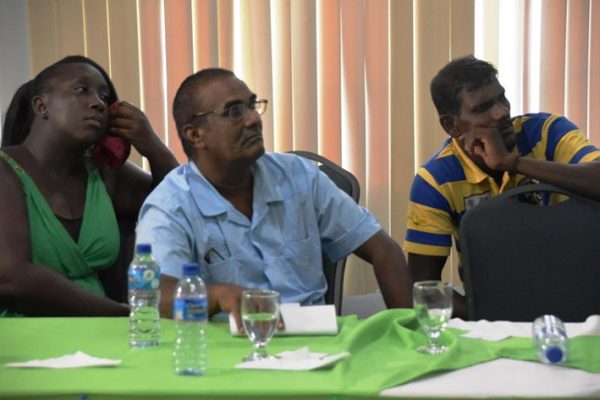 those who want to go into agriculture and have a system where technical advice is given to them on what to produce and what are market demands. A practical (approach) is most needed," he added.
Ramotar said that the layoff of the workers has been turned into a political matter but at the end of the day thousands are unemployed and an urgent intervention is needed to help transition them to their new lives.
"There has to be practical social solutions implemented very soon, which is necessary for them to transition. There are so many things that can be done that could cushion the effect of their income losses, be it from the children who do well at the CXC being given free scholarships, to land for farming, to training for other sectors and so on, something must, must be done," he said.
7,000
Meanwhile, PPP/C parliamentarian Komal Chand told the GAWU conference that over 7,000 lost their jobs from the shuttering of the Wales, Rose Hall, and Skeldon and East Demerara estates.
"As has been said, time and again, the sugar industry occupies a significant place in our nation and it is unique from many points of view. The GAWU has recognised in recent times that some have sought to downplay its importance and to confine its role merely within the ambit of profit and loss. On the other hand, the GAWU contends that we cannot ignore the widely known fact that any examination of the industry cannot be confined to such a narrow outlook. Sugar has transcended mere finance and has become a social institution in our society. Some have argued that this should not be the case but the reality is that its importance stretches beyond a black-and-white notion of profitability," Chand said.
"Sugar's status in Guyana is not unique, by any means. The GAWU has recognized that across the world, industries and enterprises have grown beyond a mere source of employment to become centres for the sustenance of entire communities. Decision-makers have always recognized the importance of these industries and they seek to protect, encourage and assist them to remain viable and operable, especially when one considers the consequences of them becoming non-existent. Literally these industries are "too big to fail." As we take stock of those factors, the sending home of some 7,000 workers over the last two years without any plan to address their welfare and loss of their livelihood clearly this has to be among the most callous of decisions ever made by any government in our country in our over half a century of independence. The government, by its very actions, has seriously affected communities; has shattered the hopes of the youth, and has pushed thousands of Guyanese into misery-filled lives," he added.
Chand said that as many hope for the industry to succeed, given the large number of Guyanese depending on its operations, hope has also been dashed from the income earners who were sent home and now feel hopeless not being able to provide for their families. As such, he pointed out that a collaborative and comprehensive approach is needed.  "There is no singular magic bullet but hard work, commitment, knowledgeable personnel and, of course, a motivated workforce – factors which are critical elements in overcoming the difficulties as we have done time and again," he said.
Around the Web